Do you want to create a relaxing outdoor space for yourself, your friends, and your family? Moreover, you might desire an outdoor space that will encourage people to come outside and engage with each other more often. Whether you have a big backyard or just a small balcony, creating a relaxing outdoor space is easy with the right design tips.
From adding plants and seating to choosing the right colours and textures, these seven ideas will help you create an oasis that you can enjoy all summer long. So, grab your sunscreen and get ready to relax.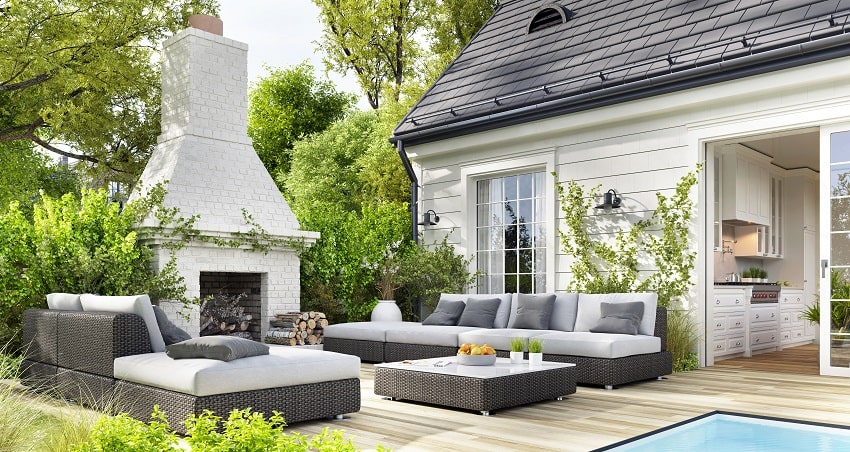 Install A Patio
If you want to create an inviting outdoor space, patios are a great place to start. Patios serve as the centre of your outdoor area and provide shade or shelter from the rain. They're also easy to install and affordable for any budget.
To help determine what type of patio would work best in your backyard, consider the size of your space, the climate in your area, and what type of activities you plan to use your patio for. If you want a patio that you can use all year round, consider adding a heater or fireplace.
Add Comfortable Seating To Your Outdoor Space
Comfortable seating is essential to creating a relaxing outdoor space. Whether you're hosting a barbecue or just reading by yourself on your deck, having the right furniture makes a difference. When choosing outdoor seating, consider how much space is available and what activities will take place in your backyard. For example, if there are children in your family, it might be best to get smaller chairs to sit comfortably on their own. Meanwhile, coupons like all33 coupon will help you save on buying comfortable seats.
If you plan to host large gatherings outside, go with larger pieces like loveseats or sectionals that offer plenty of room for people to lounge around while having conversations.
Consider Adding A Fire Pit
Adding a fire pit is another great way to create an inviting outdoor space. Not only does it provide warmth, but it provides a different ambiance and a place for people to gather around. If you have a small yard or live in an area with fire restrictions, consider using propane instead of wood. You can also use electric heaters and gas logs that run on natural gas lines.
Make Sure There's Plenty Of Lighting
Lighting is another important element to create the perfect outdoor space. If you plan to spend time outdoors in the evening, it's important to have plenty of light. Not only will this make your space more inviting, but it will also keep you safe while walking around at night.
There are several different types of outdoor lighting available, including solar lights, deck lights, and string lights. Choose the right lighting for your backyard depending on how much you want to spend and what type of light fixture would best match the look and feel of your space.
Use Plants As Natural Decor
Adding plants to your outdoor space is a great way to make it feel more relaxing and inviting. Not only do they provide shade and oxygen, but they can also be used as natural decor. You can add flowers in pots or hanging baskets around your patio area and find some low-maintenance succulents that require little upkeep.
If you have a larger yard, consider planting trees along the perimeter of your home. This could be beneficial as they create privacy while also providing shade during hot summer days. You may also add shrubbery for an added layer of protection from the wind.
Incorporate Relaxing Colours
When decorating your outdoor space, use relaxing colours like greens, blues, and lavenders. These colours evoke feelings of calmness which is perfect for any space, such as where you want to unwind after a long day at work or enjoy some quiet time on your own. You can also add pops of colour with pillows, throw blankets, and other small accents like lanterns that will brighten up the area while still providing a relaxing atmosphere.
Create A Focal Point
A focal point is an important element to any outdoor space because it helps to draw people's attention and create a sense of unity. A good focal point can be something as simple as a beautiful tree or sculpture, or you could add a water feature like a fountain or pond. No matter what you choose, make sure it's something interesting to look at from all angles. You can place it in a central location so people can gather around it and take advantage of the peaceful atmosphere it provides.
Conclusion
Outdoor spaces can be just as relaxing and inviting as indoor spaces. By following these simple design tips, you can create a backyard oasis that you and your family will love spending time in. No matter what you choose, make sure to take your time and have fun with the process. Moreover, outdoor spaces should be enjoyed and not just used as an extension of your home.