The boxes are a decorative element with endless possibilities. In addition to economic, versatility makes them an ideal complement to have everything in order in a very stylish way. Practical and aesthetic, are elements that cannot be overlooked in almost any room of the house. Today we have several ideas, putting them into your decor, you can make these seven ways.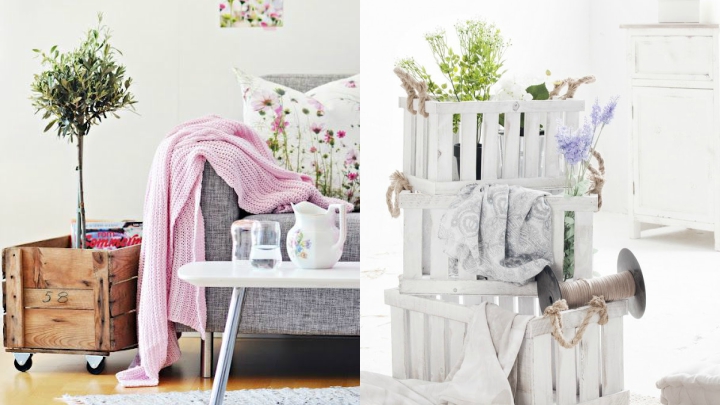 1. Storage boxes in the bedroom
The bedroom is a place where we keep the house, or we'd save, many things. The everyday clothes, bedding, clothes from other seasons … The boxes become great allies to do so. You can place them blankets, towels, do not use until summer …
2. In the bathroom
If in the bedroom tend to accumulate things you do not want to say anything about the bathroom … And are generally small items boxes will help you maintain order in this stay a very decorative way. You can use different designs like the examples I teach you now, hung directly on the wall, resting on the floor, on a shelf for vertical storage …
3. On open shelves
Boxes to help you decorate while keeping your house tidy can put them on shelves to become visible. If you want to give a style vintage or Nordic to your decor the wood will be ideal if you fancy a more industrial touch can put metal … If the shelf is too high remember to keep things in them that you do not reuse often.
You may also like to read another article on houseilove: Ideas to decorate your walls with wood
4. Child Storage
The children's room is full of toys, dolls, stuffed animals, books … Everything has to be on hand to decide how they want to play, but what happens when they finish? Place some wooden boxes with wheels and use them as storage system for your stuff. They can move them to your taste to have on hand when they finish their toys and the collected quickly. And meanwhile, the room will be a very cool decor. The can stop natural wood or paint them any color.
5. Occasional furniture
Boxes become wonderful auxiliary furniture. They can be a decorative nightstand or coffee table for the living room, placing several and glass top, or without glass … I can serve as a stool, as a magazine rack, to put a TV above, some flowers … There is a lot possibilities! You can use fruit boxes or any other style.
6. Stylish shoemaker
Do you love shoes? There are many ways to save and one of them may be in boxes. You can place them on the bottom of your closet and store in your shoes, even leaving boxes in sight if they are decorative. The can use cardboard or wood, as you like.
7. Decorate with fruit boxes
As we advance before, fruit boxes are one of the most used in the decor. They serve as planters, magazine racks, to save all kinds of objects, such as side tables … The can put in vertically or horizontally, painted or leaving the wood in its natural color, screwing wheels to make them mobile, supporting them on the floor or hang some Wall. Scandinavians are wonderful in environments or vintage, for example.
For more Ideas and Reviews visit http://www.evi-anunturi.net/.
Tags:
decorate with boxes