The Spring Clean is here! That's right — spring is the season known for new beginnings, usually in the form of a clean house. As you complete your spring cleaning, you might realize that you need to spruce up some of your decor, too. If you're looking to elevate your home decor game for spring, here are some of the best decorations you can add to your space!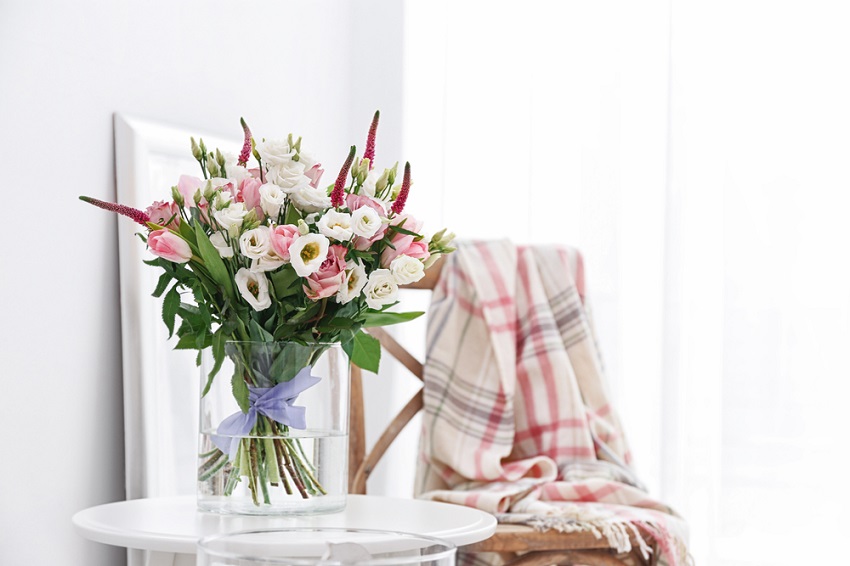 Source: Africa Studio/Shutterstock.com
https://www.shutterstock.com/image-photo/interior-design-room-beautiful-flowers-603292526
For the Outside
Spring decorations typically focus on the outdoor curb appeal of your space. Since spring is the season when most flowers bloom, it makes sense that you should focus some of your time to your outdoor areas, especially when sprucing up your home. Whether you plant new flowers or put a fun spring doormat outside of your front door, here are some ways you can spruce up the outside of your home for spring.
Change out the flowers. Flowers, bulbs and greenery are the easiest ways you can spruce up the outside of your home for spring. They not only look great, but they also invite pollinators, such as bees, to help keep the planet green. You can either plant young seeds or transfer already-bloomed plants into soil along the foundation of your home, especially at the front. If you have a backyard, planting some trees for shade or some bushes for privacy also has the added benefit of making your space look great.
Add a flag. Flags are simple yet effective ways to decorate the outside of your home. You can add a festive spring garden flag to your front or backyard, welcoming guests or even encouraging your favorite springtime sports team. Match it to the color of the flowers in your yard and you've picked a winner at sprucing up your space!
Bring in statues and stones. Create a whimsical garden area for spring with small statues, garden stones and even some rusted metal decor. Choose whether you want to add gnomes, butterflies or even angels as your theme. This will go a long way in making your outdoor space feel fresh and fun for spring.
Source: jafara/Shutterstock.com
https://www.shutterstock.com/image-illustration/wall-mockup-white-clear-hallway-interior-1857230878
For the Entryway
When entering your home, you should feel invited, warm and cozy, no matter the season. For spring, focus on adding some pale pastels and making the space feel fresh. Your entryway is the first space many of your guests will see when they enter your home, so it's important that you find a way to make it feel as inviting as your personality. Here are some decor ideas to make your entryway space look great!
Painted planters. Long gone are the days of basic terracotta planters. Instead, get creative and paint them! Even if you're planting fake plants (seasonal allergies are a real thing, you know), you can still give your entryway some personality with painted planters. As you sweep away leaves and all that freshly cut grass from your entryway, add some painted planters. Choose fun floral patterns or even a mix of stripes, dots and other patterns. Either way, it'll make your entryway feel fun and inviting!
Revitalize your shoe organizer. Did you know that it's actually bad hygiene to wear your outdoor shoes inside your home? That's right — shoes carry a lot of germs and bacteria. And, with young children crawling on the floor and pets running around, it's important that you keep your floors clean. The easy way to do that? Leave shoes at the door! Of course, you can designate slippers or shoes as "inside shoes," or shoes you wear while indoors only, especially if you have foot problems or want the kids to avoid hurting their feet while playing inside. However, your guests and household members will need somewhere to put their shoes when they enter your home. That's where a shoe organizer comes in! But, not just any shoe organizer. Instead, think of unique ways you can put a shoe organizer into your space that makes it feel fresh and inviting. Wooden crates of different sizes stacked together, painted cubbies with canvas totes or even floating shelves lined up along the bottom of the wall can all create fun shoe organizers for your entryway!
Place a basket for umbrellas. It's often so easy to lean an umbrella against a corner or lay it on the ground, but that's not the greatest for a design aesthetic! Help your space feel decluttered and organized this spring by putting a basket or bucket for umbrellas. If you live in a particularly rainy area, consider getting a lining for any wicker or metal baskets and then putting a plastic or stainless steel bucket inside it. That way, the water from the umbrellas won't destroy the wicker or rust the metal. It will look great tucked into one of the corners of your entryway, or you can place it right out for everyone to see!
Source: Regina Foster/Shutterstock.com
https://www.shutterstock.com/image-photo/yellow-large-roses-eucalyptus-branches-ceramic-1677484306
For the Kitchen
Your kitchen is an area where you can easily do some redecorating to spruce the space up. Here are some of the best decor ideas for your springtime kitchen!
Replace the dish towels. Let's face it — your dish towels have probably seen better days. Refresh your kitchen space with a set of new spring dish towels! No matter the theme of your kitchen, you can find a set of springtime dish towels to match or even complement. They can also serve as a good piece to base your design off. Lemons, flowers and even pastel stripes can be great inspirations for a full space design.
Add a Lazy Susan. Lazy Susans are simply platters you place decor or other items on for easy access. Add one to your kitchen and place some serving utensils, a bowl of fruit or even a bottle of olive oil on it. It'll make for a great piece to add to one of your kitchen counters that helps you organize without needing to go out and get a full set of storage organizers.