Are you living in a cozy apartment and daydreaming about having your own little garden paradise? You're not alone! The good news is that apartment garden is not just a pipedream; it's a thriving trend that allows you to unleash your inner green thumb in the limited space of your urban dwelling. In this article, we're going to delve into the world of apartment gardening, exploring creative ideas, resources like Home Depot and Blinds.com for your gardening needs, and the many advantages it brings to your life.
Why Apartment Gardening?
Before we dive into the benefits of apartment gardening, let's take a moment to ponder why you should consider it in the first place. You might be thinking, "I live in a small apartment; there's no space for a garden." But here's the thing – an apartment garden is all about making the most of your space. It's like finding a hidden gem in a treasure chest.
Apartment Gardening Ideas: Creativity Knows No Bounds
Now, let's get those creative juices flowing. Apartment garden isn't about planting massive oak trees or endless rows of carrots; it's about making the most of your space and creating a green haven that suits your lifestyle. Here are a few apartment gardening ideas to spark your imagination:
Vertical Gardens

: Imagine growing a lush, vertical garden right on your balcony or even indoors. Vertical planters and wall-mounted pots can turn any blank wall into a vibrant tapestry of greenery. Whether it's herbs, succulents, or flowers, the possibilities are endless.

Hanging Gardens: Don't let your ceiling go to waste. Hang some beautiful baskets of trailing plants or flowering vines. They not only look stunning but also save precious floor space.
Windowsill Gardens

: Your windowsill is a goldmine for small plants like herbs, small vegetables, or even decorative flowers. It's like having a mini farm right outside your window.

Balcony Oasis

: If you're lucky enough to have a balcony, it's the perfect spot for a mini oasis. Use a mix of containers, railing planters, and potted trees to create a serene outdoor escape.

Indoor Jungle

: Turn your apartment into a lush indoor jungle with various houseplants. They not only purify the air but also create a relaxing and inviting atmosphere.

Hydroponics

: If you're into high-tech solutions, hydroponics is the way to go. It's a soil-free method that allows you to grow plants in nutrient-rich water. Perfect for apartments with limited soil options.

Mini Zen Garden

: Create a serene space with miniature sand or gravel Zen gardens adorned with bonsai trees or succulents. It's like having a peaceful retreat at your fingertips.
Remember, an apartment garden is all about personalization. You're not limited by space; you're liberated by your imagination. Make it your own, and you'll find it incredibly rewarding.
Resources for Your Apartment Garden Adventure
Now that you're brimming with apartment gardening ideas, it's time to gather the tools and supplies to bring your vision to life. Here are some great resources to get you started:
Home Depot

: The go-to place for all your gardening needs. From seeds and soil to pots and planters, Home Depot has it all. They also offer valuable tips and advice to help you kick-start your apartment gardening journey.

Blinds.com

: You might be wondering why a blinds company is on the list, but hear me out. Blinds are essential for controlling the amount of sunlight your indoor plants receive. Blinds.com offers a variety of options to ensure your plants get the right amount of light, helping them thrive.

Living Spaces

: Need some stylish and space-saving furniture to complement your apartment garden? Living Spaces offers a range of furniture that can enhance your apartment's aesthetics while accommodating your green space.

Appliances Connection

: If you're going all-in with apartment gardening, you might need some additional appliances like grow lights, humidifiers, or dehumidifiers. Appliances Connection is your one-stop shop for all things appliances, helping you create the perfect environment for your plants.
The Benefits of Apartment Gardening
Now that you're armed with ideas and resources, let's explore the incredible benefits of apartment gardening. It's not just about pretty plants; it can transform your life in surprising ways.
Apartment gardening provides an escape from the hustle and bustle of city life. The act of tending to your plants, getting your hands in the soil, and watching them grow can be incredibly therapeutic. It's like having a natural stress-relief therapist in your own home.
We all know that plants breathe in carbon dioxide and release oxygen, making the air cleaner and healthier. Having a variety of plants in your apartment can significantly improve the indoor air quality, which is especially important in urban environments with pollution concerns.
Your apartment will be instantly beautified by the presence of plants. They add a touch of nature, color, and vibrancy to your living space, making it feel more welcoming and cozy.
Research has shown that caring for plants can reduce symptoms of anxiety and depression. It's like a little army of green friends that provide emotional support and companionship.
If you're into growing your own food, an apartment garden can yield fresh herbs, vegetables, and even fruits. You'll not only save money but also enjoy the satisfaction of eating what you've grown.
Apartment gardening is a fantastic way to learn about the natural world. You'll gain valuable insights into plant biology, gardening techniques, and the intricate balance of ecosystems.
Apartment gardens can also foster a sense of community. You can exchange tips, plants, and gardening stories with your neighbors, creating a bond over a shared interest.
Reducing the need for store-bought produce, even in small quantities, can have a positive impact on the environment. Apartment gardening reduces food transportation, packaging waste, and the need for harmful pesticides.
Believe it or not, a well-maintained and lush apartment garden can increase the value of your property. Potential buyers are often charmed by the idea of a ready-made garden.
Caring for plants is like caring for a small, green family. It teaches you responsibility, time management, and the importance of nurturing life.
The Comparison: Apartment Gardening vs. Traditional Gardening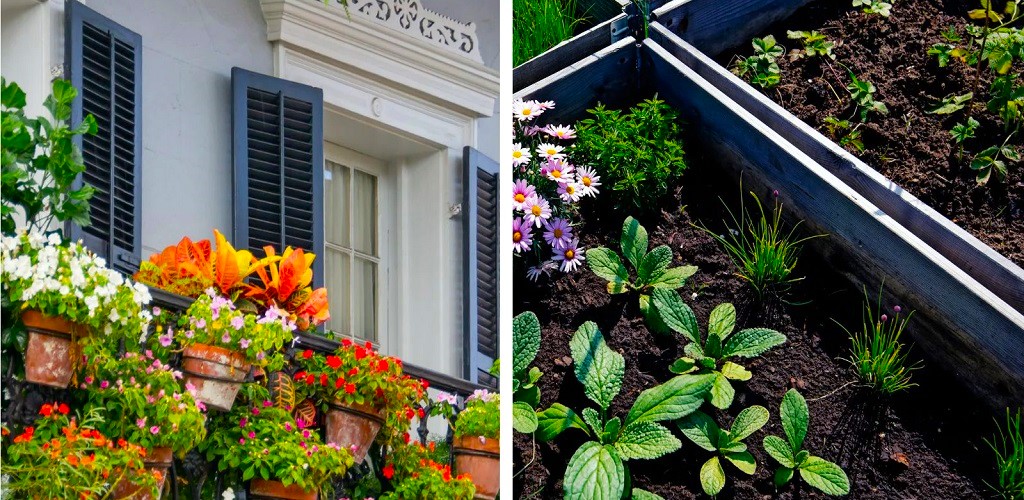 Let's take a moment to compare apartment gardening to traditional gardening in a house with a spacious backyard. Traditional gardening is wonderful, no doubt. You have ample space, endless possibilities, and the luxury of gardening in the ground. However, apartment gardening has its own unique charm and advantages.
Think of traditional gardening as sprawling countryside, vast and abundant, while an apartment garden is like a cozy, hidden garden in the heart of a bustling city. Each has its own appeal, and the right choice depends on your preferences and circumstances.
Traditional gardening can be a labor of love, with more physical work involved. Apartment gardening, on the other hand, is more about precision and creativity, making the most of limited space.
With traditional gardening, you might have to deal with weeds, pests, and larger upkeep. In an apartment, the controlled environment reduces these challenges, making maintenance more manageable.
Apartment gardening offers the convenience of gardening in any season, regardless of weather conditions. Traditional gardening is more weather-dependent.
Both types of gardening offer numerous benefits, but apartment garden excels in their adaptability and suitability for urban living.
Frequently Asked Questions (FAQs)
1. Can I grow vegetables in my apartment?
Absolutely! You can grow a variety of vegetables in your apartment, including tomatoes, peppers, herbs, and even dwarf fruit trees. Just ensure they have adequate light and space to thrive.
2. How do I choose the right plants for my apartment garden?
The choice of plants depends on your available space, light conditions, and personal preferences. Consider factors like whether your apartment gets direct sunlight or if you need low-maintenance plants.
3. Do I need a green thumb to start apartment gardening?
Not at all! Apartment gardening is a great way to learn and develop your gardening skills. Start with easy-to-maintain plants and gradually work your way up to more challenging ones.
4. Can I use the apartment garden to reduce my grocery expenses?
While an apartment garden can help you grow some of your own produce, it may not completely replace your grocery shopping. However, it can save you money and provide you with fresh, homegrown ingredients.
5. How do I prevent pests in my apartment garden?
To prevent pests, keep your apartment clean, ensure proper airflow, and inspect your plants regularly for any signs of infestation. You can also use natural remedies like neem oil or introduce beneficial insects to control pests.
Conclusion
In conclusion, apartment gardening is a rewarding and creative way to bring nature into your urban home. It offers a multitude of benefits, from reducing stress and improving air quality to providing fresh produce and enhancing your living space. So, don't let your apartment's limited space deter you from enjoying the wonders of gardening. Get started today, and watch your green oasis thrive in the heart of the concrete jungle.
Tags:
apartment garden
,
apartment gardening ideas
,
hydroponic apartment garden
,
indoor apartment garden
,
small apartment garden