Life is always more fun if we put a point of madness, do not you think? And if you dare, this can be done even in the decor. If you want to give a special touch to your home, that that differentiate them from other things that we usually see, sure some of these ideas, you like. Then you will be able to adapt them to your home, but we will open our mouths with different and somewhat crazy proposals. Or maybe not so much. Sometimes it is difficult to differentiate healthy insanity from joy and good humor.
Tim Burton Lamp
You will be able to see it in the photo gallery that comes to the end of the text, but already you advance that this idea is of the most original thing. It is a lamp work Thyra Hilden and Pio Diaz only suitable at all fearful people … And, when you turn the light makes a projection on the wall seems that we are in a dark forest or a movie of Tim Burton.
Swings for eating or working
If you sit around a table in a ordinary chairs you find it quite boring do in a few swings I think like most. This structure is very decorative and can put in the living room, as the main table, or in an office to organize creative sessions of brainstorming and make the ideas flow while you swing your seat. This table Swing Table, for example, is ideal to put in a work area.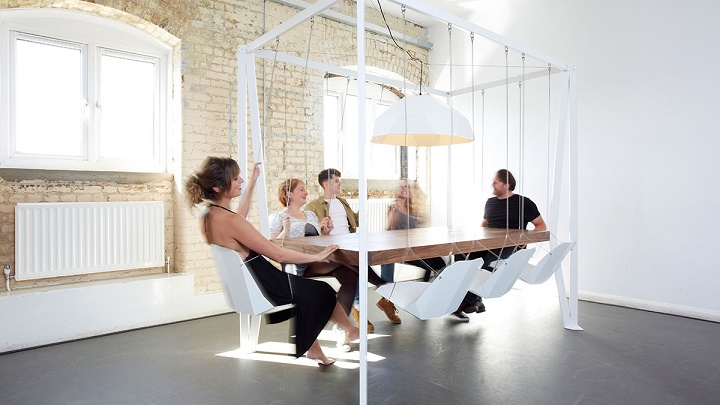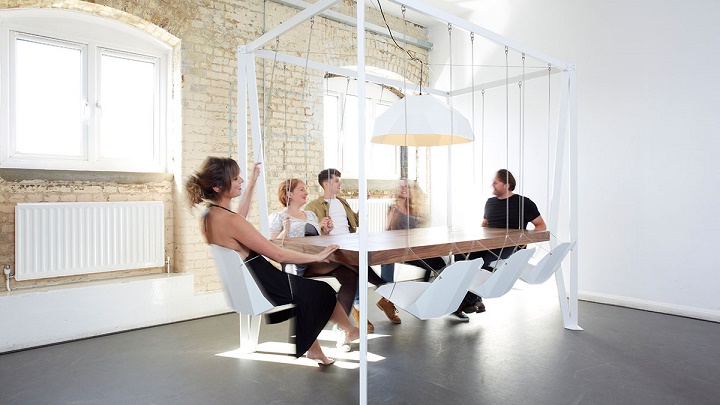 Sand on your feet
There will be no more post-vacation depressions. If you are someone who has always vacation in mind and walk the beach sand is what most relaxes you put a giant sandpit at your table and you'll see how the return to work is much more bearable. The proposal is by artist Justin Kemp and we do not recommend that you do it in the office, maybe your boss does not seem like such a good idea … But if you work at home I would not think it over. Surely you relax and concentrate much better!
You may also like to read another article on houseilove: 6 Ideas for a table of five forks
Stairs with built-in slide
Are you late every day, and you stumble down the stairs of your house? And what is worse … Fearing an impending fall? This has a solution! Nothing more decorative and crazy place a slide in your stairs. You will enjoy yourself as a child gliding through it, and the little ones of the house will enjoy it very much too.
Reading area
You will also see it right away in the gallery. This is a reading area and relaxation that simulates a nest with eggs: eggs are large colorful cushions on which you can knock down your favorite reading, listening to music or simply unwind after a stressful day book. You will need a little space to place this structure, but the result cannot be more decorative and fun.
Tags:
Decorate