The best fabric for cushions-The cushions are an essential complement when decorating a living room or a bedroom. They bring comfort and color to any environment. And, if they are special, a note of originality that can make a difference. Knowing how to choose the fabric for cushions is important. Today we give you all the keys to hit the bulls eye.
In many occasions we choose the cushions for the living room or for a bedroom from the wide catalog offered by the different firms. We buy them already made and equipped with their corresponding filling, which saves us work. However, sometimes we want a more concrete, more specific and different solution. In those cases it will be necessary to choose the fabric for  cushions and order their preparation, or sew them ourselves .
Anyway, it is important that you know what are the keys to take into account when deciding on one or another fabric for the cushions. It does not work either. And not only have to look at the designs, the color or the pattern. You also have to think about other conditions that will make you right or, if you consider them, wrong.
Choose well the fabric for cushions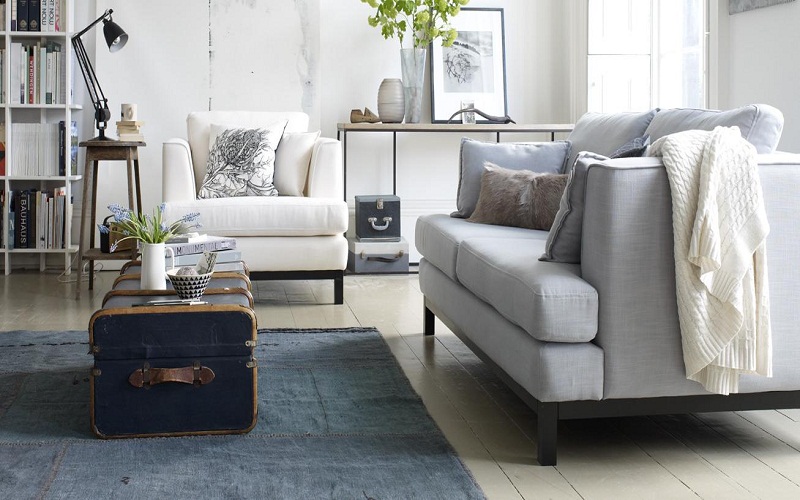 If there is a versatile element in the decoration of a living room, for example, they are undoubtedly the cushions. They are easy to change from one season to another, and they bring a great novelty to the decoration. However, it is worth taking into account some criteria when choosing the fabric with which we are going to make them. In this way they will be more comfortable, resistant and pleasant to use.
Therefore, if you want to decorate your living room with a coordinated fabric where the curtains, furniture upholstery and cushions will match, you must be clear about what type of fabric is good in each case.
At first, it may seem that any fabric is worth to make some cushions, except for the thin and vaporous fabrics used for curtains. However, there are certain qualities of fabrics that have to be valued.
With body and consistency
The cushions are elements that are used a lot. I mean, they touch each other, they crush, they put themselves in their place again and again. They are not pieces that are put at the beginning and do not touch again, at all.
And due to that intensive use that they may have, it is convenient to choose fabrics for cushions that offer some resistance and solidity. In this way they will be more durable and will deform less.
Discard fabrics that are too thin or delicate, otherwise your cushions will break down soon and you will have to change them much earlier than expected.
Bet on washable fabrics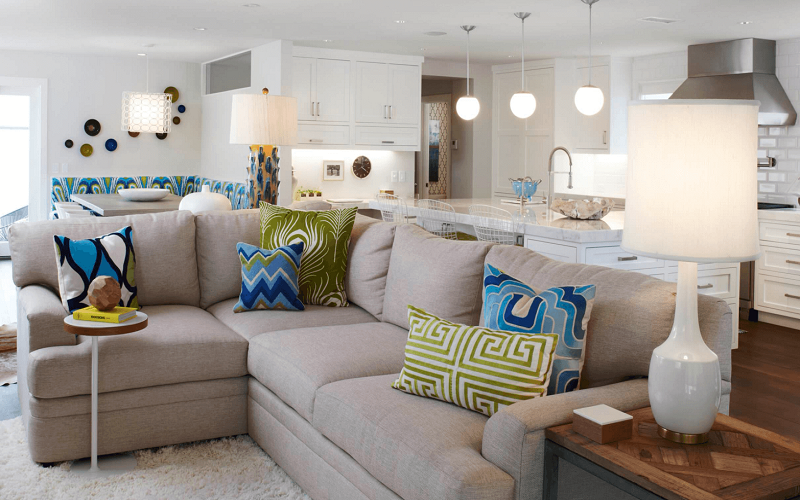 This is a feature that seems essential to me when choosing the fabric for cushions. You know how much they can get dirty with daily use. Therefore, washable fabrics, which can be put into the washer without problems, are the best for this purpose. Flee delicate fabrics that require dry cleaning.
In addition, it is advisable that the fabric for cushions be quick drying and not wrinkle too much, so that you can iron it more easily.
A nice texture
One of the requirements that, in my view, have to meet the cushions is that they are pleasant to play. That its texture is tasty and smooth. They have to be manageable, since they are placed again and again, they are constantly manipulated. That is why it is convenient to flee from rough and stiff fabrics, which we do not like to touch.
Choose the right filler
As important as finding the best fabric for cushions is to hit the filling. There are different types to choose from, depending on the use we are going to give you. The filling materials can be natural or synthetic. Among the first are those of animal feather. They are very comfortable, although they have the disadvantage that they can not be washed in the washing machine. And, in addition, they usually have a high price.
As for synthetic materials, widely used, there are different types. While they are not as soft or as comfortable as those of feathers, they are more economical and can be washed without problems at home.
You can choose them from polyester, a firm and durable material that does not easily deform. You can also opt for a relativistic padding that adapts to the anatomy of the body, making it perfect for bed pillows and special cushions (for example, for people who spend a lot of time sitting or lying down).
Then there are the foam fillings, which are very suitable for cushions, especially for those that have special shapes: star, cloud, heart, etc. They are usually children's cushions . These fillers are cheap, although they are not particularly durable.
Characteristics of the Fabrics for Cushions
Our range of fabrics for pillows and cushions is ideal to create both cushions for the sofa, as for the bed, terrace, armchairs and any type of small size upholstery. There is a wide variety of cushion fabrics available, depending on the style and character you want to give them. Designing online printed fabrics for cushions you can make unique original cushions printed with your designs in high quality and resolution.
Among these personalized fabrics, in addition, you can also find bedding fabrics such as sheets, covers, fabrics for blankets and a wide variety of textile projects.
Create your own fabric to make cushions online and choose between organic fabrics, natural or synthetic fibers in various thicknesses and finishes available. The texture of your printed fabric for cushions will determine the final look of the product, so it is very important that you consult all the characteristics of the fabric in order to meet your expectations.
Among the most popular fabrics to make cushions we highlight:
Velvet martial – elegant and sumptuous, velvety surface really soft
Cotton linen – natural cotton blend with linen fabric
Cotton Lime Lawn – light, smooth, soft, fresh and resistant
Cotton satin – natural satin combined with 100% cotton fibers
Cotton Satin – a classic satin made from natural cotton.
Velvet on – velvety fabric with soft and pleasant touch in contact with the skin.
Silk satin 100% – Natural silk with shiny, light, delicate and elegant surface.
As elaborated?
Each fabric is a world and is produced in a unique and exclusive way, depending in many cases on the origin of the fibers and their functionality. Natural fabrics are usually composed of natural cotton and similar substances, turning them into fine fibers and interlacing them by different types of weave until the fabric is formed by means of a flat weaving or loom. As for synthetic fabrics, they are usually composed of chemical materials which tend to benefit the fabric with greater resistance or key factors for end use, such as resistance to fire or impermeability.
Uses of Fabrics to make Cushions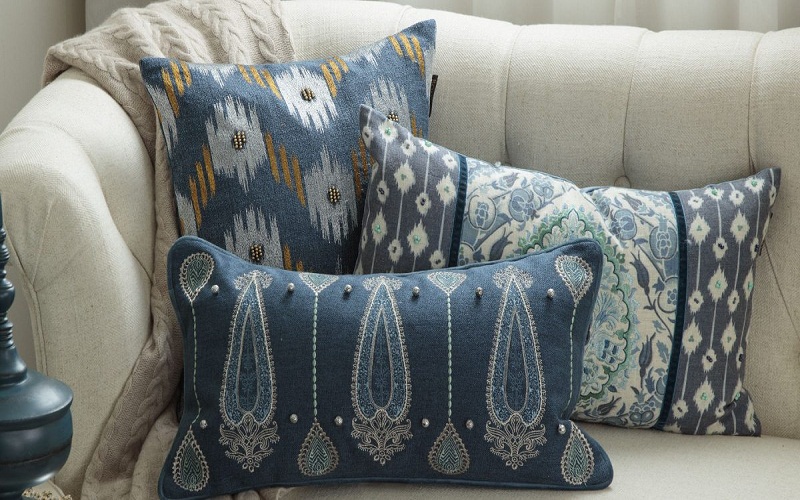 Our range of sewing cushion fabrics are both functional and modern and can completely change the appearance of a room in a moment. These fabrics do not only meet decorative objectives but also provide comfort, as in the case of hand-stitched sofa and terrace cushions, chair cushions or cushions and pillows with original patterns for the bed. Designing your own cushion fabric also allows you to create products that are not only original but also in the size and shape you prefer.
When selecting the best fabric for your cushions, it is very important to study the final effect you want to give the cushions and the main functionality they must meet. The cushions made with bright fabric, for example, give a more elegant character to any room, while the cushions made with velvety fabric give extra comfort and a very pleasant feeling to the touch. On the other hand, the nature and appearance of the fabric can give it a different character, such as the Panama Organic Cotton, which can give it a more rustic character with the marks of the cotton seeds that are shown on its printed surface.
On the other hand, the fabrics for cushions online can be designed to create other elements of bedding and decoration in order to combine your original pillows with curtains, pillows for armchairs, blankets or even sheets for the bed, in order to get a stay made completely to your liking.
 Properties
The properties of this type of fabrics vary between fabric and cloth. From elegant and soft natural silk to resistant and rustic canvas fabric, we have fabrics to supply any need when making your printed cushions. The main properties that our fabrics fulfill for pillows and cushions are:
Decorative
Natural silk or satin fabrics are always a wise choice
Add a personal touch to any room or business
Decorative fabrics tend to be more visual than functional
They show the impression with sharp lines and bright colors
Thin fabrics
Durability
Thicker and rougher
They tend to be more structured fabrics than satin fabrics
Resistant and durable, they do not tear and resist friction well
Ideal for cushions for daily use or in homes with children
Comfort
Extremely comfortable and pleasant
Durable and resistant
Perfect to add more comfort in your bedroom or sofa
Combine functionality with fashion
Fabrics of medium or thin thickness with more fluidity
Advantages of Fabric for Cushions Online
Our range of fabrics for cushions is versatile and offers a wide variety of textures, thicknesses and finishes to choose from. Think of the functionality you want to give your cushions: do they have a decorative character only? Are they going to be used frequently? In what room? Your cushions can easily combine with the theme of a room, so it only remains for you to decide which fabric you want to design in order to get the printed cushions that you have in mind.
Finally, fabric for cushions is the online paradise for those who want to create cushions worthy of art gallery for home, business or gift decoration. Whether you need to make stylish, modern cushions, velvety cushions or even outdoor cushions, you can find your cushion fabric ideal for any type of project you have in mind.
Tags:
best fabric for cushions
,
Choose well the fabric for cushions
,
fabric for cushions