Sunflowers are delightful additions to gardens and make stunning cut flowers. Their vibrant colors and large, cheerful blooms bring joy to any floral arrangement or bouquet. They are often associated with positive emotions such as happiness, warmth, and optimism. Studies have shown that exposure to sunflowers or images of sunflowers can positively affect mood and well-being. Incorporating sunflowers into floral arrangements or receiving them as gifts can evoke joy and upliftment.
Sunflowers have gained immense popularity as cut flowers due to their striking appearance and versatility in floral designs. In this article, we'll guide you through harvesting sunflowers, how to cut sunflowers, and choosing the right varieties to arrange them beautifully. Whether you are a gardening enthusiast or an aspiring florist, these essential tips will help you maximize your sunflower harvest.
Choosing the Right Sunflower Varieties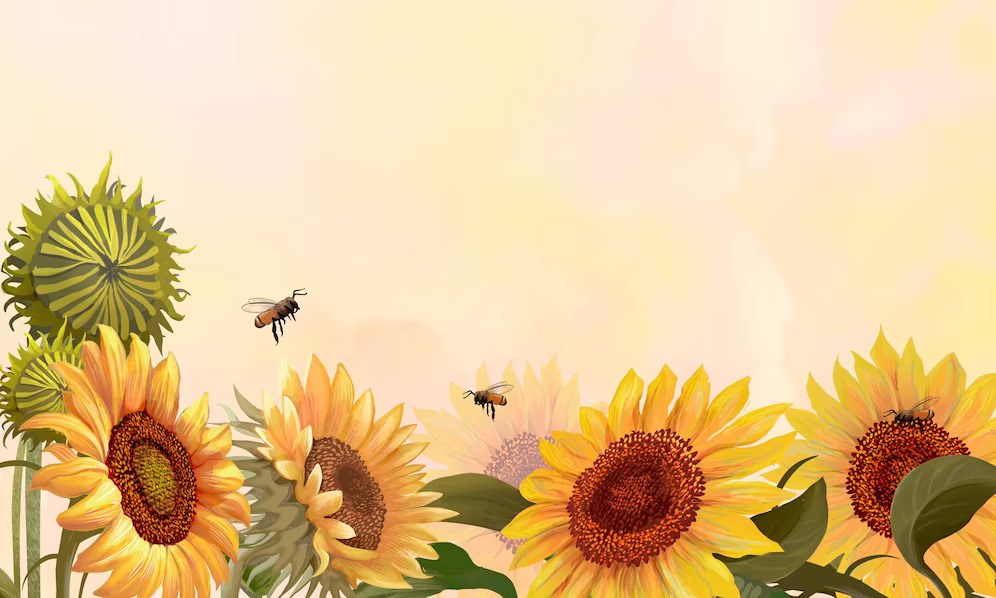 Before diving into harvesting, selecting the right sunflower varieties that are well-suited for cut flowers is crucial. Consider the following factors when choosing your sunflower varieties:
Stem Length
Look for sunflower varieties with long stems, which are more desirable for floral arrangements. Tall varieties like 'Russian Giant' and 'Sunrich Orange' are excellent options.
Petal Color
While traditional yellow sunflowers are always a classic choice, a wide range of sunflower colors are available. Consider varieties like 'Autumn Beauty' with its mix of vibrant hues or 'Red Sun' for a bold, dramatic look.
Bloom Size
The size of the sunflower bloom also matters. Smaller blooms are suitable for smaller arrangements or bouquets, while larger blooms like those of the 'Mammoth' variety make a grand statement.
By carefully selecting the right sunflower varieties, you can ensure your cut flowers possess the desired characteristics for your floral creations.
How to Cut Sunflowers?
Here's a simple guide to help you:
Step 1: Gather the necessary tools
To start cutting sunflowers, you'll need a few basic tools. Grab a sharp pair of pruning shears or garden scissors, a clean bucket filled with water, and a clean vase.
Step 2: Choose the right time
Selecting the right time to cut sunflowers is crucial. Ideally, you should cut them early in the morning or late in the evening when the temperatures are cooler. This helps prevent wilting and ensures longer-lasting blooms.
Step 3: Inspect the sunflowers
Before cutting any sunflowers, take a close look at the blooms. Choose flowers that have fully opened petals and vibrant colors. Avoid wilting flowers, damaged petals, or showing signs of disease or pests.
Step 4: Prepare the stems
Using your pruning shears or garden scissors, locate the sunflower stem you want to cut. Look for a sturdy stem that feels firm to the touch. Position the shears or scissors at a 45-degree angle and make a clean cut about 12 to 18 inches below the flower head.
Step 5: Place the sunflowers in the water
Immediately after cutting a sunflower, please place it in the clean bucket filled with water. This step is important to prevent air bubbles from forming in the stem, which can hinder water uptake. Keep the cut flowers in the water for a few hours before arranging them.
Step 6: Arrange the sunflowers
Once the sunflowers have had time to hydrate in the water, you can arrange them in a vase. Choose a vase that is tall enough to support the sunflower stems. Remove any leaves submerged in the water and trim the stems at a 45-degree angle before placing them in the vase.
Step 7: Add water and care for the arrangement
Fill the vase with fresh, clean water and place it in a cool location away from direct sunlight, drafts, and fruit bowls. Change the water every day or every other day, and trim the stems slightly each time to promote water absorption. Remove any wilted or spent flowers to keep the arrangement looking fresh.
By following these steps, you can effectively cut sunflowers and create a beautiful floral arrangement to brighten your space. Enjoy the vibrant colors and cheerful presence that sunflowers bring!
Preparation for Sunflower Harvesting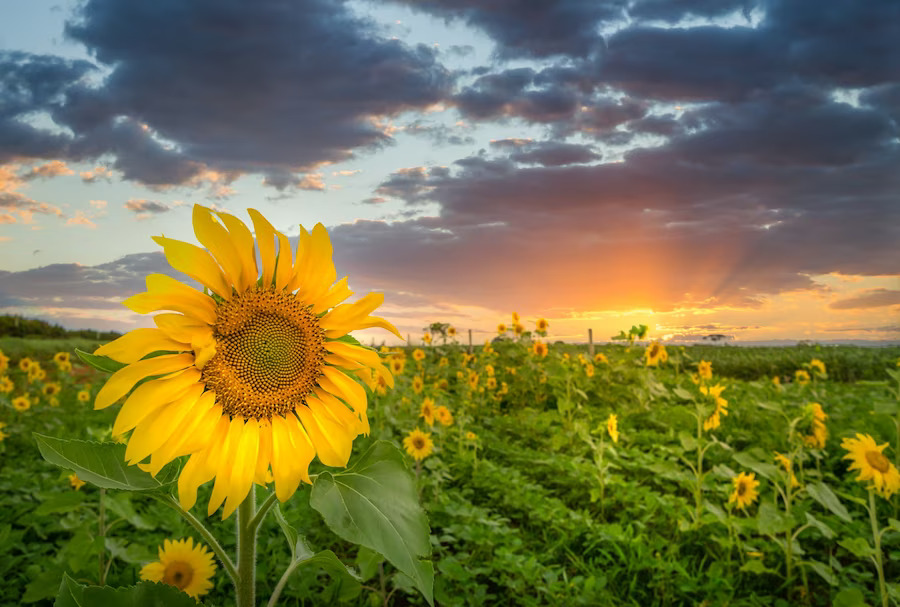 Timing is crucial when it comes to harvesting sunflowers for cut flowers. To determine the ideal time for harvesting, observe the following indicators:
The sunflower petals should be fully opened and vibrant in color.

The backside of the sunflower head should turn from green to yellow or brown.

The seeds in the center of the sunflower head should be plump and firm.
Once you've identified the mature sunflowers ready for harvest, it's time to prepare your tools and containers. Ensure your cutting tools, such as garden shears or a sharp knife, are clean and sharp. Have clean buckets or vases filled with water ready to place the freshly cut sunflowers immediately.
Harvesting Techniques
When it's time to harvest, follow these techniques to ensure the best results:
Choose the right time of day: Harvest sunflowers in the early morning or late evening when temperatures are cooler. This helps prevent wilting and ensures the flowers retain moisture.
Cut the stem at the right length: Position your cutting tool above a leaf node or the first set of leaves. Make a clean, diagonal cut to maximize water uptake. Aim for a stem length that suits your desired floral arrangement.
Trim excess foliage: Remove any leaves or side stems that would be submerged in water. This reduces the chances of bacterial growth and keeps the water clean.
By employing proper harvesting techniques, you'll promote the longevity and freshness of your sunflowers as cut flowers.
Post-Harvest Handling
Post-harvest care is crucial for extending the vase life of your cut sunflowers. Follow these tips to ensure optimal longevity:
Remove lower leaves: Strip any leaves submerged in water to prevent bacterial growth. Leave a few leaves near the top for aesthetics.
Hydration is key: After harvest, the freshly cut sunflowers are in clean water. Use lukewarm water to help the stems absorb water more efficiently.
Prevent wilting: Keep the sunflowers in a cool, shaded area for a few hours after cutting to allow them to recover. Avoid direct sunlight or warm environments, as they can expedite wilting.
Remember, proper post-harvest handling significantly impacts the vase life of your sunflowers, so it's important to follow these guidelines.
Conditioning Sunflowers
Conditioning sunflowers involves additional steps to maximize their vase life. Follow these tips for optimal conditioning:
Remove excess foliage and thorns: Strip off any remaining foliage and thorns submerged in water. This prevents bacterial growth and keeps the water clean.
Use flower preservatives: Add commercial flower preservatives to the water. These preservatives contain nutrients that nourish the flowers and prevent the growth of harmful microorganisms.
By conditioning your sunflowers, you can enhance their beauty and ensure they last longer in arrangements or bouquets.
Storage and Transportation


Proper storage and transportation are essential to maintain the quality of your cut sunflowers. Consider the following tips:
Ideal storage conditions: Store sunflowers in a cool environment with a temperature range of 40-50°F (4-10°C). High humidity levels can cause mold, so aim for humidity between 50-70%.
Safely transport your sunflowers: Place the sunflowers in clean buckets or vases filled with water. Secure them in a sturdy box or container to prevent movement and damage during transportation.
By adhering to proper storage and transportation guidelines, you can ensure your sunflowers arrive at their destination in excellent condition.
When to Cut Sunflowers?
Imagine yourself strolling through a sunny garden surrounded by tall and majestic sunflowers. Their golden faces are turned towards the sky, soaking up the warm rays of the sun. It's a picture-perfect scene.
Now, let's talk about the right time to bring those sunflowers indoors, whether you want to create a stunning bouquet or enjoy their beauty up close. Timing is everything when it comes to cutting sunflowers. You want to ensure they're at their peak, radiating their full splendor.
So, when should you reach for your gardening shears and start snipping those sunflowers? Here's a little secret: it all depends on what you're looking for.
If you aim for longevity and want your sunflowers to last as long as possible, it's best to wait until they are fully bloomed. Look for those glorious petals to be unfurled completely, displaying their vibrant colors for all to see. The center of the flower, known as the disk, should also be full and dense, with the tiny florets tightly packed together. It's like a bustling city, teeming with life!
Remember, cutting sunflowers when they're in their prime ensures you'll enjoy their beauty for days. These flowers can be quite the showstoppers, so why not let them shine for as long as possible?
However, if you prefer a more natural and wild aesthetic, you might consider cutting sunflowers earlier in their life cycle. When the petals are just beginning to unfold and the disk is starting to form, you'll capture a sense of youthful energy and freshness. It's like a promise of what's to come as if the sunflower is whispering, "Look at me! I'm growing and blossoming!"
By cutting sunflowers at this stage, you can bring a touch of nature's spontaneity into your home or create a charming bouquet that showcases the sunflowers' journey from bud to bloom. It's a little slice of nature captured in time.
So, whether you opt for fully bloomed or slightly younger sunflowers, one thing is certain: cutting these magnificent flowers at the right moment will reward you with their beauty in your garden and home.
As a side note, it's best to cut sunflowers in the early morning or late evening when the temperatures are cooler. This helps to minimize stress on the flowers and ensures they stay fresh for longer. Remember to use sharp, clean shears and cut the stems at a 45-degree angle to allow for better water absorption.
Arranging Sunflowers
Now that you have harvested and conditioned your sunflowers, it's time to get creative with arranging them. Consider the following ideas for stunning sunflower arrangements:
Single-stem statement: Place a single sunflower stem in a tall, slender vase for an elegant, minimalistic look. This arrangement emphasizes the beauty and vibrancy of the sunflower.
Mixed floral arrangement: Combine sunflowers with complementary flowers like daisies, asters, or roses. Play with contrasting colors and textures to create visually striking and balanced arrangements.
Rustic charm: Arrange sunflowers in a wooden crate or mason jar, pairing them with wildflowers and natural elements like twigs or wheat stems. This arrangement exudes a charming and relaxed vibe.
Experiment with different containers, colors, and flower combinations to create arrangements that suit various occasions and personal preferences.
Sunflower Care Tips for Recipients
If you're gifting or selling sunflowers, providing care tips to the recipients is helpful. Share the following tips to ensure the longevity of the cut sunflowers:
Water change: Advise recipients to change the water every two days or whenever it appears cloudy. Fresh water keeps the flowers hydrated and prevents bacterial growth.
Trim stems: Instruct recipients to trim about an inch off the sunflower stems at an angle before placing them in fresh water. This creates a clean cut for optimal water absorption.
Avoid direct sunlight: Sunflowers thrive in sunlight while growing, but as cut flowers, they prefer indirect light to prevent wilting. Encourage recipients to display them away from direct sunlight or heat sources.
By providing care tips, you help recipients enjoy their sunflowers for an extended period, enhancing their overall satisfaction.
Common Sunflower Issues and Solutions
When working with sunflowers, you may encounter some common issues. Here are a few problems that may arise and their respective solutions:
Drooping heads: If sunflower heads droop after arranging, immerse them in warm water up to their necks for 30 minutes. This helps rehydrate the flowers and revive their upright position.
Wilting: If sunflowers start to wilt prematurely, retrim the stems and place them in fresh water. Sometimes air bubbles block water uptake and retrimming helps remove the blockage.
Discoloration: If sunflower petals start discoloring, remove the affected petals and keep the remaining healthy in clean water. Discoloration can indicate aging, but removing affected petals maintains the arrangement's freshness.
By being aware of these common issues and knowing the appropriate solutions, you can address them promptly and maintain the quality of your sunflowers.
Benefits of Harvesting Sunflowers as Cut Flowers
Harvesting sunflowers for cut flowers offers various benefits, both for personal enjoyment and potential business opportunities:
Beauty and versatility: Sunflowers add a touch of natural beauty to any floral arrangement or bouquet. Their large blooms and vibrant colors create stunning visual impact.
Sustainable business potential: If you are passionate about gardening and floral design, growing sunflowers for cut flowers can be a sustainable business venture. Sunflowers are in high demand, making them a profitable choice for local markets, weddings, or events.
Therapeutic gardening: Engaging in the process of growing and harvesting sunflowers can be a therapeutic and rewarding experience. It provides an opportunity to connect with nature and indulge in a fulfilling hobby.
Conclusion
Harvesting sunflowers as cut flowers requires attention to detail and proper techniques. By choosing the right sunflower varieties, harvesting at the appropriate time, and following essential care steps, you can enjoy the beauty of sunflowers in stunning floral arrangements. Whether you're an avid gardener or considering a business opportunity, the tips in this article will help you maximize the potential of sunflowers as cut flowers.
FAQs (Frequently Asked Questions) 
Q1: How long do sunflowers last as cut flowers?
Sunflowers typically last for about 7-10 days as cut flowers. With proper care, you can extend their vase life even further.
Q2: Can I grow sunflowers for cut flowers in a small garden?
Absolutely! Sunflowers can be grown in small gardens, containers, or raised beds. Choose compact or dwarf varieties to suit smaller spaces.
Q3: What is the best time of day to harvest sunflowers?
When temperatures are cooler, early or late evening is the best time to harvest sunflowers. This helps preserve their freshness and prevent wilting.
Q4: How can I prevent sunflowers from drooping in a vase?
To prevent drooping, cut sunflower stems at an angle and place them in water immediately after cutting. Conditioning them in warm water for a short time can also help revive drooping heads.
Q5: Are there any specific care tips for sunflowers during hot summer days?
During hot summer days, place sunflowers away from direct sunlight or heat sources in a cool area. Change the water regularly and trim the stems to promote water uptake and hydration.
Tags:
cut flowers
,
gardening
,
harvesting
,
sunflowers
,
tips