You want to have a typically Nordic home? Well then you should not neglect any factor: colors, materials, furniture, accessories, decorative objects … To put it simpler, in houseilove and we have given a lot of advice and interesting ideas. Without going any further, a few days ago we tell you what the were lamps and cushions better suited for a Scandinavian decor.
Many people believe that by betting on the color white for walls, ceilings and furniture, and include wooden elements and have it all done, but the fact is that to get a house transmit the spirit Nordic is also essential to discern the rest of elements. So today, we want to talk to the most suitable soils for this style. Would you like to join us?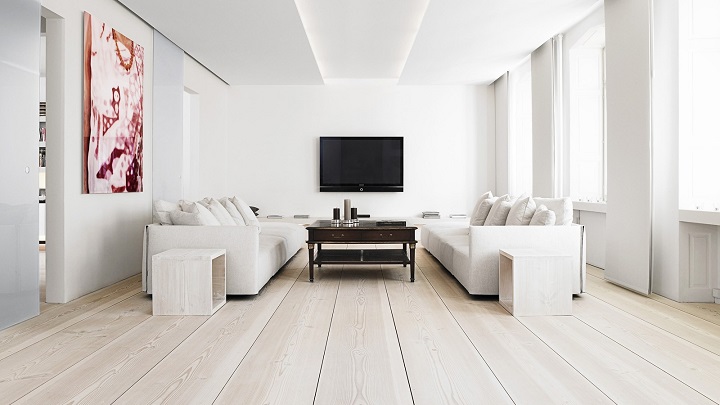 Natural wood
How could it be otherwise, we have to start talking about natural wood floors, which are the most typical Nordic style, as they provide the warmth needed in this type of environment. And it is that we must not forget that this style comes from the Scandinavian countries, where temperatures are low most of the year. In addition, timber helps counteract the coldness of the target. As for the types of wood, you can choose different options. For example, in the Nordic countries it is common to find wooden floors untreated, either in large or narrow slats. Of course, it is also very typical aged wood. On the other hand, we want to mention that do not need to bet on natural wood, because today you can find in the market synthetic floors offering a spectacular result.
Wood colors
You choose whether natural or synthetic flooring wood, you should choose the color thoroughly. So, you should know that wood floors stained white are fairly common in northern European countries. What you get with this type of soil is to enhance the brightness and expand the space visually. Furthermore, it is also a good idea to bet on the grayish colors. If you decant the natural color of the wood, you should know that the most suitable are light colors, but you can also choose a slightly darker wood.
You may also like to read another article on houseilove: 8 essential accessories in your vintage decoration
Hydraulic tiles
But more often is to bet on the wooden floors, you can also bet on one of the floors of the moment. We are referring to hydraulic tiles, which are becoming popular in homes rustic style vintage, cross – country … Of course, as is a pavement with a lot of personality, it is best not to use too much, but only in some areas. For example, it may be a good idea to use it in rooms such as the kitchen or bathroom. In addition, it may be ideal to highlight some areas of the house. In fact, they are phenomenally well combined with wood.
Rugs
Finally, we comment that regardless of the pavement by you decant, there is an element that cannot miss in the soil of your home if you want to forward a true Nordic spirit. We are referring to carpets, which play a key role because they provide warmth and color. Yes, but in Scandinavian models environments are typical prints geometric, if you finally decant by hydraulic tile is best bet for smooth models. As for fabrics, keep in mind that takes the wool and long hair, although it is true that this type of carpets are only suitable for winter.
Tags:
decoration
,
Nordic floors