If you are thinking of renovating your living room with a small budget, here you will find the perfect decorating ideas with recycled wood to make it as good as new at a minimum price. What do you not believe? Well now we discover how!
The wood ravages in decoration for 2016 so if you lack budget to renovate the room here you have some proposals for decoration with recycled wood with which to get great results for your living room. The excuse of not having a budget will no longer serve you and you will also be able to obtain pieces of unique and original furniture.
And at the same time recycle. Can you ask for more? Well yes you put your hand to the work already … because your room will thank you!
Very cool coffee tables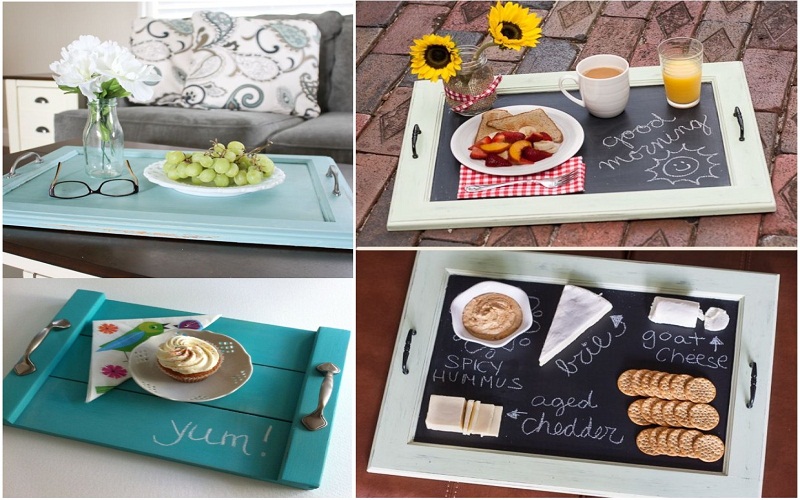 If you have old furniture with drawers … nothing to throw them away. Now you can reuse them to get a few tables for the original lounge and that's how cool. You just have to give them a coat of paint and be a little handy … but the result is well worth it, is not it? I have fallen in love!
One of the classics in wood recycling is to use the old wire or cable coils as coffee tables or coffee tables in the living room. That round shape gives them a special charm, do not you think? Decorate them with porcelain pieces, books or some old object. From decoration magazine!
An incredible pallet wall
It is clear that in a post about recycled wood pallets had to appear, right? But you've seen or not sure that the walls of recycled pallets keep falling in love. It's no wonder! And it's a great proposal for the room.
In this case you need to be pretty handy but you can find many tutorials where they will explain step by step how to do it. For example here. But make no mistake, it is laborious, although with patience you can achieve spectacular results, so it is well worth the effort, do not you think?
Shelves to color your wall
The old drawers as well as the wooden boxes of wine or fruit have a lot of uses but one that I especially like is to turn them into shelves.
A fun way to have everything in order and also decorate. You dare? It is simple and you can make compositions with them or just hang a couple in a corner, everything will depend on the space you have and the result you are looking for.
In their natural state or, even better, by giving them a coat of paint, they will be able to completely change a wall and update it. And if you want to go a step further, line your interior with wallpaper and you will create a unique corner full of charm. It's that easy, everything in order and with style!
The best frames for your photos
Family photos are one of the details that give warmth to the home. If you also place them in a special frame, like an old wooden window, the result will be beautiful. You can also turn them into organizers so you never forget anything. Here is an example of how to do it, do you dare?
The old drawers can also be used to display our photos in the living room with a certain vintage touch that will be very special. Better with black and white photos or the drawer lined with paper if you are going to see the back, do not you think? Well come … to it!
Stylish coffee tables
If you have a corner in the living room for a study table, that old door that you just changed can be the solution. If it is aged and somewhat worn out by the passage of time … even better!
Use the old doors to create coffee tables or dining very modern and with a special charm that will become the centerpiece of your living room or dining room. What are you wanting to do with a door to recycle? I too, I confess!
And surely you've already seen the coffee tables so great that you can do with some old pallets. If not here you can see some examples. Painted or natural, the pallets create great center tables.
The ideal magazine rack thanks to the decoration with recycled wood
The magazine is always useful in the room and if they also have much more wheels, right? Well, take the dust off that wooden box that you did not know what to use. You can paint it, decorate it internally with paper or natural, just by adding some wheels you will have the magazine rack you were looking for … and almost zero price. Irresistible, no?
Always have your blankets for the sofa at hand
The blankets are essential for those winter relaxing evenings on the sofa accompanied by a good cup of coffee and a book or a movie. Now keep them always at hand and decorating using old wooden stairs. In addition to having it more ordered, it will be that decorative. What are you waiting for?
The green touch that can never be absent
If for me it were in every corner of the house there would be plants and flowers and in this post it will not be less. Reuse drawers to create flowerpots so beautiful … and even a cabinet with drawers for the more daring.
You only have to add some legs if they are loose drawers and give them a coat of paint to leave them as new and ready to serve as flowerpots. And if you are looking for something original for your centerpiece or a corner of the sofa an old drawer can also serve as a base. This Christmas surprise with a centerpiece in a drawer, do you dare?
Multi-purpose trays for your living room
The trays are never too much at home, they can have many uses. From to serve coffee to decorate a small table, window or dresser. If they are also as nice as we can get by recycling doors, you will not be able to resist. And if you give them blackboard paint they will also be that fun and with messages.
We can also create our own personalized and unique trays with old drawers, to which we can give a layer of color and add some rope handles or give them some beautiful and original handles. I'm looking forward to trying it … now we need to find the drawer.
And with these 9 ideas for your living room you will be able to renew it economically and you will also get a much more personal and unique look. I would like to try to recycle drawers, either as shelves or as trays, but first I will have to do with some suitable drawers.
Tags:
decoration proposals with recycled wood
,
recycled wood
,
Shelves to color your wall