Ho ho ho, my festive friends! Can you believe it's already time to start decking those halls and trimming those trees? Christmas will be here before we know it. If you're like me, you love going all out with your holiday decor. Twinkling lights, evergreen wreaths, cheery Christmas gnomes – bring the colorful Christmas decor on! But with so many options out there, it can be tricky to figure out how to make your home look merry and bright without going overboard.
That's why I've put together this little guide filled with my favorite tips for colorful, cheery Christmas decor that will fill your heart with joy. I'll share some easy ways to add pops of vibrant color to your classic holiday decorations. Plus, I'll suggest festive accents that are sure to make your mantel, table and even front porch shine brighter than Rudolph's nose.
So grab a mug of hot cocoa, put on your coziest Christmas sweater, and let's get decorating!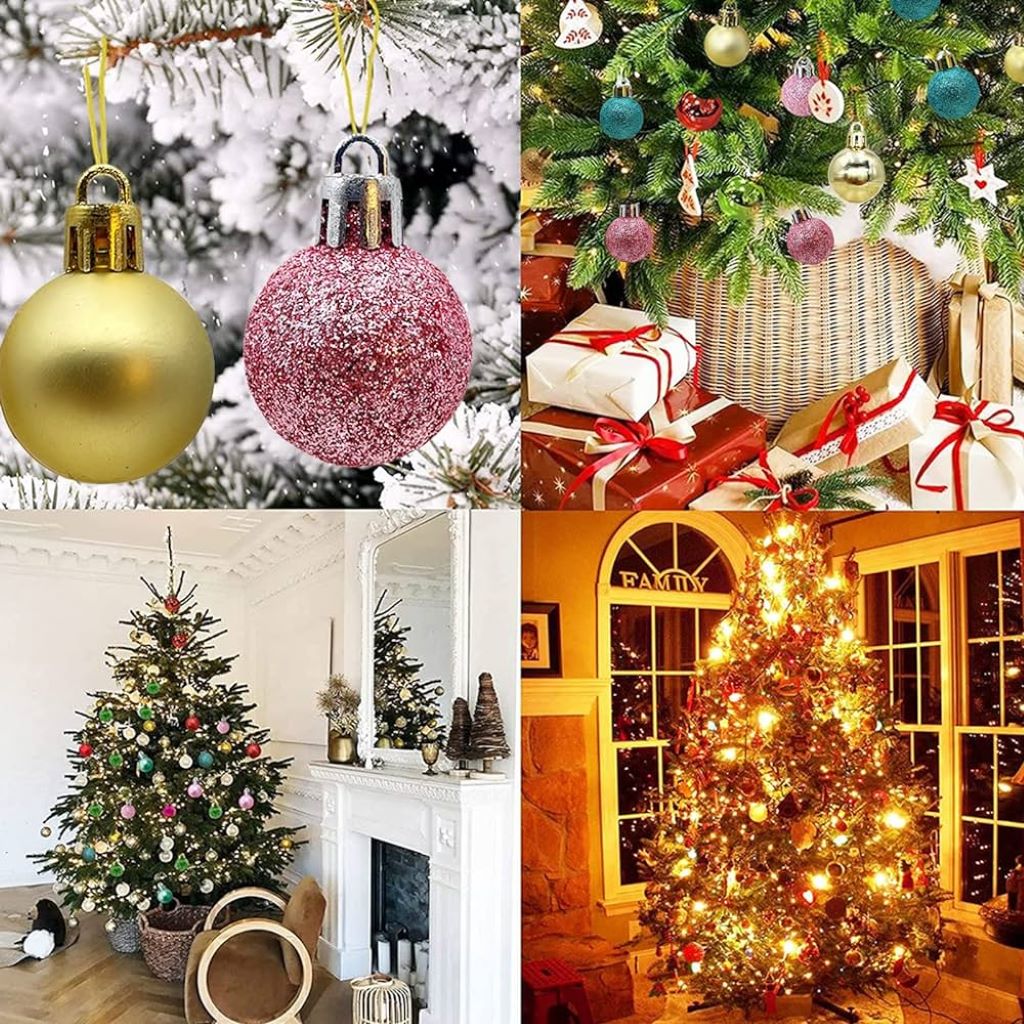 Add Pops of Color with Christmas Trees
Your Christmas tree is the centerpiece of your colorful Christmas decor. So why stick with plain old green when you can deck your tree in vivid, vibrant color?
To add a fun pop of color, look for Christmas tree ornaments in bright reds, sunny yellows, cobalt blues or even rainbow shades. Fill your tree with these colorful ornaments mixed in with your more traditional ones. You can also find tree toppers that come in silver, gold, red and other eye-catching hues.
If you really want to make a statement, go for a pink, blue, silver, red or white Christmas tree! They have pre-lit artificial trees in every color you can imagine. Add some coordinating ornaments, then pile the presents underneath. Nothing says "celebrate" like a rainbow Christmas tree.
Light Up Your Life with Colorful Christmas Lights
Christmas lights are a must for any colorful christmas decor. But there's no rule that says you have to stick with plain white. Mix things up with strands of lights in different colors like red, green, blue, purple, orange and more.
Outlining your home, fence, trees and bushes with colorful lights is an easy way to instantly amp up your outdoor decor. You can also find net lights that come in multicolored options. Drape these over bushes or line your driveway to guide Santa's sleigh in style.
For indoor decor, look for holiday lamp shades that have Christmas lights built right in. They come in fun colors like red, green, white and gold. Or wrap strands of colorful lights around bannisters, curtain rods, houseplants and more. Your Christmas lights will shine extra bright when they come in festive colors.
Bright Colorful Christmas Decor Ideas
Here are five bright colorful Christmas decor ideas:
Choose a non-traditional color scheme for your Christmas tree. Instead of the traditional red and green, go for a bold and colorful look with shades of pink, purple, blue, yellow, or orange. You can even mix and match different colors to create a unique and eye-catching display.

Add pops of color throughout your home with colorful ornaments, garlands, and lights. Hang brightly colored ornaments on your Christmas tree, mantel, and doorways. String colorful garlands across your fireplace, banisters, and windowsills. And drape colorful lights around your tree, porch, and bushes.

Use colorful gift wrap and ribbons to create a festive and festive look under your Christmas tree. Choose gift wrap and ribbons in a variety of bright colors to create a visually appealing display. You can even coordinate the colors of your gift wrap and ribbons with your Christmas tree decor.

Create a colorful Christmas centerpiece for your dining table. Fill a vase with brightly colored flowers, ornaments, and greenery. Or, create a festive tablescape with colorful candles, placemats, and napkins.

Add a touch of whimsy to your Christmas decor with colorful figurines, nutcrackers, and other whimsical decorations. Place colorful figurines and nutcrackers on your mantel, shelves, and coffee table. And hang whimsical decorations from your tree and doorways.
Warm Up Your Mantel with Cozy Color
Your fireplace mantel is prime real estate for showing off your holiday spirit. So make it as colorful and cozy as can be!
Start with Christmas stockings in rich shades of red, green, blue and gold. Line them up neatly along the edge of your mantel. Hang a festive garland above, also in colors that pop like ruby red or forest green.
Next, set out Christmas figurines and plush throws in colors that complement your stockings and garland. You can also add in pops of color with candles, poinsettias, greenery, berries and pinecones. Layer in some sparkling snowflakes, candy canes, glass ornaments or other colorful accents for extra charm.
Before you know it, your mantel will be decked to the halls in Christmas cheer! Just don't forget to save a spot for Santa's cookies.
White and Colorful Christmas Decor
White and colorful Christmas decor is a popular choice for many people, as it offers a classic and festive look. White lights and decorations can create a sophisticated and elegant atmosphere, while colorful lights and decorations can add a fun and playful touch.
Here are five ideas for white and colorful Christmas decor:
White Christmas tree with colorful ornaments. This is a classic look that is sure to please everyone. Choose a white Christmas tree and decorate it with colorful ornaments in your favorite colors. You can also add some white ornaments to create a more cohesive look.

White lights with metallic ornaments. This is a more modern take on white Christmas decor. Use white lights to string your Christmas tree and other decorations, and then add metallic ornaments in gold, silver, or bronze. This will create a sparkling and glamorous look.

Colorful lights with white ornaments. This look is a fun and festive way to add color to your Christmas decor. Use colorful lights to string your Christmas tree and other decorations, and then add white ornaments to create a contrast. This will create a cheerful and inviting atmosphere.

White garland with colorful ribbons. This is a simple but elegant way to decorate your mantelpiece, staircase, or other areas of your home. Use white garland to string along your desired areas, and then add colorful ribbons in your favorite colors. You can also add some small ornaments to the garland for an extra touch.

White wreath with colorful berries. This is a beautiful way to decorate your front door or other areas of your home. Choose a white wreath and add some colorful berries, such as cranberries, holly berries, or mistletoe. You can also add some small ornaments or a bow to the wreath for a finishing touch.
No matter what style of Christmas decor you choose, white and colorful decorations are a great way to add a touch of festivity to your home.
Dress Up Your Table in Festive Holiday Style
The dining room table often becomes the heart of the home during the holidays. It's where you gather for festive meals, sip hot cocoa by the fire and play Christmas games with the family. So let your table reflect the warm, celebratory spirit of the season!
Look for a colorful table runner or tablecloth in rich shades of red, green or gold. For a more eclectic look, try a runner with a Christmas print or motif. Then adorn your table with holiday dishware and glasses in one signature color. Red berry dessert plates or emerald green napkins work nicely.
Add a centerpiece featuring bright poinsettias, festive greenery, sparkling candles and colorful Christmas ornaments. You can also scatter more ornaments and candy canes around the table. Top it off with a tree skirt underneath to catch any fallen pine needles or candy crumbs!
Before you serve up that big Christmas dinner, your table will be ready for a holiday feast with your family. Pass the figgy pudding, please!
Brighten Up Your Front Porch for Guests
You know what they say, "the front door is the new front yard!" So let your front porch shine bright with Christmas magic this year.
Greenery, bows and bells are holiday porch staples. But don't be afraid to think outside the (gift) box. Paint your front door a vibrant red or cheery green. Hang a bright plaid or candy cane stripe wreath. Top your porch columns or railings with oversize Christmas bows or flowers in bold colors like ruby red or icy blue.
For more dazzling color, wrap your trees or bushes in strands of vibrant lights. Line your sidewalk or steps with colorful candy cane stakes. And place a couple of festive Christmas gnomes or plush reindeer on your welcome mat, bench or porch swing.
Before you know it, your front porch will be looking straight out of the North Pole! Just make sure Santa knows which house is yours.
Hobby Lobby Colorful Christmas Decor
Hobby Lobby is a great place to find colorful Christmas decor. They have a wide variety of options to choose from, including ornaments, garlands, lights, wreaths, and more. Here are five of my favorite colorful Christmas decor items from Hobby Lobby:
Merry Christmas Doormat:

This doormat is a great way to add a touch of festive color to your home entrance. It features the words "Merry Christmas" in bright red and green letters, with a wreath and holly berries on either side.

Snowman Ornament:

This snowman ornament is perfect for adding a touch of whimsy to your Christmas tree. It features a snowman with a bright orange nose and a cheerful smile. He's also wearing a festive red and green hat.

Garland:

This garland features a variety of colorful ornaments, including balls, snowflakes, and bells. It's perfect for hanging on your mantel, staircase, or Christmas tree.

Lights:

These lights are perfect for adding a touch of magic to your Christmas display. They come in a variety of colors, including red, green, blue, and purple. You can even find lights that change color!

Wreath:

This wreath is a beautiful way to add a touch of color to your front door. It features a variety of colorful ornaments, including balls, snowflakes, and holly berries. It's also topped with a festive red bow.
These are just a few of the many colorful Christmas decor items that you can find at Hobby Lobby. With so many options to choose from, you're sure to find the perfect pieces to decorate your home for the holidays.
How to Use Colorful Christmas Decor
When using colorful Christmas decor, it's important to strike a balance between too much and too little. If you use too much color, your decorations can look cluttered and overwhelming. If you use too little color, your decorations can look bland and uninspired.
A good rule of thumb is to use three or four main colors in your Christmas decor. This will help to create a cohesive and coordinated look. You can also use accent colors to add pops of interest to your decorations.
For example, if you're using red, green, and gold as your main colors, you could use white and silver as accent colors. Or, if you're using blue and purple as your main colors, you could use silver and gold as accent colors.
Another way to use colorful Christmas decor is to create a theme. For example, you could do a candyland theme with red, white, and green decorations. Or, you could do a winter wonderland theme with blue, white, and silver decorations.
No matter how you choose to use colorful Christmas decor, the most important thing is to have fun with it! There are no rules when it comes to decorating for the holidays, so be creative and express your own personal style.
FAQs
What are some good places to find colorful Christmas decorations?
You can find colorful holiday decorations at most major retailers like Target, Walmart, Amazon, and department stores. Christmas tree shops, craft stores like Michaels, and specialty holiday stores are also great places to shop. And don't forget flea markets, thrift stores, estate sales – they often have unique vintage ornaments and decor.
What is the most colorful part of Christmas decor?
Lights are one of the most colorful elements of Christmas decor. Strands of colorful lights along your roofline, windows, trees, and bushes make a huge impact. Ornaments in every color of the rainbow are also very festive. And don't forget about Christmas trees – going with a colorful pre-lit tree is a fun way to add lots of color.
How do I decorate my mantel for Christmas with color?
Use Christmas stockings in bright complementary colors like red, green and gold as the base. Hang a colorful garland like one with deep red berries above the stockings. Add in plush throws, holiday candles, poinsettias, and sparkling ornaments that match your color scheme. Top it off with a festive Christmas sign or family photo in a bright frame.
What are good ideas for colorful Christmas trees?
Go for a pink, blue, silver, red, purple, or rainbow-colored pre-lit artificial Christmas tree. Look for shiny, bright ornaments in any color combo you love. Add a colorful tree topper star, bow or angel. Pile color-coordinated wrapped gifts underneath for even more holiday magic!
How can I use Christmas lights for colorful decor?
Outline your home, bushes, and trees with strands of colorful lights – pick your favorite shades! Drape net lights over bushes and garland inside. Wrap strands of lights around bannisters, curtain rods, and houseplants. Place miniature lighted villages around your home. Use holiday lamp shades with lights built in. The options are limitless!
Final Thoughts
With a little creativity and plenty of vibrant colorful Christmas decor, you can deck your halls in holiday cheer this Christmas season. Start by adding colorful ornaments, garlands and toppers to your Christmas tree and mantel. Elevate your holiday style with elegant Christmas decor by dressing up your table in festive dishes and linens, brightening your front porch with plush accents and jolly stripes, and tying it all together with strands of dazzling, colorful Christmas lights.
Before you know it, your home will be glowing and shimmering with the magical spirit of Christmas. Just don't forget to save some cookies for Mr. Claus! Wishing you and yours the merriest, brightest holiday yet. Ho ho ho and happy decorating!
Tags:
cheerful atmosphere
,
christmas ideas
,
colorful christmas
,
colorful holidays
,
decor inspiration
,
festive home
,
holiday spirit
,
seasonal decor
,
vibrant holiday
,
vibrant ornaments.