If you're reading this, chances are you're in the exciting yet sometimes perplexing phase of introducing utensils to your toddler's mealtime routine. We know it can be a bit of a wild ride, with food flying everywhere and the occasional meltdown. But fear not because today, we're going to dive deep into the world of toddler utensils and help you navigate this stage with ease. In this guide, we'll explore the best types of utensils for toddlers, keeping in mind their safety, ease of use, and the important role they play in your child's development. We'll cover everything from spoons to forks, from plastic to metal. By the time you finish reading, you'll be armed with the knowledge you need to choose the perfect utensils for your little one's mealtimes.
Spoons: Scooping up Success
Let's start with one of the most fundamental utensils in your toddler's arsenal – the spoon. Spoons come in various shapes, sizes, and materials, so choosing the right one can make a world of difference.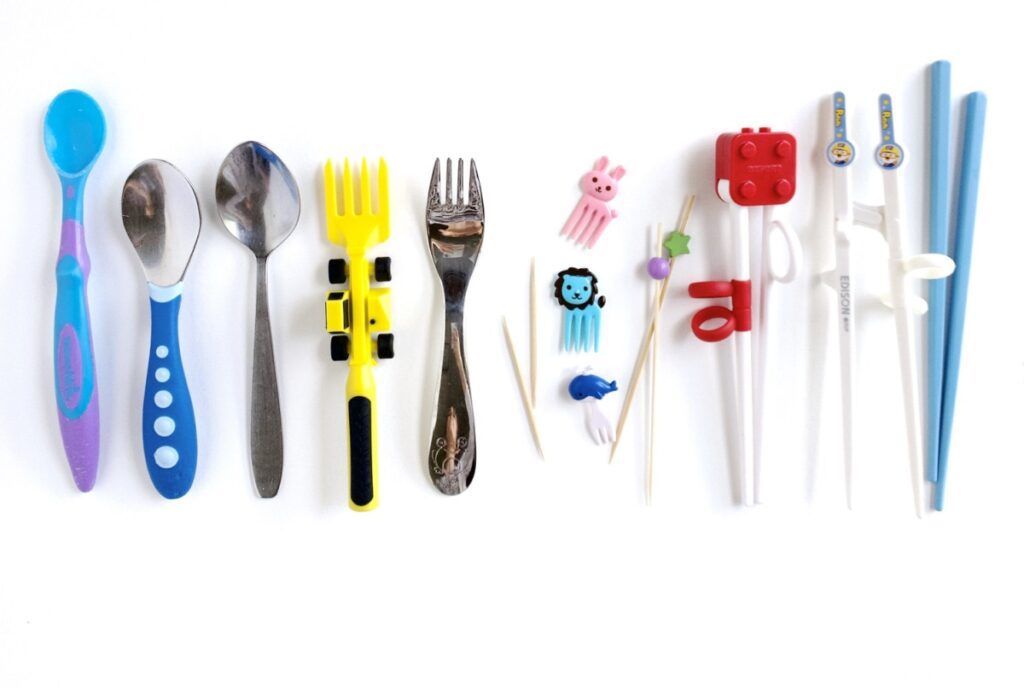 Types of Spoons for Toddlers:
Plastic Spoons:

These are often the go-to choice for many parents, and for good reason. They are lightweight, easy to hold, and less likely to cause injury if your toddler decides to use them as drumsticks on the dinner table. Look for BPA-free plastic spoons to ensure your child's safety.

Rubber-Coated Spoons:

These spoons have a rubberized coating on the handle, making them extra grippy for those little hands. They can be a great choice for kids who are just starting to self-feed.

Metal Spoons:

Some parents prefer to skip plastic altogether and go straight for metal spoons. Stainless steel spoons are durable and long-lasting. Just ensure the edges are smooth to avoid any accidental cuts or scratches.
Why Spoons are Great for Toddlers:
Spoon-feeding can be one of the first steps in teaching your toddler to feed themselves. It's an excellent way to introduce a wide variety of foods and textures, from purees to chunky soups. Plus, it encourages hand-eye coordination as your child learns to scoop food from the plate to their mouth.
Forks: Stabbing into Independence
Forks are like the advanced version of spoons, and they come into play when your toddler is ready to take on more challenging foods that require poking and spearing. Here's what you need to know about toddler-friendly forks:
Types of Forks for Toddlers:
Plastic Forks:

Similar to plastic spoons, these are lightweight and less likely to cause harm if your child decides to experiment with their newfound fork-wielding skills.

Fork-Spoon Combo:

Some utensils come with both a fork and a spoon on the same handle. These can be a fantastic choice for versatility, especially if your toddler is transitioning from purees to chunkier foods.
Why Forks are Great for Toddlers:
Forks are fantastic for promoting self-feeding and fine motor skills. They're perfect for foods like pasta, cut-up fruits, and vegetables. Encourage your child to try spearing their food, but be patient – it might take some time to master!
Training Utensils: Building Confidence
If your toddler is just starting their utensil journey, training utensils can be a game-changer. These are specially designed to make self-feeding easier for little hands that are still developing their coordination.
Types of Training Utensils for Toddlers:
Curved Handles:

Training spoons and forks with curved or contoured handles are ergonomically designed to fit your child's hand comfortably. This design can make it easier for them to grasp and control the utensil.

Grip-Friendly:

Some training utensils have rubberized grips or textured handles to prevent slipping. These can be especially helpful if your child tends to get frustrated with regular utensils.
Why Training Utensils are Great for Toddlers:
Training utensils are like training wheels for self-feeding. They offer a bridge between traditional baby utensils and full-fledged adult ones, helping your child gain confidence in their newfound skills.
Silicone Utensils: Safe and Soft
Silicone utensils have gained popularity in recent years, and for good reason. They're safe, versatile, and easy to clean – three things every parent can appreciate!
Why Silicone Utensils are Great for Toddlers:
Silicone is a safe material for toddler utensils because it's free from harmful chemicals like BPA and phthalates. It's also soft and gentle on little gums, making it an excellent choice for teething toddlers.
Bamboo Utensils: Eco-Friendly and Stylish
For the environmentally conscious parents out there, bamboo utensils can be an excellent choice. They're sustainable, biodegradable, and often come in adorable designs that can make mealtime fun for your toddler.
Why Bamboo Utensils are Great for Toddlers:
Bamboo is an eco-friendly alternative to plastic utensils. It's lightweight, easy to clean, and has a unique texture that some kids find interesting to touch and explore.
Size Matters: Choosing the Right Size
When selecting utensils for your toddler, keep in mind that size matters. The utensils should be proportionate to your child's age and development stage. Here's a rough guideline:
12-18 months:

Look for shorter handles and smaller, rounded utensils to accommodate their tiny hands and developing motor skills.

18-24 months:

As your toddler grows, opt for slightly longer handles and utensils with a bit more heft, which can help with dexterity.

2-3 years:

By this age, your child should be ready for utensils that closely resemble adult-sized ones. These will prepare them for a smoother transition to using regular cutlery.
Safety First: What to Look For
Your toddler's safety is paramount when choosing utensils. Here are some safety considerations to keep in mind:
BPA-Free and Non-Toxic Materials:

Ensure that the utensils you choose are made from safe materials. Look for labels like "BPA-free" or "non-toxic" to be certain.

Smooth Edges:

Check for any sharp or rough edges that could potentially harm your child's delicate mouth or skin.

Dishwasher Safe:

Convenience matters. Opt for utensils that are easy to clean, preferably dishwasher safe, to save you time and effort.

Sturdy Construction:

Toddlers are known for their curiosity, and utensils might end up in unexpected places. Choose utensils that can withstand some rough handling.

Grip-Friendly:

Ergonomic handles or grips can help your child hold onto the utensil more securely, reducing frustration during mealtime.

Heat Resistance:

If you plan to serve hot foods, make sure the utensils can handle heat without warping or releasing harmful chemicals.
The Personal Touch: Let Your Child Decide
Remember that your child is a unique individual with their own preferences. What works for one toddler may not work for another. How long does the dishwasher take to run? It's a good idea to let your child have a say in choosing their utensils, whether it's based on color, shape, or their own comfort level, as getting them excited about mealtime can make the whole process smoother.
FAQs
Q1: When should I start introducing utensils to my toddler's meals?
A1: You can start introducing utensils as early as around 12 months when your child begins to show an interest in self-feeding. Begin with soft, child-friendly utensils to ease the transition.
Q2: What's the best way to encourage my toddler to use utensils independently?
A2: Encourage your child's independence by offering utensils alongside finger foods. Demonstrate how to use them and let your toddler mimic your actions. Be patient and celebrate their small victories!
Q3: Are metal utensils safe for toddlers?
A3: Yes, metal utensils can be safe for toddlers as long as they have smooth edges and are appropriately sized for your child's age and development stage. Always supervise your child when using metal utensils to ensure their safety.
Q4: Can I use regular adult utensils for my toddler?
A4: While you can certainly try, it's often more practical to start with utensils designed specifically for toddlers. These are usually smaller, more lightweight, and easier for little hands to hold and control.
Q5: What should I do if my toddler refuses to use utensils?
A5: Don't worry if your child isn't interested in using utensils right away. Keep offering them during meals and let your toddler explore at their own pace. With time and patience, they'll likely become more comfortable using utensils independently.
In conclusion
Choosing the right utensils for your toddler can make mealtime a smoother and more enjoyable experience for both you and your little one. Remember to prioritize safety, choose age-appropriate utensils, and be patient as your child learns to feed themselves. With the right tools and a supportive environment, your toddler will be mastering the art of self-feeding in no time.
Tags:
baby feeding essentials.
,
baby weaning
,
best utensils for toddlers
,
child-friendly utensils
,
feeding tools for toddlers
,
safe toddler utensils
,
spoon and fork for toddlers
,
toddler cutlery
,
toddler eating tools
,
toddler mealtime
,
toddler self-feeding
,
toddler utensils
,
utensils for little ones