The sweet, spicy aroma of gingerbread brings back nostalgic memories of Christmas past. Decorating gingerbread cookies or houses was a beloved tradition in many households growing up. There's just something magical about these crisp, molasses-flavored treats that embody the spirit and flavors of the holidays. This year, go beyond decorating a simple gingerbread house and unleash your creativity to make showstopping edible gingerbread decorations that will deck your home in holiday charm. You can craft elegant gingerbread Christmas trees dotted with shiny candy ornaments. Shape and frost gingerbread into wreaths encircled with gumdrops and sprinkles. Or assemble a miniature gingerbread village with charming cookie houses, shops, and churches straight from your imagination.
Here, you'll discover a decadent array of ideas for DIY gingerbread Christmas decor that will make your home merry and bright this Christmas.
Kitchen Gingerbread Christmas Decor Ideas
The kitchen is the heart of the home during the holidays, so decorate this space with edible gingerbread accents that look good enough to eat!
Fill empty corner spaces with miniature gingerbread houses. Use graham crackers for the base and roof, held together with icing. Decorate the houses with gumdrops, M&Ms, crushed candy canes and sprinkles. Make a fresh batch each week to replace any that get nibbled on!
Hang a gingerbread wreath over the kitchen sink or oven. Cut gingerbread dough into ring shape before baking. Once cooled, decorate with red and green icing in fun patterns. Adorn with candy Christmas trees, trees, and snowflake sprinkles for added flair.
Display a gingerbread Christmas tree centerpiece on your kitchen island or dining table. This is an easy way to craft a gingerbread masterpiece. Cut wedge shapes from dough for the branches, bake, and assemble in a circle on a cake stand. Decorate with icing, candy canes, and silver dragées for a showstopping tiered tree.
Line your countertops and shelves with gingerbread people cookies. Cut gingerbread dough into person shapes before baking. Let the kids decorate faces and outfits with icing and candies. Place them around mixing bowls, appliances, and cookbooks for a whimsical scene.
Hang a gingerbread stocking next to the real ones. Shape gingerbread dough into a stocking before baking. Adorn with royal icing designs and puffy dot candies. Use jolly ranchers to spell out names in festive colors. Fill with homemade candies and cookies!
Gingerbread Christmas Decor Outside Plan
Bring the taste of the holidays outside by decorating your home's exterior with fun gingerbread accents. These cookie creations add sweet curb appeal to your home's Christmas décor.
Line your front walkway or porch steps with a gingerbread lane. Use thicker gingerbread dough cut into brick shapes before baking. Decorate each gingerbread "brick" with red, white, or green icing in patterns. Use icing to adhere the bricks side-by-side.
Display mini gingerbread houses along the porch railing or front yard. Make easy graham cracker gingerbread houses decorated with candy beads, sprinkles, and snowflake designs. Place colorful gumdrops beneath as Christmas "flowers." Illuminate at night with fairy lights.
Hang a giant gingerbread wreath on your front door. Shape two large gingerbread rings, bake, and fuse together with icing. Decorate with red and white icing swirls and patterns to mimic a peppermint candy design. Accent with gumdrops.
Use a gingerbread archway over the walkway to your front door. Cut curves from each side of a rectangular gingerbread piece so it creates an arched shape. Decorate with icing stripes, snowflakes, or dots. Place Christmas flower candy accents on each side.
Surround trees in your yard with gingerbread Christmas trees. Roll gingerbread dough into logs, cut into cylinders, and fuse together in a cone shape with icing before baking. Decorate with red, white, and green icing and silver dragées. Illuminate at night for a magical effect.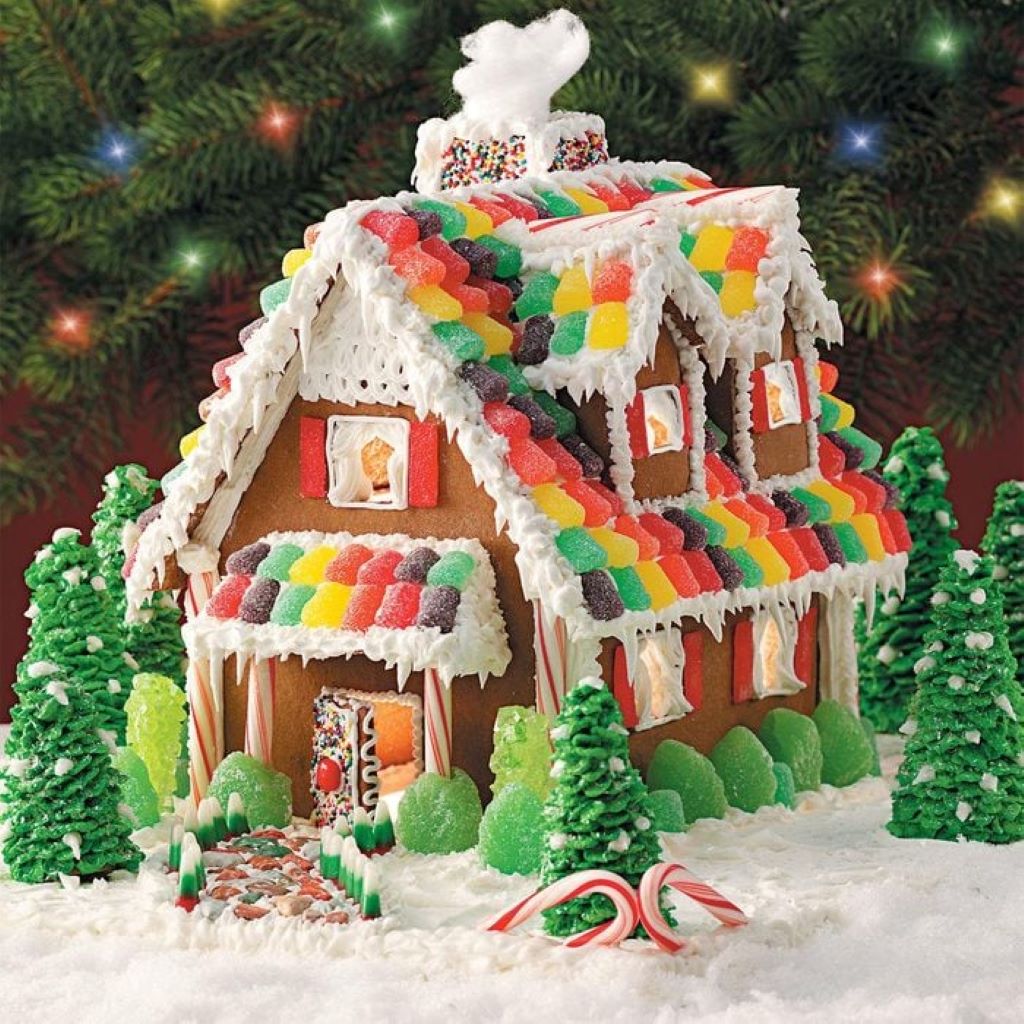 Gingerbread Houses
Gingerbread houses are a centerpiece of Christmas décor and one of the most iconic gingerbread crafts. The tradition of building small homes out of gingerbread is said to have begun in Germany in the early 1800s, though some trace it back even earlier to medieval times. While the exact origin is uncertain, gingerbread houses have become a beloved Christmas custom for both children and adults alike.
When it comes to designing your gingerbread house, let your imagination run free. You can keep it simple with a classic square house and triangle roof. Or get creative with unique shapes like circular homes, A-frame roofs, or castles with turrets. If you're new to gingerbread houses, start with a basic design you can decorate simply. As your skills advance, get more complex by adding architectural details like chimneys, dormers, or bay windows.
To assemble your gingerbread house, you'll need a sturdy foundation. Many recipes use thick gingerbread cut into panels to form the walls and roof. Join pieces together with thick royal icing, allowing time to set between adding rows and decorative elements. Proper sealing prevents moisture from softening the gingerbread. For extra stability, build houses atop a heavy cookie sheet base. Place parchment paper underneath while working to prevent sticking.
When it comes to decorating gingerbread houses, the options are endless! Frosting "glues" pieces together while allowing you to add decorative trim. Make basic white royal icing or experiment with colored icing. Use candies like gumdrops, licorice, mints, and chocolates to create windows, shingles, wreaths and other accents. Let kids decorate their own houses – it's all edible after all! Display your finished gingerbread masterpiece proudly so guests can admire it.
Gingerbread Christmas Trees
For a festive twist on traditional holiday decor, deck your halls this season with a homemade gingerbread Christmas tree. Though unconventional, these edible trees are easier to make than gingerbread houses while still providing that satisfying homemade charm.
Shaping and cutting the gingerbread dough into a tree form takes some precision, but creates a beautiful result. Roll dough to 1⁄4 inch thickness and cut out wedge shapes for the branches. Arrange the wedges in a circle with points facing the center to form the tree. Bake according to recipe instructions. For a grand entrance display, make a giant gingerbread tree by doubling the recipe and wedges.
When it comes to decorating, let your inner pastry chef run wild! Make basic white icing or get creative with tinted icing in Christmas colors like red, green or white. Outline branches with icing and 'glue' on candy decorations. Stud with gumdrops, M&Ms, crushed candy canes or sprinkles for ornaments. Top with a glittering star made of crystallized ginger or a beautiful bow made from red licorice laces.
For tabletop trees, use a cupcake stand or plates stacked inverted to form the base. Surround with holiday treats like cookies or chocolate truffles. Adults can also decorate mini gingerbread trees to use as unique drink garnishes at holiday parties. Place them atop cocktails for a whimsical flourish.
Gingerbread Wreaths
For a deliciously different take on traditional holiday wreaths, bake up some festive gingerbread wreath decorations this Christmas. Fragrant and spice-kissed, these handcrafted wreaths make a pretty adornment for doors, walls, or tablescapes.
Baking gingerbread dough into a wreath shape takes a few simple steps. Roll out chilled dough to 1⁄4 inch thickness. Use a round cookie cutter or plate to cut out a large ring shape from the dough. Carefully transfer the ring to a parchment lined baking sheet. Pinch the ends together gently to form a wreath shape. Decorate with any extras dough cutoffs.
After baking and cooling your gingerbread wreath, unleash your creativity decorating with royal icing and candy! Outline the wreath in your preferred icing colors and add decorative piping. Stud with gumdrops, M&Ms, crushed candy canes, or sprinkles to mimic ornamental decorations. Weave red licorice through the wreath for a ribbon effect, or top with a festive gingerbread bow.
For an edible aromatic wreath, decorate with slices of candied citrus peels or pineapple. Add dried fruits, nuts, and cinnamon red hots for a natural appeal. Or make it a cookie wreath by decorating with frosted sugar cookies cut into fun holiday shapes. However you choose to decorate it, a homemade gingerbread wreath is sure to infuse your holiday décor with delicious charm!
Gingerbread Christmas Centerpieces
For a showstopping focal point at your holiday table, create a mouthwatering gingerbread centerpiece. From quaint gingerbread houses to entire frosting-filled villages, your edible centerpiece will steal the show and delight guests.
Construct your gingerbread masterpiece on a sturdy base that complements the design. For houses, build upon a cake board or sturdy cardboard rectangle covered in foil or parchment paper. Secure walls to the base with thick royal icing before decorating. For an elaborate village, build upon a large round board or platter atop a cake stand for height.
When designing your scene, consider incorporating components like houses, churches, stores, lamp posts, trees, parks, animals, people, and accessories. Cut basic gingerbread shapes for the buildings and use candies and icing to add details. Use rectangle peppermint candies for church pews or a Pretzel rod forest. Gummy bears or candy people make fun villagers.
Surround your gingerbread creation with additional holiday elements for an immersive display. Place faux Christmas trees, string lights, pinecones, poinsettias, and wrapped gifts around the base. Intersperse more cookies, chocolates, seasonal fruits, nuts, and confections throughout the scene. The end result will have guests young and old alike mesmerized.
After presenting your centerpiece, let guests carefully break off and enjoy pieces of the gingerbread display. Send them home with goodie bags of the decorated cookies and candies to share the holiday magic!
Pink Gingerbread Christmas Decor
For a playful, feminine twist on traditional gingerbread decor, incorporate shades of pink. The soft hue provides a romantic contrast to classic red and green.
When baking gingerbread, mix a few drops of red food coloring into the dough to achieve a pale pink color. Cut out shapes like hearts, flowers, butterflies. Decorate with pink royal icing and berry-colored candy accents. Stud with white chocolate chips or coconut flakes for snow.
Craft a pink royal icing masterpiece atop your gingerbread house. Edge the roof and windows with swirling pink piping. Create pink polka dots, stripes, or argyle patterns on the walls. Use strawberry licorice laces for trim.
Bake pink gingerbread wreaths decorated with flowers. Cut dough into rings, pinch together, and decorate with royal icing in shades of pink, pearl, and ivory. Adhere large flower gumdrops, creating floral wreaths perfect for Valentine's Day.
For a stunning tablescape, build a pink gingerbread cottage centerpiece. Construct the cottage upon a cake drum base using pink gingerbread. Give it pearl white accents and an iced pink roof with candy shingles. Surround with additional cookies, pastel candies, or flowers.
Make glittery pink gingerbread ornaments for your Christmas tree. Cut pink gingerbread into shapes like stars, hearts, angels, etc. Before baking, punch a hole for hanging. Once cool, decorate with pearl dust, luster dust, edible glitter, and icing.
The sweet pink creations will add an elegant, whimsical touch to your holiday gingerbread decor. Let your creativity shine by combining pink with other festive hues like red, white, green, or gold.
FAQs
How long does homemade gingerbread last?
Properly stored in an airtight container at room temperature, baked gingerbread will last 1-2 weeks. For best flavor and texture, decorate and serve gingerbread decorations within 3-5 days of baking. The royal icing and candy decorations will help keep gingerbread from drying out.
What is the best gingerbread recipe for decorating?
Look for recipes specifically formulated for decorating that use extra ginger and molasses for bold flavor. Avoid recipes with baking soda as this can cause discoloration. Sturdy gingerbread that holds its shape when cut is best for decorating.
How do you make gingerbread construction sturdy?
Use thick, stiff gingerbread dough rolled to 1⁄4 inch thickness. Royal icing "glues" pieces together firmly. Allow icing to dry completely between adding decorations. Reinforce the inside structure with mini gingerbread pieces to support heavier decorations.
What are some easy gingerbread decorating ideas?
Use candy to create patterns, make gingerbread people, outline houses in icing, attach candy garlands, make trees from rolled snakes, create wreaths by piping icing, and more!
How do you hang gingerbread decorations?
Before baking, make a hole with a straw or piping tip. String ribbon or baker's twine through the hole to hang gingerbread ornaments, houses, trees, etc. You can also lean houses against the wall or display on a pedestal.
Can you make gingerbread decorations in advance?
Yes, baked gingerbread can be stored in an airtight container for 1-2 weeks before decorating. Structures like houses can be assembled and icing can be piped in advance too. Add final touches like candies just before displaying.
Final Verdict
From iconic gingerbread houses to unique edible trees and wreaths, we've covered a festive array of ideas for DIY gingerbread decorations. When planning your holiday décor, don't limit yourself to just one element. Combine different gingerbread creations to deck your entire home with edible Christmas charm. Adorn your staircase with a garland of gingerbread wreaths and ornaments. Use mini gingerbread trees to embellish each tabletop. And of course, display a magnificent gingerbread house as the focal point.
With each type of gingerbread decoration, feel free to make it your own. Follow the basic techniques, but don't be afraid to customize shapes, styles, and decorations to match your Christmas vision. That's the beauty of gingerbread – you can let your creativity shine while bringing your favorite holiday treats and activities together into one deliciously nostalgic craft. Did you know that mistletoe, a traditional Christmas decoration, is actually a parasitic plant? The memories you'll create while crafting and displaying these edible decorations, along with the enchanting allure of mistletoe, will become treasured traditions. May your holidays be filled with warmth, joy, and the unforgettable magic of gingerbread!
Tags:
christmas magic
,
christmas spirit
,
creative holidays
,
diy delights
,
diy magic
,
diy ornaments
,
edible decorations
,
enchanting decor
,
family-friendly activities
,
festive celebrations
,
festive diy
,
gingerbread crafts
,
gingerbread joy
,
holiday crafting
,
holiday decor
,
homemade christmas
,
homemade ornaments
,
magical christmas
,
seasonal crafts
,
seasonal delights