Maintaining a beautifully manicured lawn is the dream of every homeowner. Choosing a perfect mower that suits your lawn and individual needs can make this task less laborious and more enjoyable.
This guide aims to help you make informed decisions when purchasing your ideal mowing machine – delving into the pros and cons of walk-behind vs. riding mowers, key features to consider, the versatility of walk mowers, understanding drive types, as well as mulching, discharging, or bagging functions.
So, read on before making a purchasing decision.
Key Takeaways
Riding mowers are generally faster and more efficient for yards larger than 1/4 acre.
For smaller yards, a walk-behind mower can generally get the job done adequately.
More expensive mowers are typically more durable, versatile, and faster.
Understanding the terrain of your lawn helps determine the most suitable drive type for your mower.
Mowers that offer bagging, mulching, and discharging functions provide greater versatility for different lawn needs.
Walk or Ride: Which Mower Is Right for You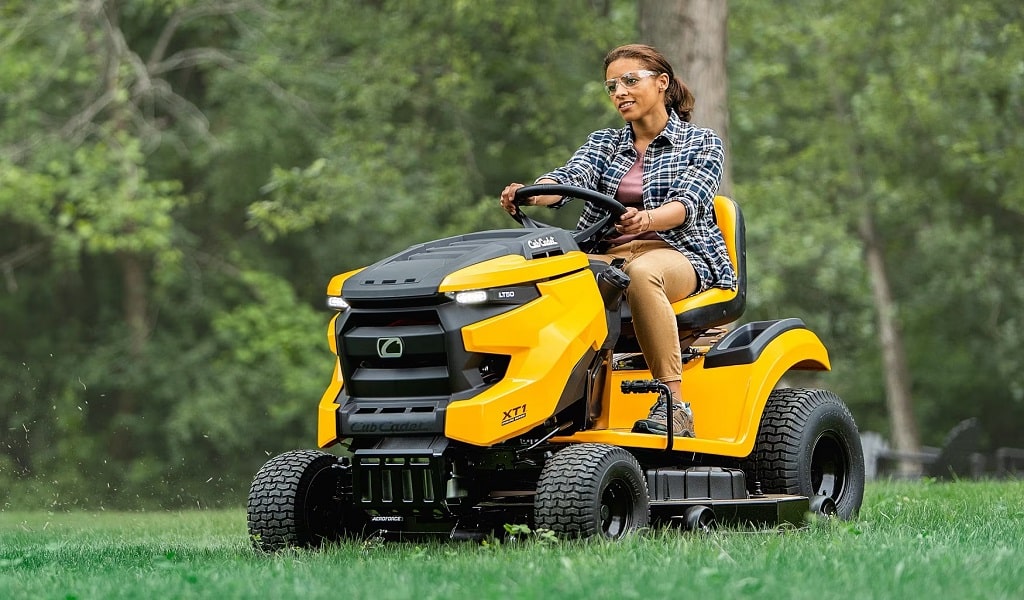 If you have a large yard and want to save time, a riding mower might be the right choice for you. Riding mowers are faster and more efficient for yards larger than 1/4 acre.
To determine the size of your mowing area, you can approximate it by counting your steps. If your yard is larger than 10,890 square feet, which is equivalent to 1/4 acre, then it's worth considering a riding mower.
When it comes to riding mowers, there are different types available to cater to various needs. Rear-engine riding mowers are ideal for small to medium-sized yards. Light-duty lawn tractors are suitable for yards ranging from 1/4 to 2 acres.
Residential-duty zero-turn mowers are a good option for the same yard size range, while commercial-duty zero-turn mowers are best for yards larger than 2 acres.
While considering the benefits of a riding mower, it's important to steer clear of the worst zero turn mowers. These mowers may have performance issues and are prone to mechanical problems or inefficient operation.
Whatever type you choose, it's advisable to do thorough research, read customer reviews, and seek recommendations from experts or trusted sources to find the best riding mower that suits your requirements.
Investing in a high-quality and reliable riding mower will not only save you time and effort but also provide a smoother and more enjoyable mowing experience.
Must-Have Features for the Perfect Mower
When selecting the perfect mower, consider the must-have features that will enhance your mowing experience.
First, think about the size of your yard. As mentioned earlier, if it's larger than 1/4 acre, a riding mower would be faster and more efficient. For smaller yards, a walk-behind mower will suffice.
Next, think about your budget and comfort preferences. More expensive mowers are generally more durable, versatile, and quicker. If you have a larger or more complex yard, look for features like adjustable cutting height, easy maneuverability, and a wide cutting deck.
Additionally, consider the drive type based on your mowing conditions. Front-wheel drive is best for level ground, rear-wheel drive is ideal for hills, and all-wheel drive is suitable for rough terrains.
The Versatility of Walk Mowers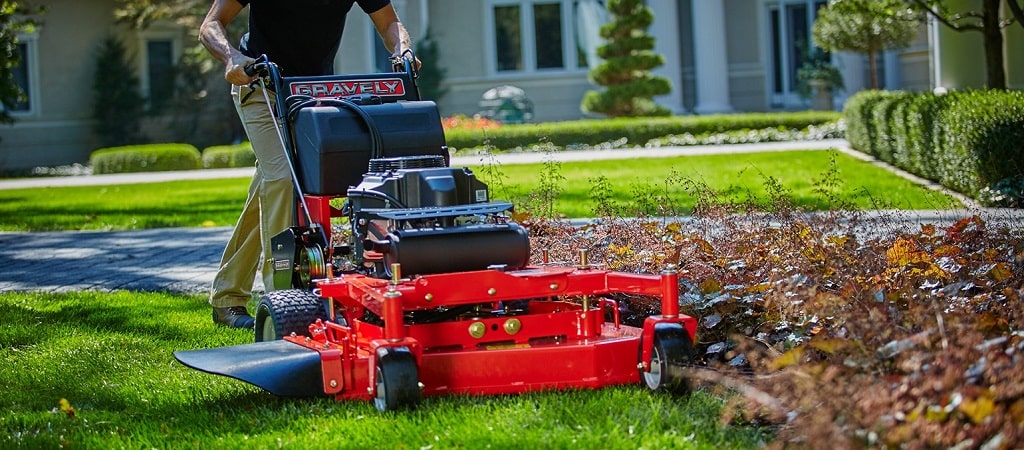 You can enhance your mowing experience by exploring the versatility of walk mowers, offering a wide range of options and features.
Walk mowers are versatile cutting machines that can handle different types of lawns.
They're available with a variety of useful features to make your mowing tasks easier.
Look at the hang tag and talk to sales staff to understand which features would be most beneficial for your needs.
Major components and their use in lawnmowers should be considered before making a purchase.
Drive Types: Finding the Best Fit for Your Yard
Consider the terrain of your yard before selecting a mower, as different drive types work best for level ground, uphill mowing, or rough terrains.
For level ground with obstacles, front-wheel drive mowers are the way to go. They provide better maneuverability.
If you have uphill or sidehill mowing to do, rear-wheel drive mowers are your best bet. They offer better traction on inclined surfaces.
And if you have rough terrains to tackle, all-wheel drive mowers are suitable. They provide extra power and stability.
Understanding the drive types and their suitability for different terrains will help you choose the best fit for your yard. So, before making a decision, assess your yard's terrain and select a mower that will make your mowing tasks easier and more efficient.
Functions: Mulching, Discharging, or Bagging
If your lawn requires regular fertilization, it's beneficial to choose a mower that has the function of mulching, as it returns nutrients to the soil. Mulching is healthier for the lawn and helps maintain its overall health.
Here are some key points to consider when it comes to the functions of a mower:
Mulching: Mulching clippings helps in recycling nutrients back into the soil, promoting a greener and healthier lawn.
Discharging: Discharging clippings can be useful for utility mowing, but it doesn't provide the same benefits as mulching.
Bagging: Bagging clippings is an option if you want a clean and tidy lawn, but it requires additional effort to dispose of the clippings.
Three-function machines: Some mowers offer the ability to bag, mulch, and side discharge, providing versatility for different lawn conditions.
Conclusion
The perfect mower is a personal preference that depends on numerous factors including the size of your yard, your budget, the type of terrain, and your desired outcome.
It must not only be up to the task of maintaining your lawn efficiently but should also make mowing an enjoyable and less strenuous activity.
The key to finding your ideal mower lies in understanding your lawn, acknowledging your comfort preferences, and being conscious of your budget constraints.
Tags:
expensive mowers
,
green machine lawn mower
,
lawn mower yard machine
,
lawn mower yard machines
,
selecting the perfect mower
,
yard machine lawn mower
,
yard machines lawn mower