Decorate with terracotta- The warm colors how the browns come back to appear strongly in the decorative scene and especially the terracotta. But not only in the form of paint but in all its varied options it becomes one of the most desired elements to decorate homes this winter.
Decorating with terracotta is back in fashion. Whether for floors or with that color so warm for walls but also in pots and all kinds of decorations. And it is already said that everything returns and the terracotta does it with force to the decoration.
It is a color full of strength and life that will bring much warmth to any environment as well as personality. That's why today we are going to see what possibilities you have when decorating with terracotta, do not miss it!
Decorate with terracotta floors
Terracotta floors are easy to recognize because of their color. An intense and natural color resulting from the firing process of the clay with which this type of tile is made. They have been widely used in more rustic and country style environments and also outdoors for their strength and durability.
We can find terracotta tiles with different finishes, with or without gloss, and in different shades, according to our taste. And that will give a lot of personality to any space.
Paint in terracotta color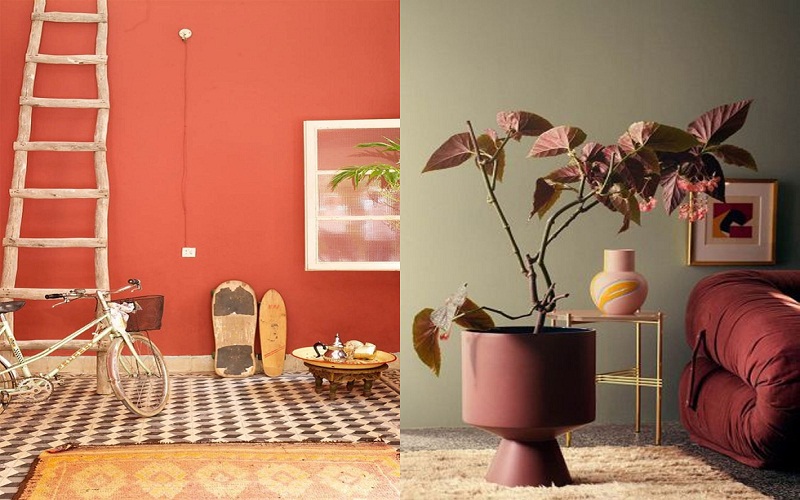 The terracotta tone comes back to stomping in decoration. It is a color of the warm range, a color with a lot of personality that will highlight any space. That is why we must also use it with prudence because it will become the focus of attention.
Traditionally it has been more associated with rustic or rustic environments but it can also be a very modern and modern color if we combine it with gray tones. Although it seems difficult to combine can have many options when using terracotta: gray, brown, neutral tones like white … in all of them the terracotta will be the protagonist.
But we can also bet on more risky mixtures such as uniting it with pink and thus create a very dynamic and current combination. Do not you love the idea? No doubt the space will be very special with this union.
Tableware
Another traditional use of terracotta has been in the form of crockery to decorate our tables. Now this idea becomes again fashionable and we will find many options to include it in our table. Both in its natural color and with decorations we love it.
The color varies from black to brown and red to light beige. The new technologies have improved the resistance to humidity, which was a defect of the traditional terracotta, and now it is much more resistant so it becomes a good choice for bowls, cups, plates …
Terracotta color sofa
It is one of the novelties of the season. It is an option that seems very risky but in more traditional style rooms we often find pieces in this color. Especially armchairs and sofas, combined with brown, gray or light upholstery.
If you know how to combine it you can get a very modern effect. For example, with gray or green military tones you can get a unique effect that will turn your terracotta sofa into the center of the room.
Terracotta lamps
Every time we find more varied lamps and materials that were previously unthinkable … and the terracotta also joins this trend. We can find terracotta lamps or that mix terracotta and another type of material to give it a more modern touch. They can be a great idea for a kitchen, do not you think?
Pots
It is one of its usual uses and I am sure that at some point you have had some terracotta pot or you still have them. They are resistant and at the same time they decorate with that color so warm and that contrasts so well with the green of the plants. Today we find them in all kinds of designs, more modern and attractive.
Paint your patio in terracotta
It is one of the colors that can help you create a very special space if you have a patio. Its warmth and strength will make you feel very comfortable and are the perfect counterpoint to the exuberance of plants. In this way you will get a secret corner for relaxation.
And you, do you like the terracotta color? And of the many options that he offers us to decorate in our home, which one would you prefer? Sometimes it is very difficult to decide on one and with that excuse we can use it in all its varieties. But without a doubt the terracotta has arrived with force to the decoration and we are going to see it much in the next months … do you dare to include it in your home?
Why choose the terracotta red color to decorate the house
Autumn breaks into our lives and changes everything. Although the arrival of the cold still seems distant, and the warm temperatures continue to dominate the thermometers and our day to day, the new station is here. That brings us airs of change to our life, which can be extended to your home. Create new decorations, with the terracotta red color as the protagonist.
You already know that I do not get tired of highlighting the enormous importance of color in decoration . While it would be excessive to say that color is everything in an environment, it is true that it is one of the fundamental elements that can completely change a space. They can enrich it or spoil it. Today we propose some successful formulas to decorate your environments with terracotta red, a very autumnal color perfect to welcome the new season.
With painting as an ally, and choosing the right colors, you can renew the decoration of your spaces in a very economical way. Do not let a small budget be the excuse to not renew your environments. Decide to take the roller and the brush and change your house for little money.
Terracotta red for your walls
If you paint the walls yourself, you will achieve a quite economical change of look. In addition, we know that it is laborious, but it can also be very fun to dedicate a weekend to changing the color of the walls. Especially if you have help. Of course, you should take into account some recommendations when painting the walls with intense colors such as terracotta red.
To begin, look at the base color of your walls. If they are dark, paint them white first. Otherwise the terracotta red will not remain as you think, but darker or with a different shade. It is true that it is more work, but it will be worth it. There is nothing worse than finishing painting a wall and realizing that the resulting color is not what you expected and that does not convince you. I tell you from experience.
A color for autumn
Red is the color of passion, of love. A warm tone where there are, which can be hot. It is a color that awakens sensations of activity and movement, and fills it with dynamism. Activate our spirit by providing energy. That's why we have to learn to use it correctly. If we exceed, we can achieve global effects that do not favor us at all, but rather the opposite.
It is an appropriate tone for living rooms, living areas, reception rooms, dining rooms and even kitchens. However, I see it less suitable for bedrooms and spaces in which relaxation and rest are sought.
Beware of going over
Although in matter of choice of colors half measures are not to my liking, in the case of the red color should be very cautious. An excess of red at home, especially if the rooms are not too large, can be more than overwhelming.
It is best to use it sparingly. Better on a wall than at four, and if your living room is small, maybe it would be a good idea to leave it for the sofa, and for some furniture and accessories. Keep in mind that in the case of red, less is more. Usually.
Terracotta, red in its most natural version
It is one of my favorite colors for autumn. And this is true thanks to the natural nuances that are implicit. Terracotta red is very present in nature and that helps to make it an authentic and special tone.
In autumn, the leaves of many trees are dyed brown, dark red, terracotta … That's why this special shade of red conveys to me the essence of the countryside, of nature.
It is a perfect color for environments and decorations of rustic style , perfect for decorating spaces in country houses, in which wood, stone and other noble and natural materials have a great presence.
How do you combine the terracotta color?
If you have decided to paint one of the walls of your terracotta red room, you will have to choose a tone for the other three. Bet on neutral tones such as white or, better yet, raw or bone. You can also decide on a very light gray.
When choosing furniture and accessories, terracotta red combines very well with dark wood furniture. White lacquered furniture also stands out especially on surfaces of this powerful color.
Finally, today we bring you the different colors that are trend to decorate with terracotta your home this season . Also some options on how to combine them, textures, other colors and the furniture with which your home can look perfect. The warm decorate with terracotta combined with light woods and roses, make a great combo to decorate your home.
Tags:
decorate with terracotta
,
decorate with terracotta at your home
,
Decorate with terracotta floors