The leaves are changing colors, the air is getting crisp, and pumpkins are popping up everywhere. You know what that means – Thanksgiving is right around the corner! This year, I wanted to decorate my yard and embrace the spirit of the season. After doing some searching online and visiting a few local stores, I found some festive and fun Thanksgiving yard stakes that are perfect for sprucing up my outdoor space. In this post, I'll share some of my favorites and ideas for how to use Thanksgiving stakes to decorate your home.
Kick Things Off with a Cute Pilgrim or Turkey
Of course, no Thanksgiving display is complete without a pilgrim or turkey! These traditional symbols of the holiday make for adorable yard stakes that are sure to make your neighbors smile. Some of the ones I found have whimsical designs, like a pilgrim tipping his big hat or a turkey strutting his stuff. Others are more simple and elegant, featuring just the silhouette of a pilgrim or a bronze-toned turkey. Position a few of these around your front or side yard for an instant dose of Thanksgiving spirit. You can also look for stakes with kid-friendly designs – maybe a chubby little pilgrim or a cute baby turkey – to appeal to the younger crowd.
Give Thanks with Message Stakes
In the spirit of the holiday, Thanksgiving is a great time to decorate with yard stakes that express gratitude and giving thanks. You can find stakes with sentiments like "Give Thanks", "Blessed", and "Thankful Grateful Blessed". Place these in a row along the edge of your yard or path to your front door. Or stake a few around your mailbox or front porch. Not only do these send a positive message to passersby, but they also serve as a nice reminder for you and your family to reflect on blessings.
Harvest Time with Cornucopias and Produce
Bring the harvest season to life with yard stakes featuring cornucopias, vegetables, fruits, and autumn bounty. Opt for big, bold stakes with overflowing cornucopias as a fun focal point. Or place some smaller cornucopia stakes along your sidewalk or interspersed throughout your yard. You can also find stakes featuring produce like pumpkins, acorns, apples, oranges, onions, carrots, and more! Scatter these around your yard or use them to make a decorative border around flower beds or trees. Arrange them with the turkey and pilgrim stakes for a quintessential harvest display.
Rustic Farmhouse Vibes
I'm a big fan of the rustic farmhouse style, so I looked for some yard stakes that capture that cozy, countryside feel. Galvanized metal stakes with cutouts of turkeys and pilgrims have an antique country look. Or opt for wooden stakes with a homespun folk art design – like a pilgrim family or turkey silhouette carved or painted on. Place a selection of these farmhouse-inspired stakes along your walkway or fence line for rustic flair. You can also find stakes made from burlap, twine, or raffia for a crafty farm vibe. Incorporate a few pumpkin or apple stakes for the full farmhouse harvest effect.
Greet Guests with Sign Stakes
Welcome guests and add instant curb appeal with Thanksgiving sign stakes for your yard. You'll find stakes with messages like "Happy Thanksgiving", "Thankful", "Grateful & Blessed", or the simple declaration, "Turkey Day!" Place these prominently by your front door, walkway, or driveway so visitors are immediately greeted with the holiday spirit. Look for fun sign stakes shaped like turkeys, leaves, or pumpkins for extra flair. And don't forget to add your house number or family name to the signs so guests know they've arrived at the right home!
Light Up with Solar Stakes
Solar-powered yard stakes add a warm glow to your holiday decorating. You can find light-up stakes shaped like turkeys, pilgrims, pumpkins, and more! The sunlight charges the batteries during the day, then the stakes automatically illuminate at night – no wiring or outlets required. Line your sidewalk or edge of your yard with these festive solar stakes for a magical illuminated display. Place a few by your front door to welcome guests and make your home instantly more inviting after dark. For added ambiance, you can also find solar string lights with dangling autumn-colored leaves.
Funny and Punny Stakes
Because Thanksgiving is all about gathering with friends and family, I like to add some humor to my yard decor with funny and cute stakes. Puns like "Don't Squawk, Gobble Gobble" or "Turk-tastic!" always make me chuckle. You can also find stakes with sassy turkeys saying things like "But First, Turkey" or "Gobble Til You Wobble". These funny stakes are sure to be a conversation starter and get your guests giggling. Just stick them in different spots around your yard – by the front walk, along the driveway, or right by the front door. A little holiday humor goes a long way!
DIY Stakes for Kids
Thanksgiving is the perfect time to do a fun craft activity with kids – like making your own DIY yard stakes! You can keep it really simple by using sticks from your yard (or inexpensive wood dowels). Have the kids paint designs on them with acrylic paints – turkeys, Pilgrim hats, fall leaves, etc. You can even wrap inexpensive wood door hanger signs with burlap to create message stakes like "Give Thanks" or "Blessed" in your kids' handwriting. Older kids can use a wood burning tool to burn designs into wood stakes for a more rustic vibe. Take an afternoon to craft together, then display their handmade stakes prominently so they feel proud.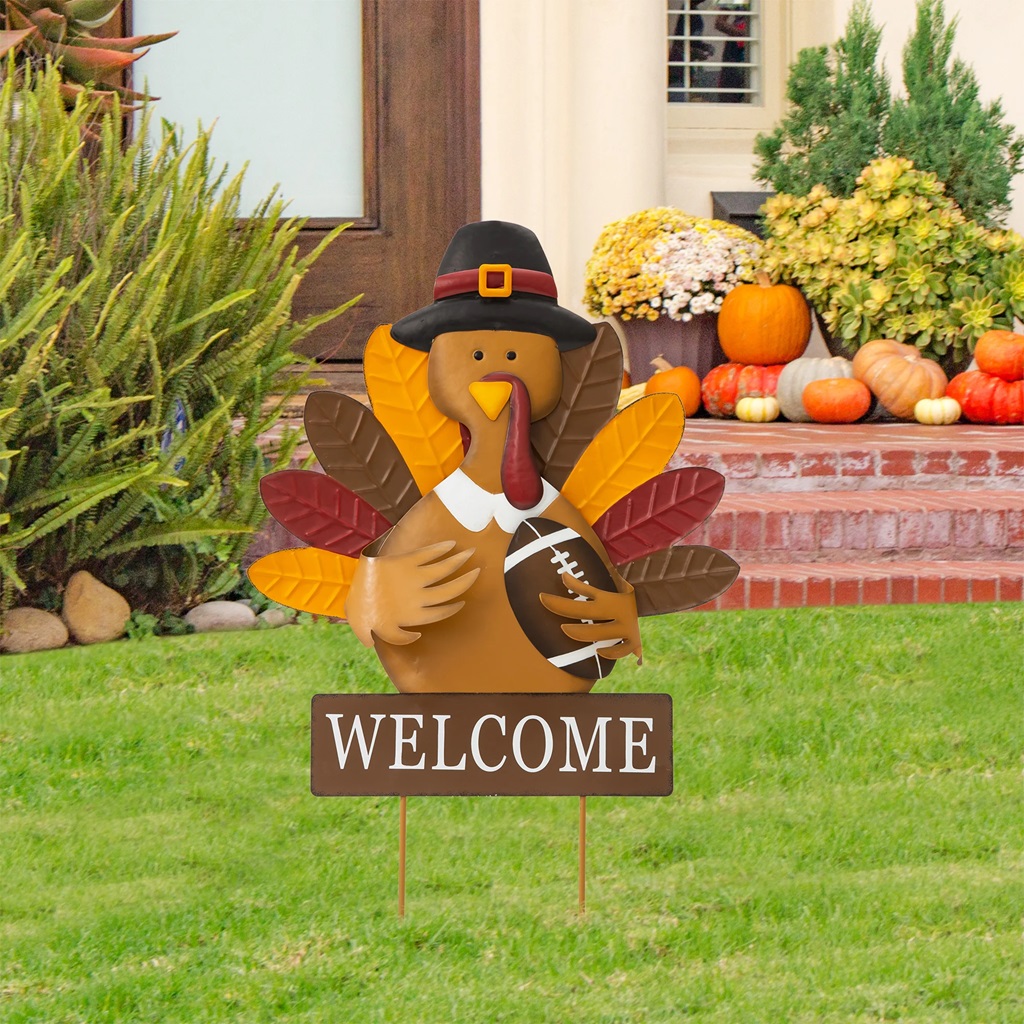 Decorate Fences and Railings
Use your yard stakes in creative ways to decorate fences, railings, porches, and mailboxes too. You can easily clip stakes onto a wire fence or wooden picket fence. Run a line of stakes along your backyard fence or wrap some stakes around porch railings. For mailboxes, stick a pilgrim hat on top or lean message stakes against the sides. You can also decorate with stakes without sticking them in the ground by using command hooks to hang them from porches, railings, eaves, and fences. Get creative with where you place stakes to maximize your decor!
Coordinating Colors
When selecting Thanksgiving yard stakes, consider colors that will complement your overall decor scheme. Traditional autumnal hues like orange, burgundy, brown, red, yellow, and gold always work well. You can also integrate seasonal gourds, dried flowers, and greenery in coordinating colors. For a more modern or whimsical look, incorporate pops of turquoise, lime green, or even black. Just be sure your palette feels cohesive. Mixing metals like bronze, silver, and rustic galvanized can also pull the look together. Have fun mixing colors while keeping it feeling purposeful.
Lighting Up the Night
While the solar stakes provide some illumination, you can take your nighttime decor up a notch with battery-operated string lights and spotlights. Outline trees, bushes, walkways and fences with tiny bistro lights for ambiance. Spotlights in ground stakescast a dramatic glow – aim them at a large yard stake centerpiece. You can find spotlights in all different colors to match your decor. Remotes make it easy to turn all your lights on and off without having to access each one. Extend your display into the evening hours so passersby can enjoy the magical glow.
Festive Without the Fuss
The best thing about using yard stakes for decor is that they provide a festive display without much fuss or hassle. There's no climbing up ladders to install roof or gutter decorations. Stakes slide easily into the ground and stand freely on their own. At the end of the season, pull them up and store them away for next year. Look for good quality stakes that can withstand the elements and reuse them season after season. You can gradually build up your collection of yard stakes to mix, match and expand your display over the years.
Safety First
While yard stakes add great seasonal flair, be sure to keep safety in mind too. Place stakes away from walkways and roads so no one accidentally trips over them. Only stick stakes several inches into the ground so they're not a hazard to pets or kids playing in the yard. Check that stakes are securely anchored and won't easily tip over. For homes with small children, opt for soft, lightweight stakes that don't have pointy edges. And of course, never put stakes anywhere that utility lines, pipes or sprinklers are buried underground! With a little pre-planning, your decorative stakes will stay securely in place.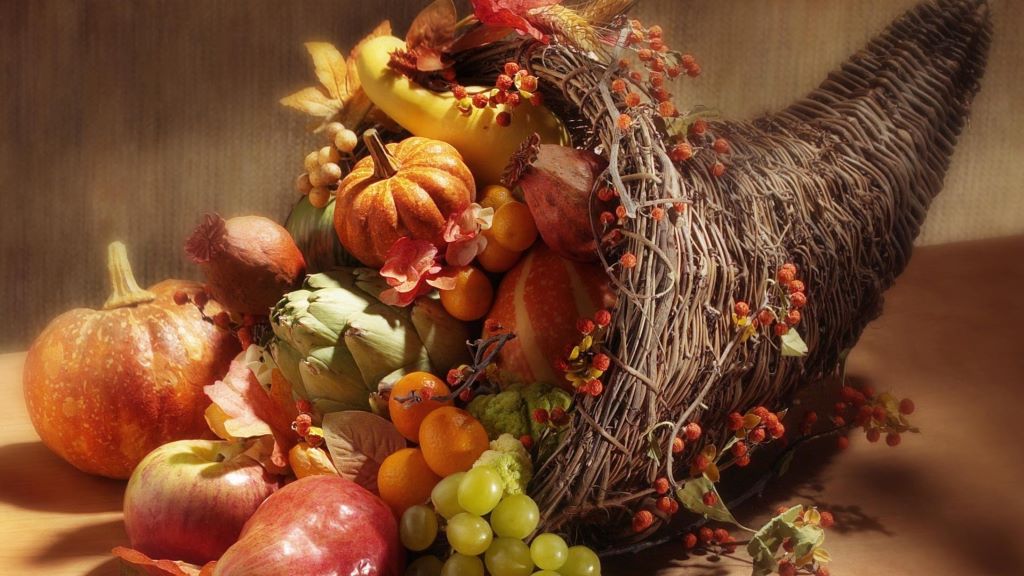 Express Your Style
The fun thing about using yard stakes for decorating is that you can really express your personal style. Go elegant with stained wood cutouts or oversized natural wreaths on sticks. Get colorful with bright, patterned stakes. Or embrace classic nostalgia with vintage-looking staked signs. There are so many great options to reflect your unique taste. Mix whimsical animal stakes with beautiful autumn floral picks for contrast. Or go full-on farmhouse chic with nothing but burlap, galvanized metal and pumpkin stakes. Incorporate handmade touches for a heartfelt look. Blend trendy touches like ombre and glitter with more traditional motifs. Your Thanksgiving yard stakes display should showcase what gives you joy!
Bring People Together
This has been a challenging couple of years – which is why I think expressing gratitude and connection is more important than ever this season. Thanksgiving is about cherishing our loved ones and creating memories together. The same goes for decorating – get your family involved in choosing yard stakes and deciding where to place them. Make an afternoon of hunting for just the right stakes together. Display any homemade stakes the kids craft proudly. When loved ones stop by, walk outside together and admire your festive yard. The smallest gestures of celebration, creativity and community can lift our spirits.
Give Back
Especially during the holiday season, look for opportunities to give back to others who are less fortunate. Support small artists and makers by buying handcrafted stakes from local shops, artisans, and craft fairs. You can also donate a portion of your holiday decor budget to a charity that provides meals for those in need. And if you're blessed with an abundant harvest from your garden this year, share fresh produce with food pantries and shelters. Display yard stakes with messages of hope, joy and community spirit to inspire others. Spread the Thanksgiving spirit of gratitude, friendship and service through your decor.
Reflect and Recharge
More than anything, I hope my Thanksgiving yard stakes serve as a reminder for myself and others to pause and reflect, even amidst the busyness of the season. Take time to get centered. Savor the feeling of crisp fall air filling your lungs. Feel your feet on the ground. Look up at the brilliant blue November sky and the cloud formations drifting by. Appreciate the laughter of kids playing outside. Breathe in the aroma of spices and seasonal sweets. Feel your heart swell looking at the smiling faces gathered around your table. Recognize the abundance all around you. Let this season nourish your spirit.
FAQs
Q: When should I put up and take down my Thanksgiving yard stakes?
A: Most people put their Thanksgiving decorations up in early to mid-November, a week or two before Thanksgiving Day. Take them down a week after Thanksgiving. However you can decorate on your own timeline!
Q: How do I install yard stakes safely?
A: Only insert stakes several inches into the ground. Make sure they are secure and stable. Avoid areas with buried pipes or wires. Don't place near walkways. Check edges are smooth and rounded for safety if you have small children or pets.
Q: What materials hold up best outdoors?
A: Opt for good quality yard stakes made from durable materials like wood, metal, hardy plastics, etc. Avoid thin plastic stakes as they often break. Look for weather-resistant materials that won't warp or fade.
Q: Should yard stakes match my other decor?
A: It's nice to have some coordination, but matching exactly isn't critical. Pick a color scheme and general style then select stakes that feel cohesive. Repetition of colors and motifs will pull it together.
Q: Where is the best place to shop for Thanksgiving yard stakes?
A: Craft stores, big box stores, grocery and department stores, specialty holiday shops both online and brick-and-mortar. Etsy offers handmade/custom stakes. Support small businesses and makers when you can!
In summary
Thanksgiving yard stakes are a fun, festive way to decorate your outdoor space for the season. Choose stakes that align with your style – from traditional pilgrims and turkeys to funny puns and homemade creations. Use stakes along walkways, fences, porches, and mailboxes. Opt for weather-resistant materials so you can reuse them for years to come. Transform your home into a nostalgic haven with vintage Thanksgiving decorations, creating a warm and welcoming feast that exudes timeless charm. Display lights for nighttime magic, and, most importantly, let your decor radiate the spirit of community, connection, and gratitude, ensuring a blessed and joyful season for all.
Tags:
decorative turkey stakes
,
festive celebrations
,
festive home
,
gratitude yard art
,
holiday decorations
,
outdoor thanksgiving
,
seasonal yard display
,
thanksgiving decor
,
thanksgiving yard ornaments
,
yard stakes