Beautiful houses don't always have to be made of brick and mortar, especially if the occupants are concerned for the environment. Architecture and construction has become much more open-minded in recent years, with increasing designs made by people who care about our footprint on the world. Buildings are made to last, so why not help the planet at the same time? These structures were designed to understand the needs of Mother Nature and aim to alleviate her load. Representing both beauty and function, these homes can often be almost entirely self-sustaining.
Switzerland is a stunning landscape of clean waters, impressive mountains and pure, fresh air and what better place is there to design a beautiful eco-friendly residence? In Zermatt, Switzerland you'll find a structure known as the 'Evolver' which was designed by architecture students in Lausanne. With such incredible views, the architecture needed to keep these mind and so the property is made from wood and inspired by a snail's shell. It provides the occupants with an uninterrupted, panoramic view of the Swiss outdoors.
This next structure is inspired by the Fibonacci Spiral, one of the most important discoveries in science. Located in Spain, it has the nickname the 'Fibonacci Treehouse'. It's a relatively small space at only 270 square feet but was made entirely from sustainably managed forest timber. It was made off-site and then moved to its present location for assembly, taking eight weeks to complete. It's fun too, with a 75 ft slide and 130 ft of rope bridges. For more information, visit http://reliable-remodeler.com shows beautiful houses
Saltsjöbaden, Sweden is home to this little property. Built in the 1970s, it features natural sunlight all day long and a composting system for waste disposal. Mull earth is produced under the toilet and rainwater is collected to be used for bathing, laundry, dishes, etc. The house contains a greenhouse used for growing food and also for heat. This is in the bedrock below the house, which cleverly retains the greenhouse's heat, keeping the house warm.
Ever thought of having a seaweed roof? Well, in China, some houses have roofs that are made of seaweed as its insulates the house naturally. The owner of this home loves it dearly and says he will never move. The house remains cool in the summer and warm in the winter thanks to this ingenious natural design.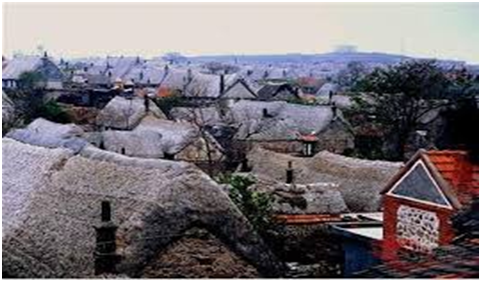 There are some very impressive bamboo homes in Bali, Indonesia. These beautiful structures don't look particularly solid, but they are much stronger than they look. Bamboo is a strong, natural material that can last forever and can also be grown sustainably. They resemble treehouses and are light and airy and fit for a king of the jungle.  Bamboo is pretty amazing actually as it has a higher compressive strength than wood, brick or concrete and a strength to rival steel. Bamboo is sustainable and can be grown very quickly so is a great choice for building an eco-friendly home.