Are you confronted with the magnificence of a large modern fireplace mantel that presents itself as an expansive canvas of possibilities rather than a mere decorating challenge? Many individuals find themselves intimidated by the sheer scale of these architectural wonders.
The predicament is genuine: how can one tastefully embellish this imposing centerpiece without overpowering the space or, even worse, leaving it devoid of inspiration? Fear not, for within the subsequent paragraphs, we will delve into the artistry of how to decorate large modern fireplace mantels, unveiling innovative strategies to metamorphose your mantel into a captivating focal point that resonates harmoniously with your contemporary aesthetics.
Understanding Your Space
Before we dive into decorating, it's important to understand the space that you're working with. A large modern fireplace mantel can be a great feature in any room, but it also comes with its own challenges. Here are some key things to consider:
Proportions: The size of your mantel will determine the scale of your decor. You don't want to overwhelm the space with too many large items or have small decorations get lost.
Style: Your mantel should complement the overall style of your room. Is it modern, traditional, or a mix of both?
Functionality: Do you plan on using your fireplace regularly? If so, make sure to leave enough space for the necessary tools and accessories.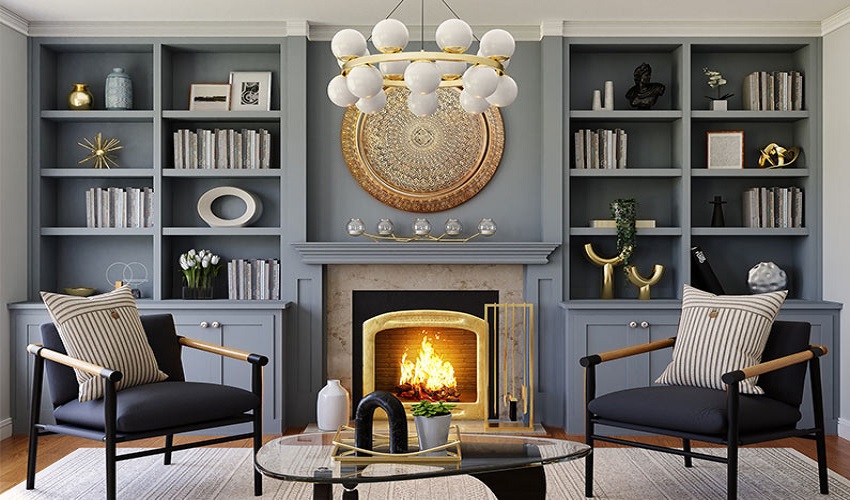 Choosing a Color Scheme
One of the first steps in decorating your mantel is deciding on a color scheme. This will help create a cohesive look and tie all the elements together. Here are some options to consider:
Monochromatic: Stick with one color but play with different shades and textures for a sophisticated look.
Complementary: Choose two colors that are opposite each other on the color wheel, such as blue and orange or green and red, for a bold statement.
Analogous: Select colors that are next to each other on the color wheel, such as blue and green or orange and yellow, for a more harmonious look.
Remember, your color scheme doesn't have to be limited to just the mantel. You can also incorporate it into the surrounding area with throw pillows, curtains, or artwork.
Layering
Layering different elements is key to creating visual interest and depth on your mantel. Here are some items you can use to add layers:
Artwork: Choose a piece or a collection of artwork that complements the style of your room and reflects your personal taste.
Mirrors: A large mirror can create the illusion of more space while also reflecting light.
Candles: Add some warmth and ambiance with candles of various heights and sizes.
Greenery: Incorporate some fresh or faux greenery to add a natural touch to your mantel.
Books: Display books with interesting covers or titles for a unique touch.
Symmetry vs. Asymmetry
When it comes to arranging decor on your mantel, you have the option of going for a symmetrical or asymmetrical look. Here's how they differ:
Symmetry: This involves placing identical items on each side of the mantel to create balance and a sense of order.
Asymmetry: This is a more relaxed and organic approach, where you can mix and match different items to create an interesting display.
Here is a table comparing symmetry and asymmetry in decorating a large modern fireplace mantel:
| | | |
| --- | --- | --- |
| Feature | Symmetry | Asymmetry |
| Look | Formal, balanced, and orderly | Casual, eclectic, and dynamic |
| Flexibility | Limited; items must be placed in pairs or balanced on opposite sides of the mantel | Unlimited; items can be placed anywhere on the mantel |
| Effort | More effort is required to plan and execute | Less effort is required; items can be placed more freely |
| Visual interest | Can be less visually interesting if not done well | Can be more visually interesting, but can also be cluttered if not done well |
Both approaches can work well, so choose the one that best fits your personal style and complements the rest of your room.
Mixing Textures
To add visual interest to your mantel, consider mixing different textures. This will create a more dynamic look and prevent things from looking too flat or monotonous. Here are some ideas for texture:
Wood: A wooden sign, sculpture, or vase can add warmth and natural elements to your mantel.
Metal: Incorporate metal accents for a modern and industrial touch.
Glass: Use glass vases or candle holders to add some shine and reflection.
Utilizing the Space Above
Don't neglect the space above your mantel! This area is often forgotten but can be a great spot to display more decor or incorporate some functionality. Here are some ideas:
Artwork: Hang a large piece of art above your mantel for a dramatic statement.
Mirrors: Placing a mirror above the mantel can make the space feel larger and add more light.
Floating Shelves: Install floating shelves above your mantel to display smaller decor items or store books and other necessities.
FAQ
Can I mix different styles when decorating my mantel?
Absolutely! Mixing different styles can create a unique and eclectic look, as long as it complements your overall room design.
How often should I change the decor on my mantel?
It's up to personal preference, but it's a good idea to switch things up every season or when you feel like your mantel needs a refresh.
Should I incorporate personal items into my mantel decor?
Yes, adding personal touches can make your mantel feel more personalized and reflect your individual style.
How do I know if the size of my decorations is appropriate for my mantel?
A good rule of thumb is to choose items that are no more than 2/3 the width of your mantel.
Can I decorate my mantel without a fireplace underneath?
Absolutely! You can still create a beautiful and functional display on your mantel, even without a working fireplace underneath. Just make sure to balance the space with other furniture or decor elements in the room.
Conclusion
Decorating a large modern fireplace mantel may seem intimidating, but with these tips and ideas, you can transform it into a stunning focal point in your home. Remember to consider proportions, choose a color scheme, layer different elements, mix textures, and utilize the space above for a well-balanced and visually appealing display. Have fun experimenting with different styles and items to create a mantel that reflects your personal style and enhances the overall look of your room. So, go ahead and get creative with your mantel decor!
Tags:
fireplace mantel decor ideas modern
,
fireplace mantel decorating ideas modern
,
mid century modern fireplace mantel decor
,
modern fireplace mantel decor ideas
,
modern fireplace mantel decorating ideas
,
modern fireplace mantel shelf
,
modern fireplace mantel surround