Some original ideas and never seen before. We give you some tips to inspire you and make an indoor  garden at home for the whole family.
There is no doubt that whenever we go to decorate the house with plants we will get a much more alive and natural space. Therefore, today I want to tell you some ideas that inspire you and with which you can make your own designs at home. If you are a nature lover, design and you like to have your indoor  garden well arranged.
How to make a indoor garden picture
This craft is for those who like to combine nature and art and also have a passion for the world of decoration. It is about making a living painting, a painting hanging on any wall of the house that will be full of nature, plants and even flowers. We are going to do it vertically and hanging on the wall so here you have the step by step to make it much easier. We are going to need:
Frame size to taste
Net
Stapler
fertilizer
Plants
Boards
This craft is for those people who love the world of gardening and like to plant at home . It is also a natural canvas so it is a very artistic craft. We start by taking the four boards, although it will be better if we buy a box of the size we want. Then we will use the sphagnum method, it is a fertilizer that is denser and it is more difficult to fall when doing everything vertically. To install the network, we just have to do it with the help of staplers, since the glue will not resist too much.
Now that we have the painting already installed, we will water and moisten the crop we have made. We have to wash the roots very well so that the plants we are going to insert do not dry out. Finally, we will plant and design any type of plant and any color to make our own natural canvas. To keep it and to last longer, we will have to moisten it with the help of sprayers and what is necessary to make good care of the plants . Without a doubt it is a great work of art to decorate at home.
How to make a vertical indoor  garden at home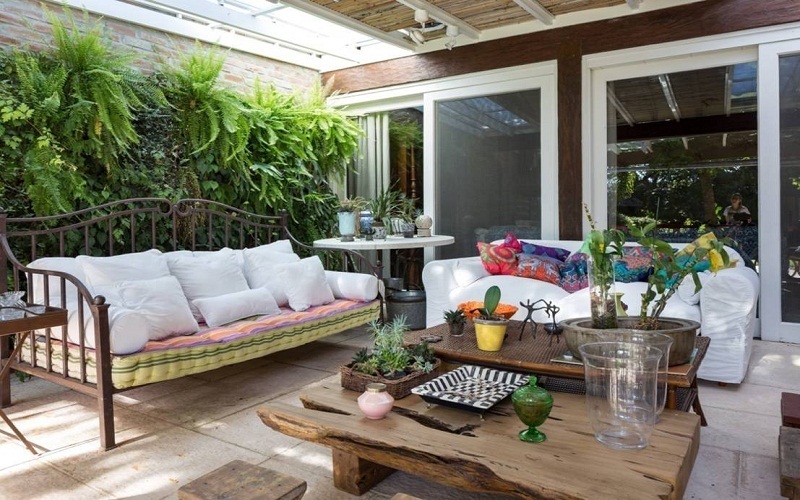 Today we share with you how to create your own hanging indoor  garden, a decorative accessory that you can not stop doing, it looks great! And it's so easy to make. Let's go step by step to create this work of art in miniature to decorate any space in the home. A pots of colors made by hand and a little imagination can give a lot. We share with you how to make this craft so affordable, easy to make and very decorative results.
Scissors
Molding paste
Small plants (natural or artificial)
Cotton thread
Roller
We are going to start shaping our pots. In the images you can see that it is cone shaped, it is very original to be hanging, if it were to put it in a shelf or base we would fall to the second, but we can make the geometric figure we want! With the molding paste we can make any design and shape of any color.
When we have the mold done, we will make holes far enough from the edges so that the weight of the pot allows it to be hung from somewhere. Next, it will depend on whether we are going to introduce artificial or natural plants. If they are going to be artificial they will last us longer and it will take less work. But if they are going to be natural, we will need fertilizer and at the time of watering them we will need a spray with water so as not to disfigure the mold able paste.
We can add some complement that is more decorative and add it to our creation. Once we have everything, we will play with the cotton thread, if it is better colors than better! We knot well so that it does not fall, and it will be ready. A craft that we can do in a very short time and that will be great in any space of our home.
How to decorate your pots inside the house
Scraps of cloth
Seeds
Pots
Crepe paper
land
Scissors
Glue
A pencil
We mark the fabric with the curved shape that we will need to cover the pot. We are going to take into account the size of each pot that we are going to decorate. It is important to leave the bottom free so that when the water comes out when watering, the fabric will not get wet. We will be repeating this process with each pot that we want to decorate.
To finish this craft we are going to introduce a little soil in each pot, we add the seeds and we keep throwing more soil until we almost reach the edge. Watering constantly will be the key to our plant growing healthy and strong. Ready!
Now that you know some ideas to make an indoor  garden practice, put it to the test! It is as simple as getting down to work to obtain an impeccable decoration in any space of the house. In addition, the plants always give a lot of life wherever we go to put them. What is your favorite design?
Tags:
Ideas for an indoor garden at home
,
indoor  garden
,
indoor garden at home