Everything you need to know and the steps you must follow to restore antique furniture at home. ideas with which to antique furniture. Surely you have ever faced an old piece of antique  furniture, the one that belonged to your grandmother and you do not know where to put it, or those that your aunt had too many and are so old that you do not even know what to do to avoid throwing them away. So tranquil @, sometimes paint old furniture makes them reborn and give them a second life. You can even recycle furniture to give them another different use!
Clean the antique furniture
 It is the first step to restore an old piece of furniture. Just pass a cloth moistened with water and a little neutral soap, and let it dry completely. Check the stains on corners or moldings with a very hard toothbrush dipped in solvent. The next step will be to remove the paint or varnish. To do this, apply paint stripper with a brush and remove it with a spatula. Repeat the operation until the finish is removed, and clean the antique furniture with a rag and solvent. In the end, a fine sandpaper passes.
Eradicates woodworm
It is easy to detect in a piece of antique furniture: its surface will have small holes. To eradicate it, apply an Antarctica product with a brush in each hole, and wrap the furniture with plastic. It is important to completely cover the hole. It is recommended to renew the plastic every 48 hours and leave it covered a minimum of four days.
Repairs the blows
The light slits of the wood disappear if you put a rag soaked in water or hot milk on the affected area. Hold it tight with a ribbon and let it act for a few hours. You can also cover the fissures with putty or natural wax to hide scratches and imperfections. Fill them with a spatula, then sand the surface and repeat the operation until the fissure disappears. To restore its original color, paint it with oils of the tone of the wood.
Fix unlocked doors and drawers
If the door is unlocked, change the hinge to a larger one. For the new one to adjust, it enlarges the Mercado with a chisel. An easier option is to attach the old hinge to the cabinet with quick glue. If the drawers do not slide well, apply a little soap to the guides, or sand the sides.
Restore locks and hardware
Bronze fittings are cleaned with soap and water. The rest of the metals are re passed with a soft bristle brush, moistened in vinegar or in a cola drink. The locks are repaired with oil and rubbed with a soft bristle brush.
Renew the upholstery
If the fabric is not badly damaged, a set-up is enough to be as good as new. Carefully dismantle it from the structure and, for a thorough cleaning, take it to the dry cleaner. Then, palatal with a special stapler to upholster. If the original fabric is unusable, create a template of the original upholstery shape, cut out the new fabric and engrave it.
Varnish and polish
Apply a layer of varnish -mate or satin-, let it dry 24 hours, sand the antique furniture, clean the dust and apply another hand in the direction of the grain. Then, with cotton, apply a layer of colorless wax: it will give a much more natural look.
To dye or not to dye?
It is advisable to dye a piece of antique furniture when the piece has lost its color or you want to give it a completely renewed air. Clean it, clean it and apply with a soft brush that does not release hair a layer of dye. To darken it, pass it several layers until you hit the tone.
Lacquered rubber finish
Recommended only when the original part has this finish. Its viscous texture covers the pores of the wood and, in addition, gives it shine. In transparent or amber finish, you should apply about 15 layers with a special brush for this product.
The final step: polishing
To make the final finish of the furniture brighter, apply at least a second layer, either varnish, dye or shellac. It is advisable to wax the piece once or twice a year to keep it in perfect condition after the restoration.
That wardrobe that your grandmother left you or the half-broken French chest of drawers you found in the aux puce market in Paris can become a small treasure with a good restoration. In addition, restoring wooden furniture is helping to promote responsible consumption . If you dare to try it, we will help you with this step by step … And we warn you: restoring furniture is a hooking hobby !
Before you begin the restoration of the antique furniture , it is important to submit it to a complete check to assess if it is worth or not worth restoring it. It is always better that the number of pieces that you should change does not exceed those that can be conserved.
What do you need? Basic materials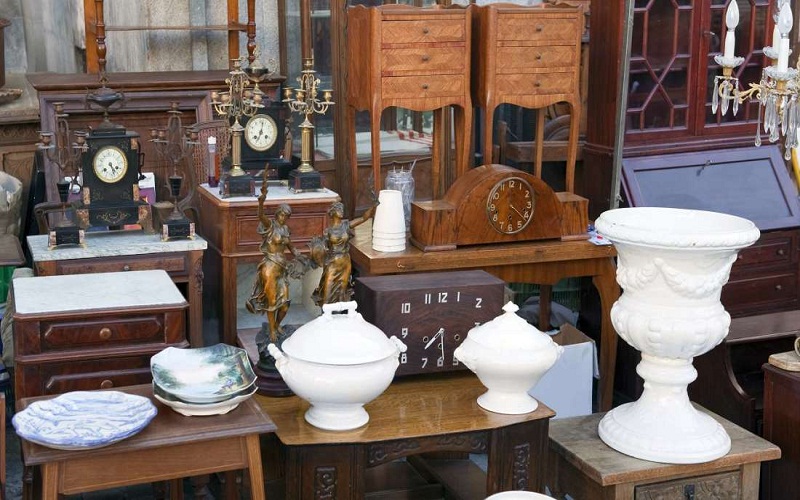 The basic tools to restore a piece of furniture are: sandpapers of various sizes and hardness, brushes , cotton rags , screwdrivers , blades , aluminum scourers , cotton and a spatula .
When you get down to work with the restoration of your antique furniture, avoid working outdoors : the wind and the sun dry wood and paint. The ideal is to work in a room with a stable temperature and away from heat or cold. And do not forget to protect yourself with a mask and rubber gloves. Health is first!
For the most crafty
If you dare to change small pieces , such as legs and moldings, remove them and draw them on paper. Put them on a board (pine for furniture with grain and beech for those who do not) and cut them with a hacksaw . Sand the edges and dye the color closest to the furniture.
To glue the new pieces , remove the old ones and remove the remains of the old glue. Apply white glue , hold the piece with a cat or with ropes and let it dry 24 hours . If you only want to glue the original piece and it's hard to remove it from the structure, apply the glue directly.
Maintenance of antique furniture
Carrying out this maintenance  may seem like a tedious job, but it's really a perfect weekend or rainy day project. With a few simple tips, we will help you protect your furniture, thus guaranteeing a longer duration. The maintenance of restored furniture should be constant . First, try to move the furniture away from sources of heat and humidity , and avoid exposing it to direct sunlight , as it could lose its original color. As for cleaning, clean it with a dry cloth and avoid products that damage the finish.
Protection application
It is useful to apply protection to a piece of furniture even if you do not have children or pets. By protecting your furniture you will save unpleasant incidents like dropping a drink on the sofa or staining a piece of furniture with blood. Stains such as wine or blood are very difficult to remove, so if a protection has not been applied, it will be very difficult not to have a permanent red spot. On the other hand, if you took the proper precautions and applied an anti-stain protector to the part , you will not have to worry so much.
Sometimes, sofas or upholstered furniture are treated with a protector against stains during the manufacturing process. If this is the case, you're in luck! Generally, pre-treated fabrics come with a multi-year warranty. These guarantees will cover the vast majority of stains (drinks, food, blood, etc.) but sometimes they will not cover things like pet urine or nail polish.
Of course, we can always suggest restricting the consumption of food and beverages to other furniture, such as the dining room or kitchen table. But the reality is most people like to eat while enjoying watching their favorite shows, and we absolutely relate to that! However, before enjoying, be sure to check any manufacturing warranty , apply a stain protector on your own or ask a professional service to apply a commercial grade treatment.
Finally, sometimes we consider making changes and reusing objects that we no longer use just for the sake of saving resources and giving them a second life. You take a look at your home and you realize that you have a lot of old furniture that you barely use, you plan to touch up and give them a change. Maybe it's a good time to assess their reuse and how we can give them a new use. Walking through an urban market of antique furniture, you can find real wonders to recycle and renew. Any antique furniture can become a treasure if it is valued and treated in the way it deserves. You can encourage your restoration, you will see that it is simple, and you will appreciate it. The recycling of furniture is always a rewarded act. And be careful … It can be addictive!
Tags:
antique furniture
,
clean the antique furniture
,
maintenance of antique furniture