The resin stained wood is unsightly and in most cases, the stains are extremely difficult to remove. Different home remedies and various commercial products can eliminate resin stains, but the amount of work required depends largely on the type of wood being treated. Keep in mind that although it is possible to remove the stain completely, it is always recommended to repaint the affected surface. Here's how do you remove resin from wood.
How do you remove resin from wood?
You will need:
Vinegar
Sodium bicarbonate
Degreaser (or ammonia)
Primer
Paint for wood
Latex or rubber gloves
Olive oil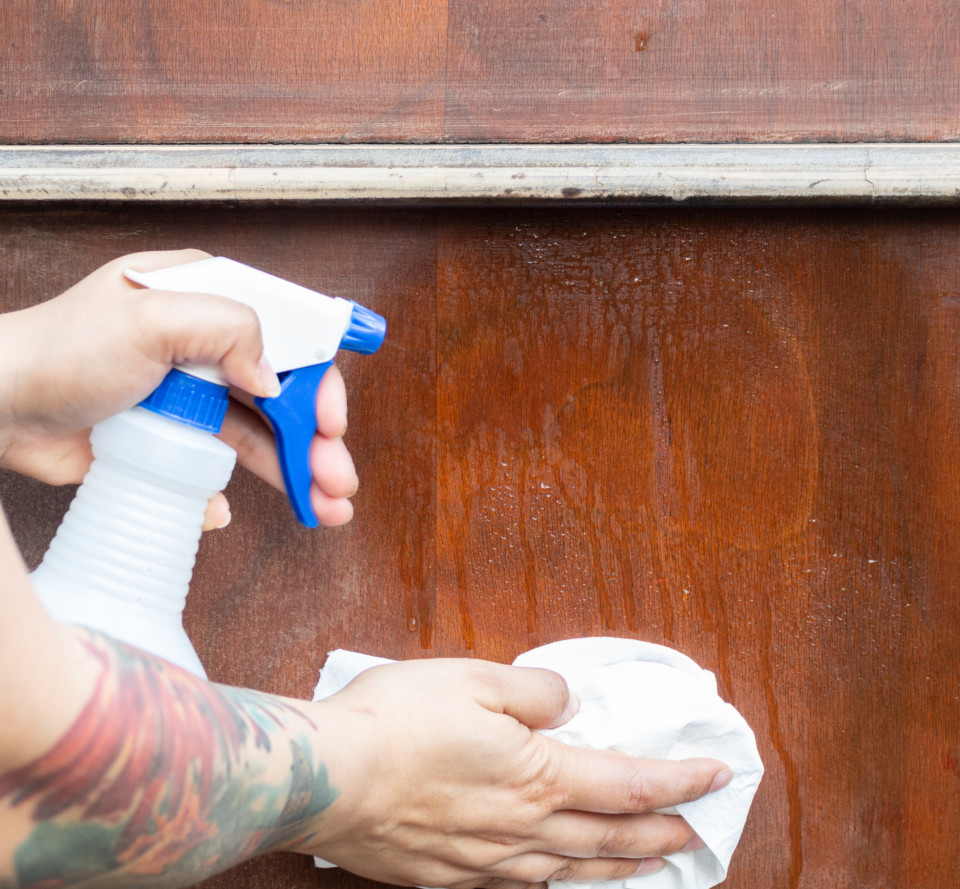 Apply olive oil
Olive oil represents one of the least aggressive solutions for the wood surface, but it must be applied immediately, that is before the resin has dried. This product is also excellent for removing resin stains. Pour a few drops of oil on the resin-stained surface and wait for it to take effect for a few minutes. In the meantime, prepare a mixture consisting of water and soap and apply it with your hands, rubbing on the stain after removing the olive oil. This mixture should optimize the effects of olive oil.
Apply vinegar and baking soda
Mix the white vinegar with the hot water, take a spray bottle to apply the solution and let it rest for a minute or two on the resin stain; clean the surface with a clean cloth. Now create a solution consisting of hot water and baking soda: mix about three tablespoons of baking soda with a glass of hot water and gently rub the affected area with a clean, damp cloth until the stain disappears. If this natural solution was not enough to eliminate the resin stain, you can use a professional degreasing and specific product, available in hardware stores.
Use a degreaser
Before using such a product, wear latex gloves, as it is a fairly strong detergent. Read the manufacturer's instructions and warnings carefully before using this type of product. Alternatively, you can also make a degreasing solution at home. To clean the resin stains on the wood, mix two glasses of ammonia in a liter of hot water and use a spray bottle to apply the solution and rub with a soft bristle brush, a sponge or a clean rag. Since ammonia has a very strong odor, use it in well-ventilated areas and carefully follow the manufacturer's instructions and warnings.
Paint the area
If the wood surface still has traces of resin, there is nothing left to do but repaint the affected area, applying first a primer and then the original color of the wood; the primer will prevent the resin from returning visible on the surface. Finally, remember that it is advisable to wear rubber gloves, safety glasses and a respirator when you are in direct contact with chemicals. Always work in areas with windows or balconies and use a fan to help eliminate toxic fumes and odors.
Whenever possible, avoid using chemicals.
You may like also to read http://hdecorideas.com/
Tags:
remove resin spot
,
remove wood resin
,
wood resin