If you are planning to buy a generator, you may end up asking, how long will a whole house generator run on propane? Keep reading for more information. 
Investing in propane generators for home use is one of the best decisions you will ever make. This is because you will never experience a lack of power, especially if you live in an area that experiences severe power outages. What makes a generator stand out is it can power electric appliances that consume a lot of power.
When you hit the market for a generator, you may not know which one to choose. A propane driven generator would be ideal even though many people ask how long will a whole house generator run on propane? This depends on consumption, but ideally, a 1,000-gallon propane tank can run for up to two weeks.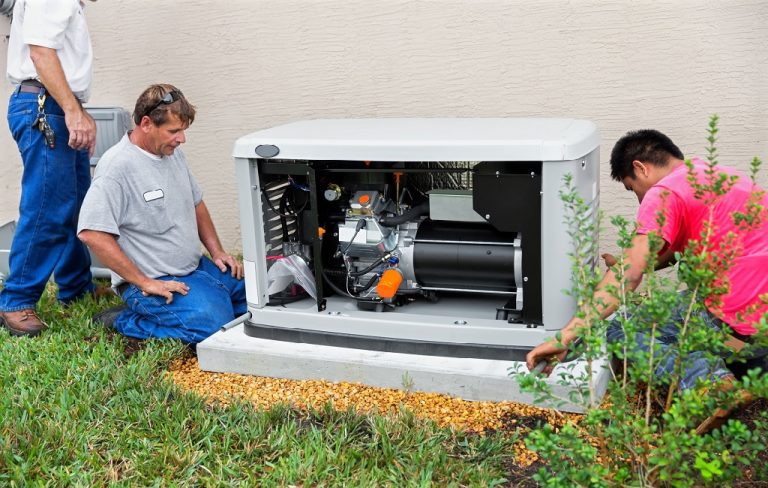 How long will a whole house generator run on propane?
The interest in having back up power keeps increasing every waking day. This has led to an increase in the supply of generators in the market to put up with the high demand. Having a generator is a convenient way of having your whole house running efficiently, no matter how long you experience a power outage. However, it would be best if you were keen when getting a generator to ensure that it will serve you, enabling you to meet your needs.
A propane-powered generator is said to be efficient because of its high performance and dependability. But, how long will a whole house generator run on propane? Mostly it is until the supply of propane gets finished. Nevertheless, it will depend on the propane tank for it can carry a capacity of between 500 to 1,000 gallons. Essentially, in one hour, this generator will burn either two or 3 gallons depending on consumption.
It is always wise to speak to an expert though, as every house is different. 2nd City Plumbing and Heating are well versed in offering expert opinions, guidance, and services to situations like this in the UK.
Generator running on propane
A propane generator is quite ideal for an entire house because it permits you to control the tank altogether. With that, you regulate the consumption hence avoiding wastage. What makes a propane generator stand out more than a gasoline generator is because of the affordability of propane. It does not cost much, yet it delivers high performance. With propane, you don't have to worry about storage because it can sit for a year without causing any damage.
If you are preparing for an emergency, it would be best if you opted for a propane generator because it will offer long service. Even though many people tend to prefer gasoline generators, when it comes to the cost of maintenance, many would opt for a propane generator anytime. It makes more sense to have your home running on a propane generator because it does not negatively impact the environment.
Why choose a generator running on propane for your house?
Propane generators a wide range of benefits compared to other generators. There are many ways that a propane generator can change your way of living, making it the ideal choice. Here is why this generator is suitable for your house: –
Durability – Propane will serve you for a long time compared to gas. Its shelf life is high making it quite reliable, yet that does not minimize the quality of propane. When you buy a stock of propane, don't be in a rush of depleting it thinking that it will degrade.
Storage – You require cylinders/gallons to store propane with a high holding capacity. Since it's kept in a cylinder, storage is made easier. This means anytime there is a power outage, all you have to do is get your propane stored in the cylinders and have it power your generator. The storage is impeccable because the cylinders are sealed, making it safe for use.
Quiet – A propane generator is usually quiet, meaning it does not cause any disturbance. This is not the same with other generators that operate with a loud noise that is generally heard from miles away. It's quiet operation makes it perfect for every home making it a piece of special equipment.
Affordable – Buying propane is not as costly as buying gas. This makes propane generators budget-friendly mostly if you are working with a tight budget. Maintaining this generator is also not expensive, making it the perfect choice bearing in mind that it comes with immense benefits. If you are looking to invest in a low budget generator, this is your best option.
Easy to start – Nothing is irritating like having a generator that is hard to start. No matter the force you keep exerting, it still fails to start promptly. This is not the same with a propane generator which is extremely quick to start. When you experience frequent power outages, you require a reliable source of power, and this begins with a generator that is easy to start. You will never struggle with starting a propane generator, making it highly convenient.
Environmentally friendly – When it comes to environment conservation, propane generators are the best because they don't emit carbon emissions. This makes propane a viable option compared to regular gasoline. Propane generators are therefore free to be used anywhere because they meet the given environmental standards.
Accessible anywhere – If you are travelling and using a propane generator, you need not worry. This is because of the availability of propane tanks. Any place you visit, you will find a propane tank. Apart from that, you can transport propane with ease thanks to the closed valve which keeps it safe.
Final thought
Having a reliable source of power is exceptionally crucial for it comes in handy when a power outage is experienced. That's what makes a propane generator vital because it offers incredible benefits making it the best option for you. How long will a whole house generator run on propane? We have established that a 1,000 gallon can run for not less than two weeks.
A propane generator is ideal for generating electricity suitable for remote usage. This generator is also suitable for industrial usage apart from home use. This is the best generator to invest in that will not disappoint you.