One of the easiest ways you can employ to ensure that your clothes dry after washing is using a drying rack. But, how does a drying rack work? Read on. 
With the busy lives we have in this current day, it can be a hectic job of drying clothes though this should not be so with a wall-mounted drying rack. This is because this rack allows you to hang your clothes for drying without causing any inconveniences.
How does a drying rack work? This piece of equipment comes in handy in keeping your clothes clean and dry. It saves you time because all you have to do is hang your clothes over the rack and let them dry. That way, you can go on with your other activities as you give your clothes time to dry.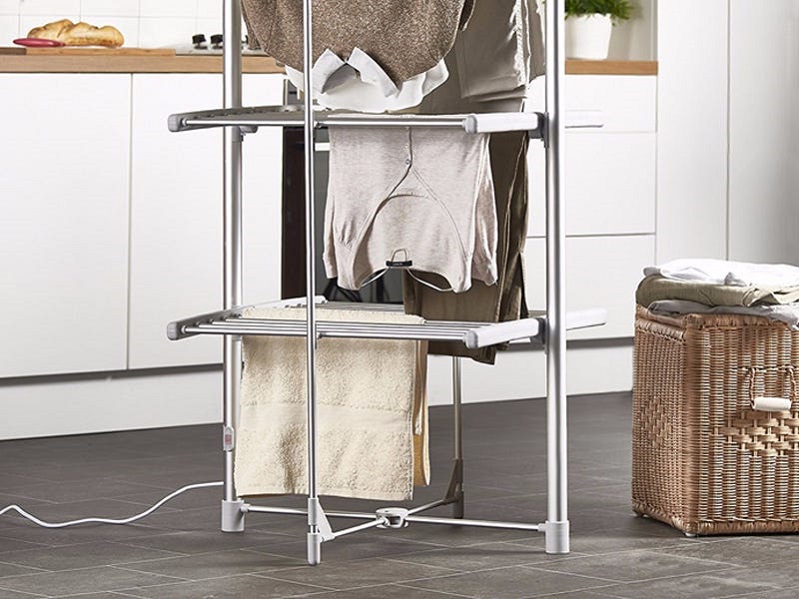 What Is the Purpose of a Drying Rack?
A drying rack is a simple framework that works excellently to dry clothes in the shortest time possible. How does a drying rack work? It enables you to dry your clothes, especially if a clothesline is not available or the weather is not conducive. Using a dry rack makes your clothes last for long because they are protected from the heat and friction of a dryer machine.
Drying racks end up saving you money because it is a simple tool and the energy consumed by dying your clothes. Most drying racks are pre-assembled, and in instances when they are not, you find that they are designed so that you can quickly put it together. If you don't have sufficient outdoor clothes drying space, use a drying rack that will dry your clothes efficiently.
Why use a drying rack
If drying your laundry after washing is seemed challenging, you need to invest in a drying rack to get you out of that tricky situation. Using a drying rack means you will not use electricity, making it a cost-friendly piece of equipment.
Let us look at some of the reasons you should use a drying rack: –
Lightweight – The structure of the drying rack is designed to light in weight, meaning it can be moved by anyone with ease. You don't need to call anyone to move this piece of equipment, for you can do it yourself with ease.
Portable – It is easy to carry a drying rack around because of its portability nature. Getting time to hand clothesline with our busy schedules may seem difficult, that is why you need a drying rack to dry up your clothes. Ease-up your life by investing in the best drying rack for your clothes.
Retractable – This one of the features that make a drying rack stand out. It is retractable, meaning you can fold it and move it to another place of your convenience. It is a pack and goes a piece of equipment whose size can be reduced by pre-assembling anytime you want to.
Easy to shift – By now, you should have known that the weather plays tricks on you. One minute it can be quite sunny, and the next minute it is raining. When it rains, you may get worried about your clothes getting wet all over again. However, when you use a drying rack, you can easily shift it from the rain to another place from the rain.
Drying – Many people usually think that drying racks are designed to dry clothes when outside. That is not the case because you can dry your clothes inside a room, which does not mean your clothes will not dry. So, don't worry, thinking that your clothes will not dry because they are being dried inside a room.
Convenient – A drying rack is convenient, meaning it can fit any space indoors. It does not matter the size of your house because you can find a drying rack that suits your space exceptionally well.
How does a drying rack work?
A drying rack is an essential piece of equipment that works excellently to try clothes. When using this rack, you don't have to worry about space because it can fit anywhere. That means you don't have to take it outside, for it can work perfectly well inside the house.  What you have to do is lay your wet clothes on the rack for drying purposes.
Let us take a look at how this drying works;
First, assemble your drying rack if when you bought, it was not pre-assembled. It is not difficult to assemble a drying rack; all you have to do is ensure every piece stands on its own perfectly. When the drying rack is fixed correctly, it is ready for use.
The next step is to hand the clothes. This will depend on the design of your drying rack and its features. Some racks can hold up to 27 lbs. of laundry even though they seem compact.
Hang clothes depending on the drying rods availed.
You can choose to either leave your clothes outside to dry or keep them indoors. That does not mean they will remain damp for days; on the contrary, as long as your clothes are on a drying rack, the speed of drying is quickened.
Once your clothes are dry, remove them from the drying rack. You can choose to iron them before storing them for the next usage.
Final thought
How does a drying rack work? This is the best alternative to a dryer that works to ensure that your clothes are dry. A drying rack can be used indoors or outdoors, delivering the same results. With this rack, you will never worry about a place to dry your clothes even if you don't have a clothing line.
When going shopping, make sure that you get the best drying rack for you to enjoy its immense benefits. You will end up saving a lot of time and money when using this rack. Indeed, it is a significant investment worth your money and should not be missed in your house. Don't hesitate anymore; get your drying rack today!
Tags:
Drying Rack