The LCD screens are very delicate, so cleaning requires special care. We remember that these screens are composed of liquid crystal, and improper treatment could cause scratches and even impairments in their operation. Here, we tell you how to clean lcd monitor effectively and with little effort.
How to clean lcd monitor?
Turn off your LCD screen to clean it. If you discover a stain while using the monitor, wait to finish it and turn it off. After a few minutes, you can proceed to clean.
We can remove the dust that has accumulated on our LCD screen with a soft duster. Do not use dry cloths because you could scratch it or leave even more fluff.
In case the LCD screen has fingerprint marks, very usual if they are within reach of our hands. Then we will need to clean it with a little alcohol. Moisten a cloth and gently clean only the affected area.
We can also remove dust from LCD screens with a damp cloth in distilled water. It only moistens the fabric, nothing to soak it in distilled water because contact with a lot of liquid could affect the operation of the screen.
If the LCD screen has grease stains or more intense dirt marks, then it is best to clean it with a damp white vinegar cloth.
Follow the recommendations above to avoid inconvenience:
Do not use any harmful chemicals. Always remember that these are very delicate screens so any contact with acetone, ethyl alcohol, ammonia or others could cause irreversible damage.
Do not apply liquids to the screen directly. Always use slightly dampen a cloth and wipe it with it, away from the screen edges to prevent fluid from entering the screen.
Do not apply pressure. Whenever you clean an LCD screen, do it gently because when using force, we can leave marks on the image.
Do not use papers to clean an LCD as this could cause scratches.
Another way to clean an LCD monitor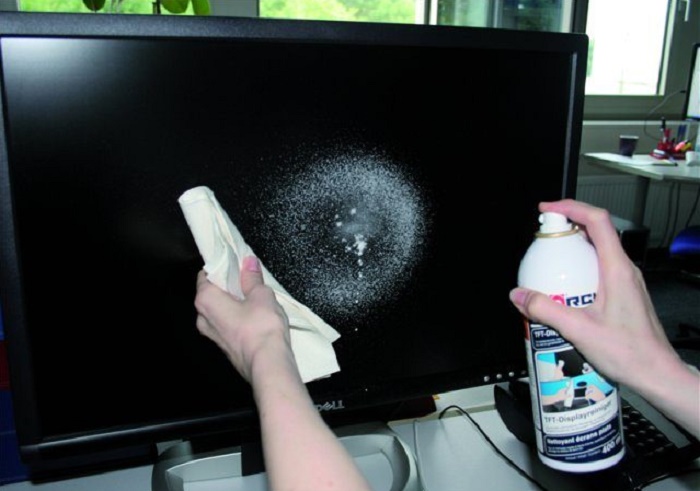 The easiest option is: buy an LCD monitor cleaner. It is easy to apply and also easy to get since they sell it in any computer input house. But it is an expensive option when we can do it at home. That's why we leave you below a list of products that you can find in your home, or they are very economical to buy:
Distilled water (it is very important that you do not use tap water because it has impurities that can scratch the monitor)
White vinegar or isopropyl alcohol, this kind of alcohol is widely used in the cleaning of photographic lenses and contact lenses of electronic devices since it leaves no marks and is fast evaporating. But be sure to dilute any of them in distilled water before passing them through your screens.
A clean piece of cloth. Never use any paper.
A sprayer.
Now yes, the instructions to carry out the cleaning of your monitor!
Turn off your LCD screen. Mix the white vinegar and distilled water in equal amounts in the spray bottle. Spray the mixture on the cloth, never directly on the screen. Wipe the cloth gently from top to bottom and also horizontally. Let the screen dry before turning it on again.
These are the two easiest ways to clean LCD monitors and screens. There is no risk of damage.
Tags:
clean monitor
,
clean tv
,
lcd monitor