If you feel like cooking up a storm in the kitchen then you need the right equipment. The key to confident cooking is having the best stuff to make preparing meals quick, efficient and as stress-free as possible. Here are some essential kitchen gadgets that you simply can't cook without:
If you're desperate to get on board with healthy cooking then the Veggie Bullet is perfect for making healthy food fun. It's a 3-in-1 appliance that enables you to cut veggies easily into spirals, slices or shredded to make adding veg to your meals super easy. You'll be able to cut down on food waste as well, by turning leftover veggies into a salad or coleslaw.
Eggs are a great source of protein and this rapid cooker makes increasing your egg intake really simple. It enables you to make hard-boiled, medium or soft-boiled eggs, omelettes and poached too. You'll have no excuses or even need to make a mess with this egg-cellent contraption!
Garlic is such a delicious versatile ingredient but gets messy and smelly when trying to mash or chop without help. With a garlic chopper, the hassle is taken away as you pop in a peeled clove, or as many as you need and the blades will do the work for you.
Another device that will help keep your countertop mess-free, the corn stripper means no more awkward cutting off kernels by hand. The protected blade inside will strip that corn for you in the blink of an eye so no more mopping up and mess.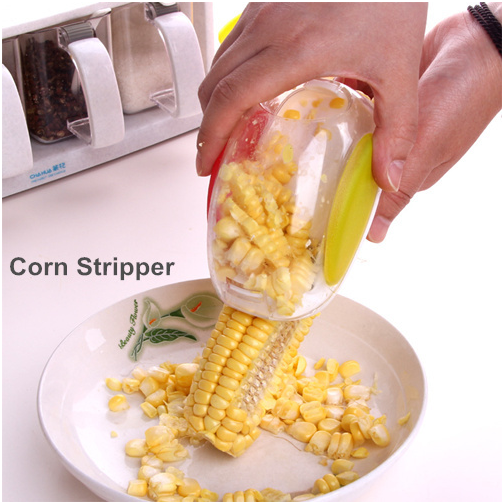 No kitchen is complete with the wonders of a top-class mixer. The best models include features like 1000-watt motor, different tools and a shredding attachment, stainless bowl and splashguard. A machine with moveable arms, various different speeds and the ability to mix, shred, slice, chop, beat, whisk and grate is an essential helping hand that will make cooking anything a cinch. All this amazing kitchen equipment needs delicious recipes to be used on. For loads of tasty Online Food Recipes, visit http://food-tales.com/
If you want to make your own juice with maximum extraction then a slow juicer is just the thing. Rather than spinning at super-fast speeds, a slow juicer rotates at 45rpm which gets the most nutritious parts of the fruit and veg more effectively. The more nutrients in your juice, the better for you. A slow juicer with a frozen attachment is perfect for those new to juicing or seasoned juice-makers. The ideal gadget for getting more goodness into your children's diets too.
You might not believe it but it's now possible to cook a whole chicken in 20 minutes. The Deep Steam Case is made from silicone which provides a faster, healthier cooking alternative to cooking in fats or oils. The ingredients are steamed in the microwave which also traps in far more nutrients and flavour than other cooking methods.
A good set of knives are essential for any kitchen. Everything you prepare is made so much easier when using good quality, sharp, professional knives. As an absolute basic you need a 10-inch chef's knife, a paring knife and a serrated-edged knife. Buying the best quality you can afford is a great investment as they'll last for years.