If you love to cook or entertain at home, then the kitchen is probably one of your favorite rooms in the house. It's your domain, and it's the place where you get to bloom and express yourself through your menu and drinks. Therefore, you should personalize your kitchen so that your inspiration can always be ready when needed.
Personalized kitchen accessories will be a fun project to tackle, and you'll be bragging about it at your next dinner. Hence, making your kitchen as creative and unique as you are. With these tips, you'll also be able to infuse identity, creativity, and spark into your everyday kitchen accessories.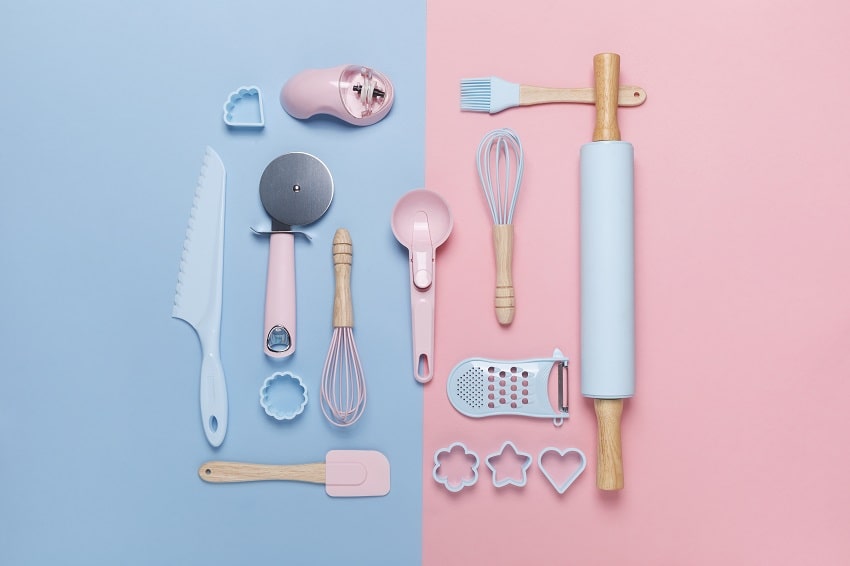 Ice Dye Your Old Aprons
If you're in the mood to create an apron design then you should consider ice dyeing. Ice dye is one method of tie-dyeing popular amongst the arts and crafts community. Ice dyeing your apron can give it character, resulting in a cool apron. You only need lots of ice and a container to dye your apron in. Make sure you prepare your surface before you start working on the dye. Additionally, place a lot of paper or plastic to protect your countertop. Also, make sure you create a rack system so your apron isn't just sitting in the dye.
Crumple your apron on top of the rack and then cover the surface with lots of ice. Once you have done this, you can sprinkle powder dye over the ice. You may then wait for the ice to melt completely before you rinse it with water until the water runs clear. Hang it up to dry and marvel at the fabulous patterns and creativity of your new kitchen apron.
Add Color To Your Wooden Utensils
Add color to those wooden utensils by either using paint or color tape to brighten up your kitchen. If you are using tape, start by taping the utensils in whichever design you like. It can be strips or a zigzag pattern and you can even use tape to make letters or even shapes. If you opt to use paint instead, do make sure you don't paint over the utensil parts that directly handle food.
Hence, only decorate the features of the utensil that you hold and control with your hands as you wouldn't want any paint particles to fall into your food whilst you're cooking. This can lead to health implications so be careful where you paint and add color or embellishments.
Arrange Your Counter Space
You are no stranger to clutter if you spend a lot of time in the kitchen, especially when preparing those birthday dinners. If you would like a countertop that stands out, consider creative do-it-yourself (DIY) solutions to arrange your counter space so you won't fall prey to clutter again.
Using bowls and a variety of fruits, you can design a fruit ensemble for your kitchen top. You can also purchase wall-mounted baskets for your kitchen to give it a stylish look. It's also possible to make or buy a bread bin or basket with the design and color of your choice. This is if you prefer to leave your bread out on the counter instead of in the fridge.
Reuse Old Containers For Storage
Before you throw away your next empty container, you might want to reuse it as a storage bin. You can also use them for those emergencies when the neighbor asks for sugar or when you want to pack extra food for a long trip.
Recycling old container baskets and using crafts like paint, stickers, or tape can add character to your kitchen. You can also use these containers to house any leftovers from dinner before putting them in the fridge.  It's also useful as a container to create a customized cookie jar for your kitchen counter and the kids would be a fan of this craft.
Make Your Coasters
Coasters are essential to protect your furniture and countertops from liquid marks and mugs and cups that are too hot or cold. You can purchase plain coasters from your local kitchen supplies store and then use glue, stickers, or tape to decorate and add personality.
If you love to make DIY projects in the kitchen, you can make some cute and easy coasters by using lace paper or wine corks that you would otherwise throw away. If you can handle some heavy machinery, you can even cut out some marble coasters for yourself. These can even look great just sitting on the kitchen countertop before usage.
3D Print Some Utensils For The Kitchen
With technology like the 3D printer, many valuable equipment and accessories can be printed in the comfort of your home. Some kitchen accessories and appliances you can print include cheese slicers, garlic presses, juicers, and drip coffee stands.
All you need for a drip coffee stand is a Computer Numerical Control (CNC) router or a computer-controlled cutting machine and a simple yet elegant design template for you to follow. CNC routers can cut materials such as wood, aluminum, and plastics, so you can create a large variety of kitchen accessories for your home. Therefore, making it an excellent investment for other future projects.
Conclusion
Adding personality to your kitchen accessories gives your kitchen character. You'll have more fun cooking, knowing your personal touch is reflected in the utensils you use. When using heavy machinery to cut durable materials like marble, be careful and put your safety first. If you'll be painting or dyeing any kitchen aprons or cloths, make sure to protect your countertops.
You'll be able to customize many things like coasters or fruit baskets to make your kitchen stand out. You can also recycle and use old containers for storage to be more eco-friendly. Observing this list will unlock your creativity and give your kitchen the spark it needs just in time for the next dinner party.