One of the most common question in every gardener mind that is how to plant bamboo. Bamboos are one of the ideal garden plants as they can be used as a borderline that can protect other plants. Bamboo is considered to be lucky because it purifies the air and keeps the inside air pure that will keep the person healthy. It grows fast and it's quite easy to maintain to keep this plant charming and under control by following some simple habits. Gardeners who have small spaces feel nervous and fear it because of the ability of its alarming growth. But with the right techniques, selecting a variety that adjusts in your required space, and understanding the pattern of its growth you can plant bamboo anywhere. In the small garden, bamboo is very useful for garden design.
The types of bamboos
Basically, there are two types of bamboos such as those that have Clumped bamboo forming roots that stay relatively tame, and then there is the Runners' bamboo that spread almost endlessly. Fargesia and Fishpole bamboo are one of the most suitable bamboos to plant in a small garden. Here are some steps below which will help you to know how to plant bamboo in your small garden efficiently.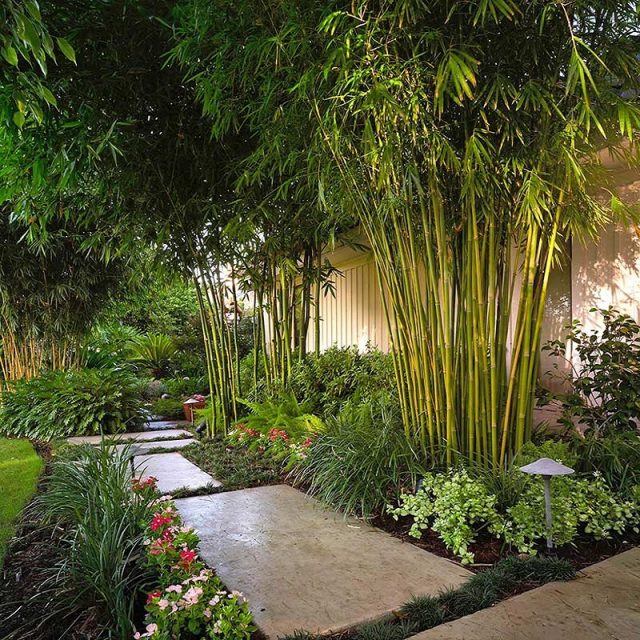 Cultivation Bamboo
Bamboos can grow any soil but grows better on acid soil. Keep away from the wet or dry setup. Most of the bamboo loves sunlight but some of them can grow in shadow places. Plant bamboos in spring for developing quality roots before becoming inactive in autumn. You can plant them in pots or containers.
Plant on containers: Bamboos is a very cold hardy plant so, it's well suited for a container. Running bamboos spread very quickly and by growing them on containers you can prevent their fast growth. Containers make a great method for controlling where the bamboo spread. Place your plant on the container with moisture soil. The inside of the container has black polyethylene lined with the rhizome barrier to protect the wood and to control the rhizome. It also has an open-bottom design. Containers give the least maintenance option.
Plant on pots: On the outside of the garden bamboos grow best but they can be planted on pots too. Clumping bamboos can grow on pots. Place the plant into the pot by burying the bamboo rhizomes in the soil 2 inches deep. Apply an all-purpose fertilizer in the pot with the bamboo plant once every 2 months. Change up the fertilizer to a nitrogen-rich brand every 6 months. Water the bamboo plant thoroughly to keep the soil moist. Bamboo plants need a lot of water but never let the water pool around the rhizomes. Don't plant a running variety of bamboo plants in a pot.
Take care of bamboo plants
Bamboos are great but they are quite a divisive plant. Many gardeners get to worry about it because they can invade. The thing to remember is that the Fishpole bamboo can spread a bit lot. The Fargesia bamboo all do is just clump up and you need to worry about it. The leaves of growing bamboo that fall off around March-April time are the best food for the bamboo. So, keep those leaves do not threw them away pop them in the ground and the bamboo will thrive. The culms of bamboo don't live forever so, you should cut those aged and ill culms annually. Maintain the drainage of the soil and fertilize it every spring. With a little bit of care, this plant can grow well and gives a lifetime service.
Propagate bamboo
In the spring season divide the dull aged clumps of bamboo. Then separate a bit roots of the plant from the rootball using a sharp spade. Replant it and water the soil well. You can also use the bamboo seed for propagation.
Problems you may face
Bamboo is a trouble-free plant with no suffering from diseases or pests. But the problem occurs as its growth rate goes out of control. After two or three years aphids might cause difficulty.
Pro tips
I had some lucky bamboo in my house that wasn't watered for a few months. I filled up the bowl and in 2weeks I could see them easily come back to life. Super forgiving plant. If planting rooted canes instead of rhizomes, fill the pot with decorative stones and add water. Root the plant in winter and place them in partial light.
You may also like to read, Ideas for an indoor garden at home
Tags:
how to care for a bamboo plant
,
how to care for bamboo plant
,
how to grow bamboo plant
,
how to plant bamboo seeds
,
how to plant lucky bamboo
,
how to take care of a bamboo plant
,
how to take care of bamboo plant