Surely at this point, you're tired of hearing about minimalism. If the philosophy "less is more" does not go with you, the trend that we present today sure convinces you.
The ultimate in decor is the maximalist style. That is, when it is never enough. Now, can you be maximalist and have the house tastefully decorated? The answer is yes. We tell you how.
Never is enough
It is already known that in matters of taste there is no writing. That is why the maximalist style may be the trend that many people are looking for to decorate their home. However, before beginning to decorate you have to take into account some basic keys that define this style.
If the minimalist philosophy tells us that we live with what is just and necessary, maximalism, on the other hand, affirms that "it is never enough". Although this does not mean that we have to recharge the decor. In other words, we can decorate the house with lots of details but leaving free space between the furniture and accessories.
Baroque inspiration
At the aesthetic level, the maximalism bets on the baroque decoration that is a powerful source of inspiration. Sumptuous and rich stamped elements find Baroque aesthetics to be the perfect ally of the maximalist look.
Gilded details, plaster rosettes, framed XL mirrors, marble fireplaces, antique sculptures … All these details enrich the maximalist decoration and combine both more contemporary and basic pieces to achieve a certain aesthetic balance.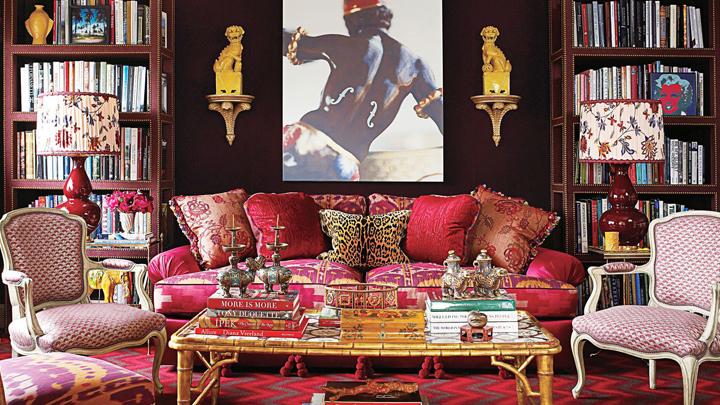 Blends enrich
Of course, blends are not lacking in maximalist interiors where there is room for details of all kinds. Above all, the compositions of color, especially in intense and striking tones contribute to decorate deeply sophisticated environments with a certain dramatic touch.
The prints also take a special role in the maximalist interiors. Of course, Baroque prints, classic and with a certain old touch that create irresistible textures and very elegant. The final brooch comes in charge of textiles, such as silk, satin and velvet that house the house and enhance the decorative style.
Mixing textiles, eye-catching and embossed colors makes environments much more welcoming and warm. A good example of this would be a living room decorated with sumptuous velvet curtains, a leather sofa and cushions in satin cotton.
You may also like to read another article on houseilove: Ideas to decorate your walls with wood
Walls speak
The maximalist look also does not forget the walls that play a very important role. The walls are filled with rich details such as moldings, paintings, art paintings and even tapestries that add warmth and comfort to the decoration.
Another key to maximalism is that these spaces have a lot of life. Is evidenced by the collections of books that decorate the large bookcases and bookstores that are frequent in this decorative style. A cultural detail that gives life and enriches the decoration, thus achieving comfortable interiors in which you really feel like living.
Inner nature
Nature also fits in these homes through beautiful floral arrangements that contribute to give color and refresh the rooms. The trick is to combine different types of flowers, in different shades, presented in nice vases and containers.
Light and more light
Finally, do not forget the lighting. The definitive touch to achieve a maximalist decoration. Two key lighting pieces in style? Antique chandeliers and glass lamps (chandelier type or transparent glass base). We can even opt for duplicate light sources, for example, two identical table lamps on the console in the hall.
Tags:
Maximalist decoration