Children's pallet houses-There are a lot of ways to recycle pallets and give them a new life. In this article I present a series of projects to use the pallets in the decoration for the little ones. Do you dare to make pallet houses for kids more fun? At first glance it may seem complicated, But surely that if you put yourself you will be able to carry out everything that you propose.
PALLET HOUSES  FOR CHILDREN AND INDIAN STORES
If you want to be distracted playing outside nothing better than to build a house where to carry out all kinds of games. The best of all is that in addition to making the best gift, decorate your garden.
FURNITURE MADE WITH PALLETS
The pallets can be used to make any furniture to give a new air to your children's room. Go ahead and recycle pallets to organize all your shoes. You can hang the pallet directly on the wall or use the planks to build boxes and use them as if they were shelves.
The pallets can also be used to make desks. One option is to make a folding desk using a pallet as a shelf where to leave the school material.
For the little ones you can build pallet houses for children with a table set with chairs for them to play and do their first homework.
Making a bed using pallets is very simple. The easiest way to do it is to join the pallets and use them as a mattress. Then use another pallet as headboard and voila! You already have it! Best of all, you can use the pallets that serve as bed bases to store things under the bed. To finish, all you have to do is give it a good coat of paint and enjoy a bed worthy of magazine cover.
But beds plus beds can be castles where you can play and have a great time. The pallets can serve as raw material to build the dream bed of your children. You can build a bed that is a little house. Paint the wood in white for a Scandinavian style or give it an aged finish for a vintage and industrial touch.
The little hands can try to make a trundle bed where there is a structure that understands. In addition to the bed, a wardrobe and several drawers.
And if you want to give a funny touch to the pallet houses of pallets for children you will see everything that can be done with a little imagination. Also, if you like these ideas you can discover other ways to use pallets to decorate gardens or to make your home furniture with pallets, one last!
CHILDREN DECORATION WITH PALLETS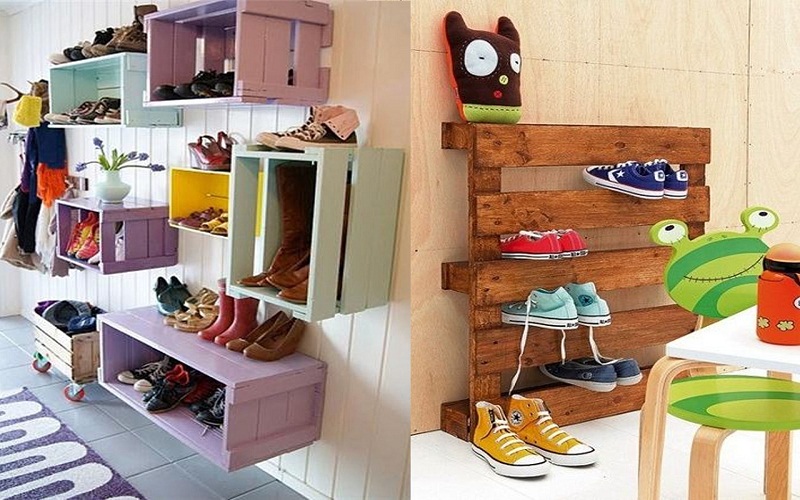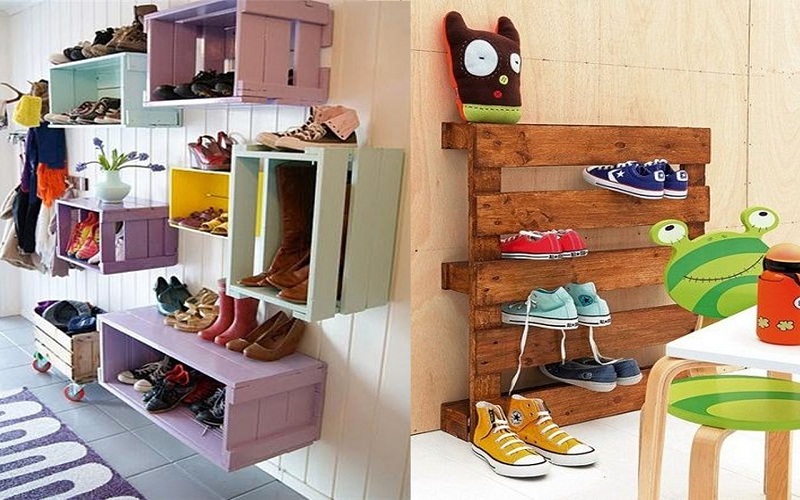 Have not you ever considered that pallets can also decorate? The pallets can be used to make great murals to hang on the wall. All you have to do is use the planks as a canvas. Get a little paint and let your imagination fly. You can make a terrifying shark or a fun ice cream. You choose!
In addition to paintings, the pallets can be used to cover the walls as if they were wallpaper. If you treat the wood to achieve an aged finish you can give it a very modern and modern naturalistic look.
THE READING CORNER
Organize all the books and magazines of your children in a beautiful shelf made of pallets. You can hang the pallet on the wall or leave it on the floor and use the hollow spaces to place the books.
In addition to shelves you can build a small sofa with pallets where they can read comfortably. Another option is to use the pallet planks to make a Tanami and cover it with cushions.
The pallets can be used to make a lot of toys. You can, for example, create a wonderful kitchen for the children of the house to have fun preparing all kinds of imaginary dishes.
Another option is to build a puppet theater so that they plan plays and distract themselves by representing them for the whole family.
The order is always an important element, and it will not be less in the pallet houses for children. To get them to have the toys always sorted you can build them some classic boxes.
7 ideas to make a corner of games for children in the garden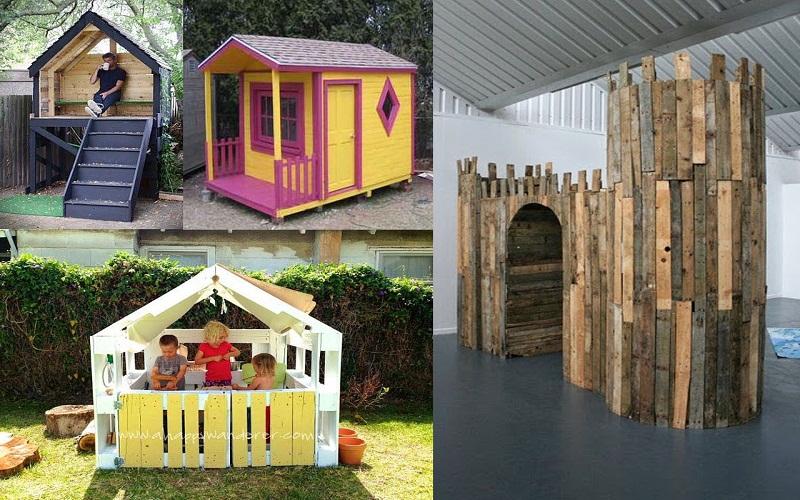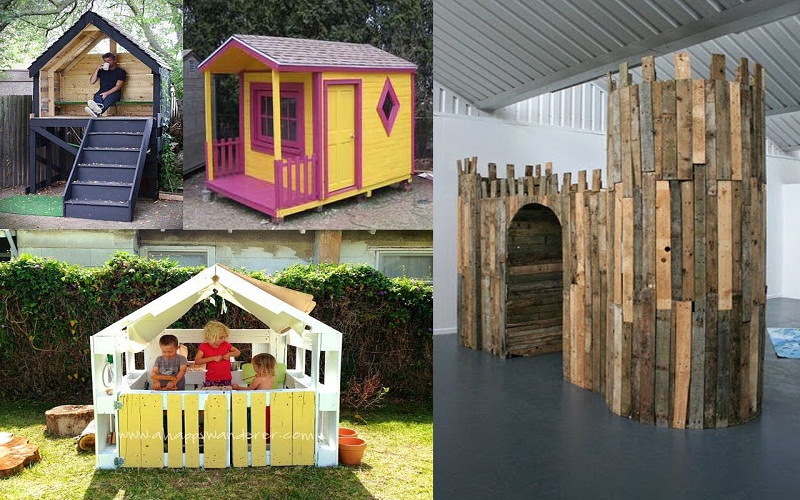 Everything they tried to sneak up on this year's April Fools' Day Everything they tried to sneak up on this year's April Fools' Day.
Children coming and going from home, toys scattered everywhere, disorder and chaos. We can organize a space so that this does not happen.
A space that is only yours , where to play, have fun and order after the toys so that we do not have accidents with strollers when leaving the pool. Or step on any piece of construction, with how painful it is.
A sandbox with pallets
Something as simple as a very large drawer that you can fill with beach sand for hours of fun. If you are DIY enthusiasts you can do it with some pallets. If not simply take advantage of a truck wheel or easier. Buy a very large inflatable pool and fill it with sand. You already have sand in the garden!
An Indian camp
If your garden is large, a great idea is that they have their own lair, you can make a homemade tipi. Or several in a circle, the Indian way. If your children are a bit older. You might like the idea of ​​a tent. Or a shelter that can be filled with cushions and lower the mosquito net to make sure no one bothers them.
An adventure park
Swings hanging from trees, climbing nets, trampolines. Or cardboard mazes. If you have enough space, turn your backyard into an amusement park. It is not as difficult as it seems. Leave the front porch for the adults and transform the garden of the children into a dream place.
A blackboard in the garden
We spend our lives complaining about chalk dust in the playroom. Why not let them use them freely in the garden? Whether you decide to hang a blackboard on one of the walls of the patio or garden. Or if you paint with paint one of them or a piece of slate, it is an idea that will keep you entertained and gives a lot of play.
A magic seesaw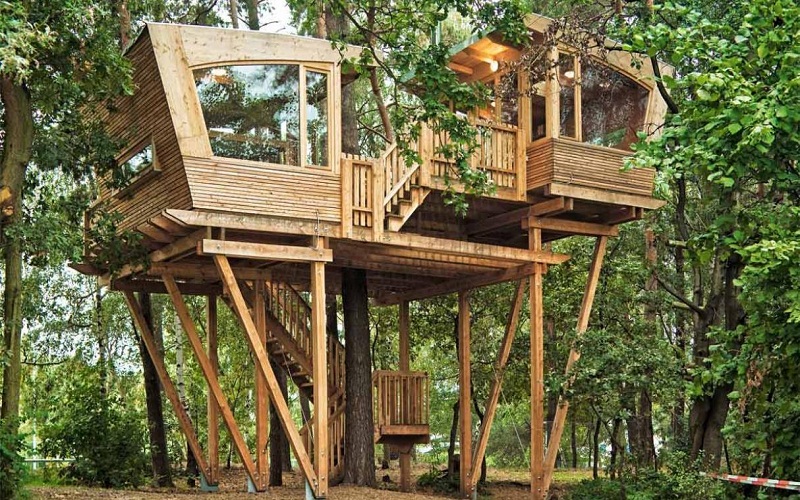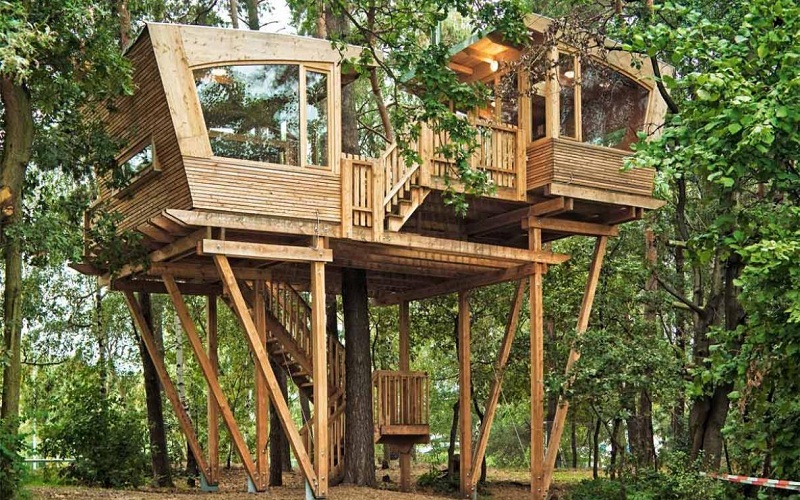 A cloth hammock or a swing on a tree, made with a pallet, is a great solution. You just have to make sure there are no splinters and look for chains. So that security is complete. A good idea is to make sure that the tree is going to stand the pace and not hang it too high, so that the smallest can climb without problems.
A city for its figurines
They have the playrooms full of pallet houses, police stations, Noah's coffers, passenger planes, jeeps. I could go on but you know what I mean. A great idea is to help them build a big city , with a lake included, where to play at last with all of them.
Among all you can trace the streets, parks, avenues, a racing circuit. For those who also have fantasy world, I suggest you make a "magic mountain" where the fairies and unicorns live. On the outskirts of the city . The dream of any child.
A hopscotch, a board of XXL patches, a chess, a three in a row made by yourselves. Let your imagination fly. A fun board and can play with huge chips painted in colors. Which can be made of cardboard. Or foam, or be themselves the chips, the parches style.
Tags: children's pallet houses, most fun children's pallet houses, pallet houses