Want to give a return to the decor of your home but do not have much budget for it? Redecorating your home with little money is easier than you think, you only have to be creative and find ways to dress your home in a different way the current one. We will help you with some inspiration. The decorating ideas today are intended to give alternatives to modify your rooms so they appear almost too new. Give a modern air to your home without spending money on the road!
Decals walls
We started this review by some of the most simple and inexpensive to redecorate your home with vinyl walls for ideas. Applicable for any stay. They will not cost much money and with them, you can change the look of your wall quickly. You can put them in the kitchen, in the bedroom, in the hall or at the entrance. They can be with text, with some illustration or drawing with a quote from your favorite movie … There are so many choices!
New headboard for your bed
Now let's turn the bedroom. One way to do this is to place a new headboard, and if you do not want or cannot spend much money on it can use a wooden pallet. Get one will be easy; then just you have to sand it so there are no splinters and decide what color you paint. An alternative to pallet are wooden slats. Easy and very effective.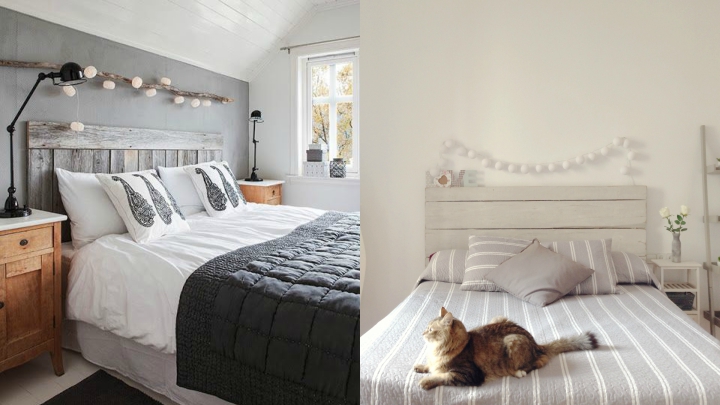 Change the doors
One way to renew the decoration of stay is to give a different air to the doors, both the input and the closets. To do this, you can use from tape washi tape to wallpaper. You can also paint a different color but this change will be more durable; the others can be more easily modified as you wish.
Decorative details
Often, a change in your home decor can be reached from the decorative details. It may be sufficient to put a few dry branches in a vase, or a sprig of lavender in a glass jar or change the cover pads lounge. With very little you get a big effect. The stories and photographs are great allies to redecorate your rooms without spending money.
You may also like to read another article on houseilove: Decorative tricks to differentiate environments
Crafts
If you like crafts have before you a huge stage to renew your home decor. You remember that in our section "Do it yourself" find plenty of tutorials to help you create decorative elements of the most original and without spending much money on it Hands On!
Change covers cushions
Purchase new fabrics for your cushions and you'll see what air so different you give the living room. You can play with the own shades of each station or with colors that are trend. It will be a not very high expenditure for an effective result. And the best part is that if you end up driving you to get tired you can renew them again …
Recycles
Recycling is the best friend decorating budget. We have already seen how you could reuse a pallet transforming it into headboard for the bed, but you can also use a box of fruit as a magazine rack, old suitcases as nightstand or glass jar as a vase for your flowers. You can also restore some old furniture that your family has left in the storeroom; with a little skill and imagination that insurance becomes a unique piece that you flip to your home decor.
Tags:
little money
,
Redecorate