For years now, the popularity of Airbnb has been growing unstoppably. This platform provides many benefits, whether you need a place to stay or want to offer it to someone. In the second case, if you have a spare room or any unoccupied space, you can tidy it up and rent it over Airbnb.
This may seem like easy money, but it's not that simple. You can indeed earn good money by renting your property, but for that to be possible, you must make certain investments. And since vacation rentals are in high demand, you need to stand out somehow. And proven things that attract guests are good service and well-maintained accommodation at affordable prices.
One of the things that your guests will surely pay the most attention to is the arrangement and hygiene of the rental space. So before and after each arrival, it's important to thoroughly clean the rooms and maintain good hygiene. That's also required during the guests' stays if it's included in the price. In any case, you can do the cleaning yourself or hire professional Airbnb cleaners to handle all cleaning for you.
What to Do If You Need an Airbnb Cleaner in an Emergency?
Owners and property managers who want their rentals to always look good will often outsource these services to cleaning agencies. These are companies that specialize in working with Airbnb properties. They employ teams of cleaning experts and use top-notch products and professional tools to provide superior cleaning services.
You can be sure your premises will be impeccably clean once Airbnb cleaners finish their job. But that's not the only benefit of working with them. They can also save you a lot of time and money. And since managing rental properties is already demanding, working with cleaning pros will help you organize your work better and be more efficient.
If you have not worked with cleaning agencies before, you're probably wondering how to find a reliable partner to tidy up your rental properties. There are many companies on the market, but not all are reliable. So you must know what services you need and explore all the options.
Things Airbnb Cleaners Can Do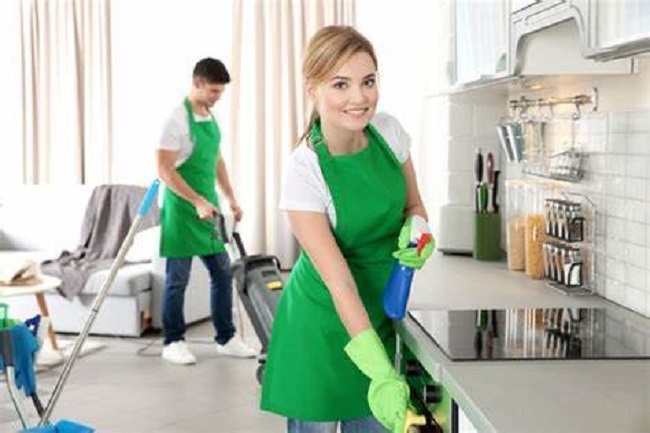 For starters, you should distinguish Airbnb cleaners from "ordinary" property cleaners. Both work with houses, apartments, condominiums, and the like, but there's a difference in how and how often these premises are cleaned.
Residential properties require less frequent deep cleaning because fewer people pass through them. On the other hand, some Airbnbs can change dozens of guests in just a few weeks, and you have to clean up after each of them.
Considering how often you call cleaners to your rental property, cleaning won't always be as detailed as with residential deep cleaning (find out how to do it yourself on this page). A single visit from Airbnb cleaners lasts only two or three hours.
The service package of these professionals includes the wiping of all floor surfaces, furniture, appliances, sanitary ware, and kitchen elements. These experts pay special attention to the sanitization of the kitchen and bathroom, especially the surfaces that are most often touched, such as toilets, faucets, and knobs. Also, they'll do toiletry, linen, and towel restocking, and bed linen replacement.
Airbnb cleaners have years of experience and have faced different situations and emergencies in rental properties. That's why they know what to check before starting work – switches, sockets, kitchen appliances, toilets, etc. And you can vastly benefit from their experience and expertise because they'll point out issues you should fix before the next guest arrives.
Pricing
Airbnb cleaners most often offer their services within different packages. You'll almost certainly not call them for just one thing. Instead, you'll need a whole team of experts to get the job done efficiently. And when it comes to emergencies, you need cleaners who'll do the job fast, too.
Depending on the selected package, these companies determine the prices of their services. Some have flat fees they'll tell you upon assessing your property. Others charge hourly rates, which can vary significantly each time you hire these cleaning experts. That's why it might be better to stick to cleaners with flat rates so that the costs are predictable and more manageable.
Reputation and Credentials
Besides all of the above, an essential factor when choosing an Airbnb cleaning company is its reputation. Considering that the industry of vacation rentals is booming, cleaning agencies will be there to find new clients among hosts and grab a piece of this profitable cake.
We've already mentioned that not all cleaning agencies are suitable partners for your business. You want to avoid scammers at all costs, as they can provide shoddy work and thus harm your reputation among guests. That's why you should always choose cleaning agencies with stellar reputations and vast industry experience.
It's good to know how Airbnb cleaners handle emergencies and urgent cleanings, as you can never know when you'll need them. Also, you might want to find out how they treat and communicate with their clients, as you need someone reliable to maintain your property. You can find all that from unbiased review websites, where other hosts and guests leave very helpful comments.
Availability
Many specialized online forums gather Airbnb hosts, so you can look for some suggestions on reliable cleaning agencies in your area. Reputable cleaners are also active on social networks and have well-designed websites where you can get additional information.
Reputable and reliable Airbnb cleaners are always at your service. Or at least they'll try to schedule you as soon as possible. If you're a recurring client, they'll prioritize your needs and come to your property as soon as you call them in case of some cleaning emergency, like same-day arrivals or departures.
For more tips on being a good Airbnb host check on the source below:
https://www.buzzfeed.com/anniedaly/pro-tips-from-airbnb-superhosts
Keeping your rental tidy is a sure path to great ratings that'll boost your reputation as an Airbnb host. Professional cleaners can help you with that, as they know how to clean different property types quickly and efficiently.
Tags:
airbnb cleaning checklist
,
airbnb cleaning fee
,
airbnb cleaning jobs
,
airbnb cleaning service
,
airbnb cleaning services
,
cleaning airbnb