In this guest article, you will discover how to decorate your small office at home, and what elements are the most important to make the most of the space you have and be able to work better.
Having a small office shouldn't be a problem for you. When we have a limited workspace, it's time to get to work to make the most of the office.
How can we decorate our office to make it look wider? And above all, how do we ensure its functionality? How can you help us improve our productivity?
We spend countless hours in our workplace. Therefore, it is essential to optimize it to the maximum to be more productive and performance.
Also, we will reduce stress and enjoy our office. Our main objective will be to integrate furniture and decoration that are, fundamentally, practical and comfortable.
The reduced space should not limit us in our task since with functional furniture and a little imagination we will respond to our needs.
How to make the most of a small home office
1. The light
One of the fundamental aspects will be light since we have to try to achieve optimal lighting for our office.
Ideally, enjoy good natural light, but if large windows shine because of their absence, we can solve this aspect by placing fluorescent lamps on the ceiling.
With them, you will save the extra space that the hanging luminaires can occupy.
Whenever possible, bet on natural lighting, but if this is not your case and go to artificial lamps, try to make them white, since they will provide more light and will do less damage to your eyes.
Also, you can place small table lamps that provide extra lighting to your workplace and are very useful for usual tasks such as study and reading.
Whether artificial or natural, light is one of the most important aspects when organizing our office.
One more thing, if you can place your desk and computer under a window. It will bring natural light and promote your creativity. Of course, you should be careful not to get too distracted.
2. The color of the walls
For the walls, bet on neutral and light colors such as white or beige. In this way, we will achieve a timeless, bright and welcoming look.
We will leave the color for those small decorative details.
Even so, if you prefer to bet on walls where color reigns, there goes our little advice: while blue and purple tones invite creativity, colors such as yellow or orange enhance our energy and vitality, although they also cause fatigue.
What color would you bet on?
3. Hire Professional Painter
If you have enough money in your budget and have already decided on a colour, you can easily hire a professional painter. You can simply find one online, for example, if you're situated in Australia there are sites like sidepost.com.au, through them, you can get a professional painter in Brisbane, Melbourne, The Gold Coast, or wherever you are based in Australia. Hiring a professional to do a task is beneficial in many ways for the following main reasons: they're equipped with the right stuff such as experience, skills, and tools to do the job properly. Ultimately, you will have satisfactory results, saving time and energy that can be used for other tasks.
4. The furniture
As for the furniture, they must be decorative, but more importantly, they are functional and versatile.
We will ensure that the desk is longer than wide so that it occupies the smallest possible space in our office. Bet on practical furniture in which we can store our folders and documents as organized as possible.
A multi-purpose desk is a good option since it serves as a desk and sideboard.
So that when our workday ends, we have only to close the doors to leave our workspace collected. Also, we will achieve a greater sense of spaciousness to the rest of the room.
5. A comfortable chair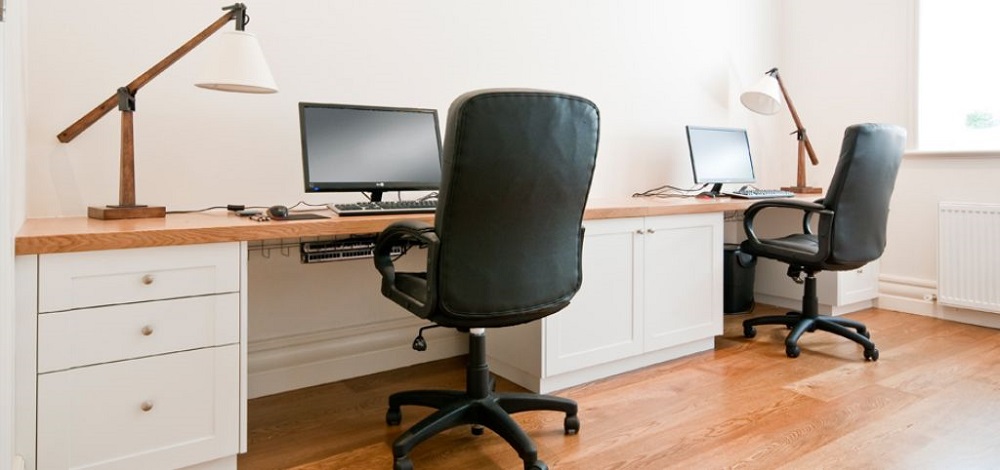 And what would a desk be without a chair? It's essential! You can bet on a seat in a more vivid color to make a difference, and let's move from a boring and monotonous office to a pleasant and full of energy.
But without a doubt, there are other aspects more important than color, and that we will have to take into account when choosing a chair for our office.
Using a poor chair can lead to significant back problems, but it can also affect other aspects of our health.
It is of vital importance that our seat is adjustable in height and can modify its position concerning the backrest, which should adapt perfectly to the shape of our back.
Ideally, our chair should have an armrest whose arms form an angle of 90º and its base has wheels for a more comfortable movement.
Remember that throughout the day you will spend many hours on it, so you must ensure that it is comfortable and stable.
6. Organization and storage
Another aspect that we must take into account is all those elements that help us in the organization and storage of our documents, folders, and books.
The shelves and filing cabinets will be very useful to have everything at hand and above all, organized.
To make your work more bearable and, above all, productive, your office must be organized.
In addition to all these tips, you will have to do a bit of your part. Try to keep your workplace tidy daily and avoid unnecessary elements, since the more crowded our space is, the smaller it will seem.
Of course, it is not bad to include some elements that inspire you in your task and do not distract you excessively.
Some paintings or small plants are ideal and also provide small touches of color to the room.
Another good option is to place a calendar on the wall where you have all the important dates of insight, and it will help you organize more and better.
Now it's your turn to put all these tips in motion. Good luck!
Tags:
decoration
,
how to decorate your small office at home
,
integrate furniture
,
little imagination
,
small table lamps