Materials Needed:
Painter's tape
Paint roller and pan
Dry 3" paintbrush
Scrub brush (longer bristles seem to work better for this technique)
2 colors of satin finish paint – gallon for the base coat and quart for the faux color (the amount you will need depends upon the size of the area to be painted) try to pick two colors at least two shades apart on the same color chip so that the colors will look well together but be different enough that the finish will show
1 quart faux finish glaze
Drop cloths
Newspaper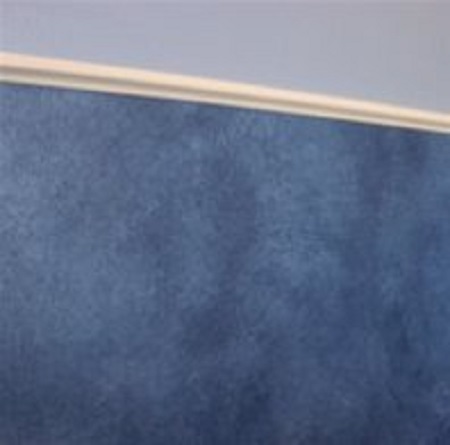 Directions:
1. Tape off area to be painted and lay down drop cloths to protect furniture and flooring.
2. Apply the base color with a roller – we chose light to medium blue satin finish paint. Allow it to dry for several hours.
3. Mix equal parts faux finishing glaze and the paint you will be using for the faux coat.
4. Take the scrub brush and dip only the very tips of the bristles into the paint/glaze mixture. Dab lightly on the newspaper to remove the excess.
5. Lightly tap the bristles of the brush on the wall in two or three spaces within an 18" square area.
6. Start in the first place you tapped the brush and, using a circular motion, spread the paint until it has a "mottled" appearance. Try to catch the other areas where you tapped the paint and be sure to use a variety of circle sizes. You may need to add a tiny bit more paint to get the desired effect. The more you spread the paint, the more subtle the finish will be.
7. Move back from the wall several times as you are working the paint so you can see a larger area and make sure your finish stays consistent as you go around the room.
8. Try to keep moving and keep a wet edge or you will have a dark spot where the wet area meets the dry area. Should this happen, lightly tap on a tiny amount of the base coat paint and swirl it in a circular motion with the scrub brush to blend the area.
9. If you would like to soften the appearance of the finish, lightly feather the finish with the dry paintbrush in an "x" shape.
(Note – the color above the chair rail this picture was the base coat for this technique – we chose a darker blue (3 shades darker on the same color chip) for the faux coat.)
Tags:
Brushed Faux
,
Painting Technique