No matter the type of hard floor you have installed in your commercial building, it is recommended that you have a well-put-together floor plan to make your facility look clean and great.
In general, floor care, which includes regular cleaning and period restorative procedures, consumes about 80% of your cleaning team's time as well as of your cleaning budget. Due to the high labor costs and extensive work involved, the importance of properly maintaining the floors cannot be overlooked as it can also help protect you from unexpected costs in the future.
Luckily, there are several precautionary measures you can take to keep your floors in the best condition. Keep reading to find out how to properly maintain and protect the floors in your commercial building.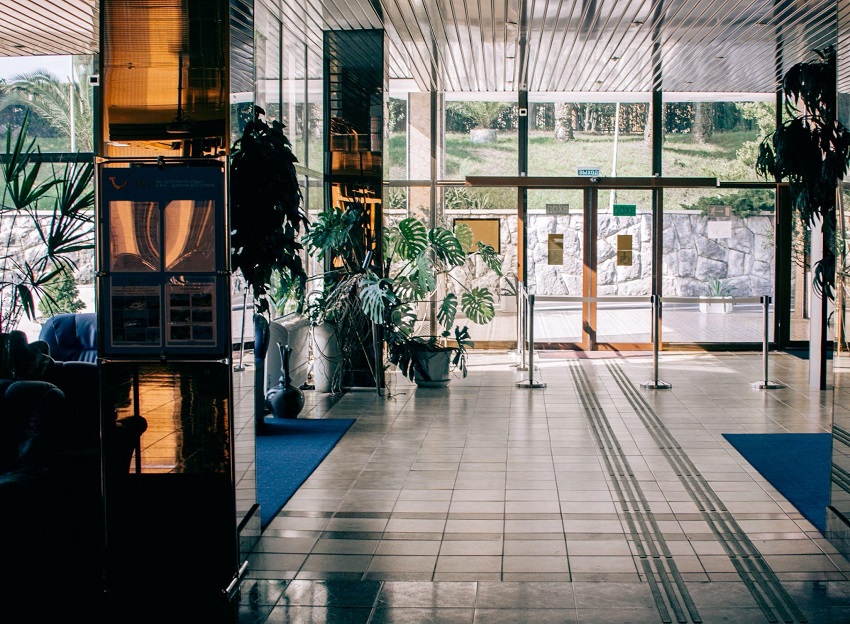 Photo by Igor Starkov from Pexels
Incorporate floor mats
Shoes not only disperse dirt and mud on your floors but also transmit harmful bacteria such as Escherichia coli. An effective way of preventing this is to add a mat at each entrance to your office. Doing so will additionally make it easier to clean the floor later.
For example, a shoe sanitizer mat is the ideal disinfection method to reduce the spread of bacteria, as well as to prevent slips and falls due to wet floors. You can find them in many sizes and shapes and are very easy to install.
Vacuum frequently
It might seem like dust is harmless, but the truth is dust can truly damage the floors in your commercial building. In fact, dust can scratch floors and even cause damage to the floor's protective coating. This results in a duller surface that is more susceptible to being scratched.
In addition, dust can trigger allergies which is why you need to remove it frequently. The best way to do so is to vacuum at least once a week. When vacuuming, make sure you get to every corner and especially the areas where people gather the most, such as the lobbies or other gathering places.
Also, be sure that you choose the right attachment for vacuuming. Some vacuum cleaners come with brush attachments that have hard bristles which can cause scratches on some floors. If you don't want to vacuum, you can sweep your floor with a broom that has soft bristles.
Use the right tools and cleaners
All floors are not created equal. To maintain your floors, you will need different tools and cleaners. While professional floor cleaners know exactly what to do, you can still maintain your floors by following some basic rules. This will depend on the type of flooring you have installed in your facility.
For example, the cleaning method for hardwood floors will be determined based on the finish. If you have wax-finish or untreated hardwood floors, washing is not recommended. Instead, what you can do is sweep, vacuum, or dust-mop regularly.
On the other hand, tile floors should be left to the professionals. However, if you need immediate cleaning, you rely on the simple homemade vinegar and dish soap solution that works wonders. All you have to do is mix a bit of white vinegar with a few drops of dish soap, put the mixture in a spray bottle, and add warm water. Spray the solution on the floor surface and use a microfiber cloth or mop to wipe away.
Hire professional cleaners
If you want to avoid the hassle of maintaining the floors yourself, you can always rely on professional cleaners to do the job for you. These people are experts at their job and will do their best to clean and polish your floors properly.
This is especially true if your facility's floors are made out of special materials which require taking different approaches to clean them. While your staff may be able to clean, mop, and polish floors to their satisfaction just fine, nothing compares to the quality of the service provided by experts. There is no denying that hiring professionals will cost you a bit more but it is well worth it in the long run.
Final thoughts
Keeping the floors in your commercial building in the best condition doesn't have to be difficult. In fact, there are just a few precautionary measures you need to take to maintain your floors and keep them clean, protected, and looking their best at all times.
For more help, you can always refer to our post and learn how you should go about cleaning your floors and making this task a breeze.