We entered a very inspiring and elegant housing. It is a quiet and cozy house located in Haarlem, the Netherlands, and belongs to the musician and owner of a truck foodtruck dedicated to the manufacture and sale of pancakes Spelt, Alexander Nijmolen. It has 100 square meters; it was acquired in 2013 and previously housed a cheese warehouse. Now it has become a bachelor pad with interior decoration and full of freshness and personality. Let us know the most special corners of this house; you will accompany us on this journey?
Renovation of the interior
When Alexander acquired housing inside it was completely different to how it looks now. He was clad in pinewood and the first thing he did was remove it. Then he remodeled the kitchen and changed the design to create a second floor bedroom and a larger bathroom. The original wooden beams were preserved and the whole house received a coat of white paint, which allows more light and provides a great sense of peace and calm in each of their stays.
The kitchen
Alexander kitchen countertop has a robust concrete and includes Portuguese tiles on the floor that bought second hand. It is connected to the living room thanks to the use of white as a common thread between the two stays.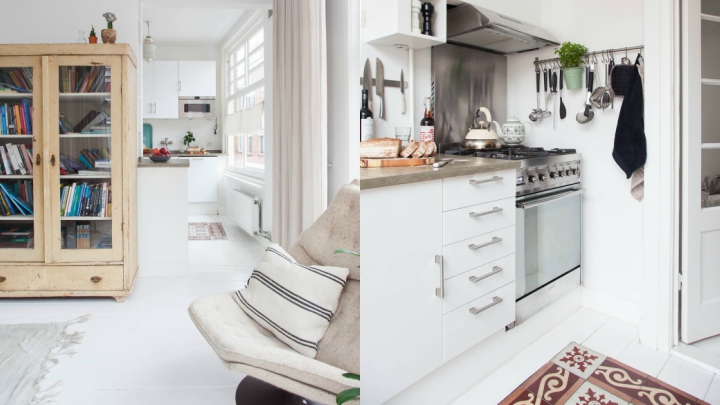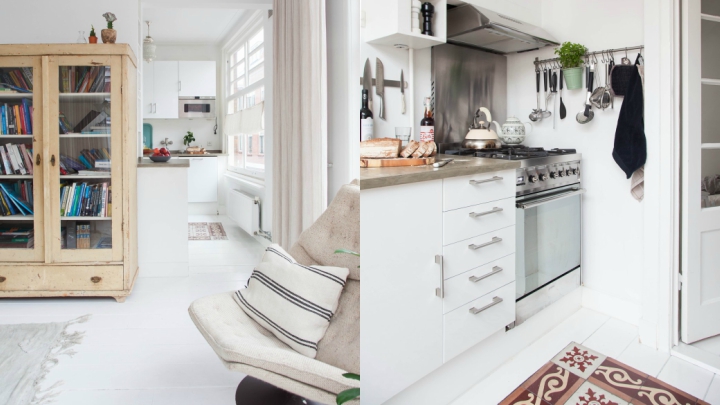 Natural light
Alexander has blog that when he visited this place fell in love with their windows, incorporating architectural elements of the Amsterdam School and allow the passage of natural light, which gives warmth and a very pleasant feeling.
You may also like to read another article on houseilove: Tall apartments
Style housing
It is Alexander himself has decorated his room flats, for inspiration in magazines and specialty shops. The quality is your priority and in this interior that has prevailed that we like in decoration of "less is more". As the styles, we find a mixture of modern elements with industrial and retro air.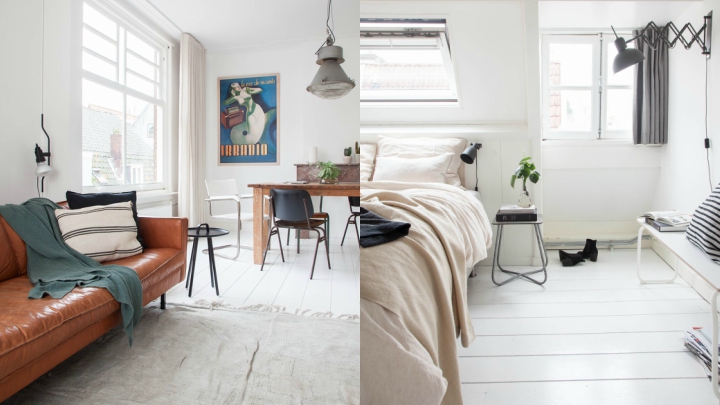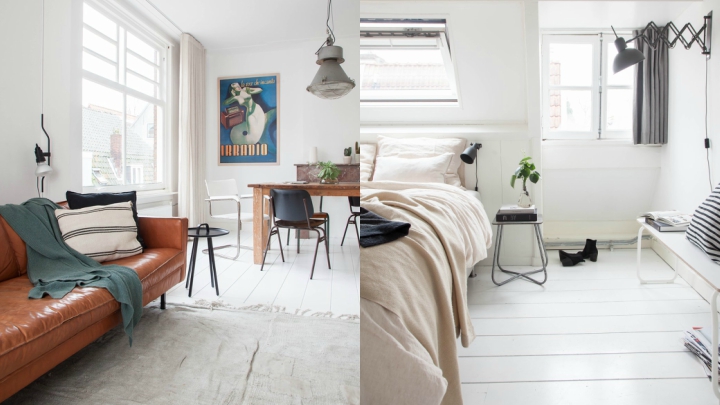 Dining room
The white walls and floors allow create a perfect backdrop for beautiful design contrasts with the furniture and decorative objects. Thus, in the dining room we found a sturdy oak table surrounded by a mixture of chairs presided over by an illustration of Gino Boccasille entitled La voce che Incanta Irradio. Industrial lamp that is on this table is originally from a German steel company where he worked. The leather sofa contrast with the use of textiles and is complemented by a large rug and a chair that gives it a unique touch to this space.
The bedroom
In the top bedroom, a space that invites calm thanks to the use, once again, the white for floors, walls and furniture is located. Textiles provide warmth and have also included elements like a very cool industrial style wall lamp. Very simple lines for a very effective decoration. Visit http://headinformation.com/ for more tips.
Tags:
apartment
,
Bachelor
,
quiet and cozy