If you are addicted to the latest trends and want to show off a house magazine, in your decor cannot miss the trendy pieces par excellence. You have doubts. Well not, miss in our summary of the latest modern interior.
Prints geometric, flamingos, pineapples and many more surprises await you in this little tour with the latest in decoration 2016. Small touches of trend that will help give new life to the house.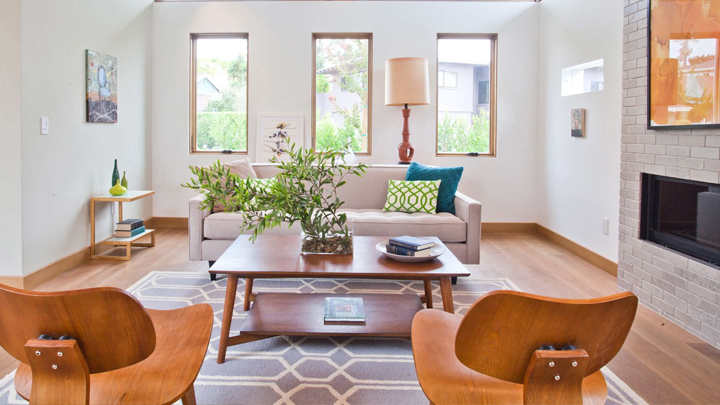 Geometry 10
It is a characteristic pattern of scandi style that will delight lovers of mathematics and numbers. Indeed, prints geometric are more fashionable than ever. Diamonds, rectangles, squares and similar designs help us put the trendy touch to our spaces.
Effective designs that succeed in both black and white and delicate pastel shades. We can find them in textiles, furniture, kitchen accessories, wallpaper on the walls and in many other corners of the house.
Lamps and new materials
They are reinventing traditional lamps in search of the most innovative materials, such as wood, wicker, esparto and cement. These materials are not very frequent in the luminaires. However, in recent years we are seeing increasingly specialized magazines and interior design fairs.
Lamps in wood and natural fibers such as rattan, wicker and esparto are ideal for decorating healthy homes. The triumph of sustainable trends and the commitment to a green lifestyle explain the success of this time designs. Cement is another material that is increasingly present in our decor. A heavyweight modern interior.
Cactus, pineapples and flamingos
Exotic and tropical countries we get other trends we've seen countless times and decoration fairs have attracted hundreds of magazine covers. Cacti, pineapples and flamingos have earned a deserved space in our decor.
And how do they get? Stamped or as decorative accessories, pineapples, cacti and flamingos are a must-have for the current decor. Pieces find their place in any corner of the house.
The forest at home
We continue in the jungle to dress the house with another trend that sweeps decoration: the tropical style. Lush, lush and green palms stained and refresh our spaces with exotic air. The pieces inspired by these destinations, like hammocks, also carry plants in XL version and vitamin colors.
You may also like to read another article on houseilove: Traditional dining rooms
Transparencies
Subtle, delicate, light and bright, transparencies are another must-have decoration. Tables, consoles, lamps with transparent screen, bulbs … Transparencies and shed light decorate our spaces. Also are timeless designs and incredibly sophisticated that will help you decorate environments magazine.
Aires scandi
If we talk about trends, another style that we should not overlook is the scandi. Natural materials, light colors, light furniture legs and lightweight design … The Nordic style is highly topical and is a favorite trends design lovers. Put a Nordic in your life, sure to be right!
Sustainable homes
If we have to choose a latest style brooch to put an end to this brief summary of trends in 2016, we were sustainable decoration. The organic designs whose forms are inspired by nature, like the bark of trees, bring us the beauty of Mother Earth. To know more reviews visit http://graphixgaming.com/
Tags:
2016
,
decoration
,
Trendy alert