As pet owners know all too well, keeping our animals safe around the garden requires effort and care on our parts! For curious critters who love nothing more than exploring their surroundings – whether by sniffing around the compost heap or munching on garden plants – hazards abound!
Many popular plants pose serious threats if eaten by dogs or cats and can trigger stomach issues, vomiting or even heart complications. Azaleas, lilies, and pothos are among some of the plants that should be avoided around pets. These risks are important to note so we can avoid these hazards in our gardens.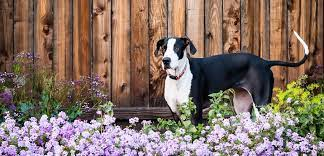 Even mulches used in gardens can pose problems for our furry friends. Cocoa bean mulch is particularly risky for dogs as it contains chemicals that can be toxic; the same is found in chocolate which we know isn't safe for dogs to eat.
Water features including ponds, pools, and hot tubs also require care when it comes to keeping pets safe. Not only do these present a drowning risk but the use of chemicals for treatment could also be harmful when ingested or brought into contact with skin.
Keeping pets safe also means not giving them the opportunity to escape where they could be hit by a car or stolen, for example. Ensure your fencing is up to standard with Fencing Loughborough from https://directfencingandcontracting.com/service/fencing-loughborough
By being aware of these potential hazards and taking precautions where necessary – such as keeping pets away from certain plants – pet owners can take steps towards ensuring their animals enjoy long lasting outdoor pleasure in safety!