According to Feng Shui, decorate with wind chimes is an excellent choice to fill your home harmony and wellbeing. Did you know?
Whether for this reason or simply decorated tell you more about decorating with wind chimes with DIY a practical idea.
Decorate with wind chimes
Sometimes it seems that the wind chimes are no longer used or are an option only find in old houses.
If you like the sounds of wind or just want to add an original touch, garnish with wind chimes is a great little touch that can transform a home corner. If you want to give more meaning Feng Shui states that every time a bell rings wind energy in your home flows much more harmoniously.
In addition, it no longer is the classic metal wind chimes, now you find bamboo, recycling cans, and bottles or why not? Using stones… We tell one DIY so you involve your children in this decoration.
Wind chimes with stones
Although it may sound "heavy" if you have kids definitely will love gather pebbles in jars and what better than to engage in a project of the house? They will be very proud to see "creation" in the garden (best left in the garden to prevent strokes).
We give you the steps to decorate with wind chimes stone
The first thing you have is a thick piece of wood, it better be natural for him to set more rustic style. In this aggregate screws a closed ring side (5 equidistant will be fine) and 1 on the other side for hanging.
Since you have needed to draw lines hanging stone, take wire and entangles stones on it. They should be colorful and small sizes (at most 3 x 3 cm) to support this creation. The way is to take the wire and roll a stone, then continue in a straight line and rolled about 5 centimeters after another, and to allow 5 centimeters to the wood. Consider the amount of stones according to the design you want.
Once ready entangles the wire lines in the corresponding screw several turns. If you get steel wire would be much better for it does not come off your design.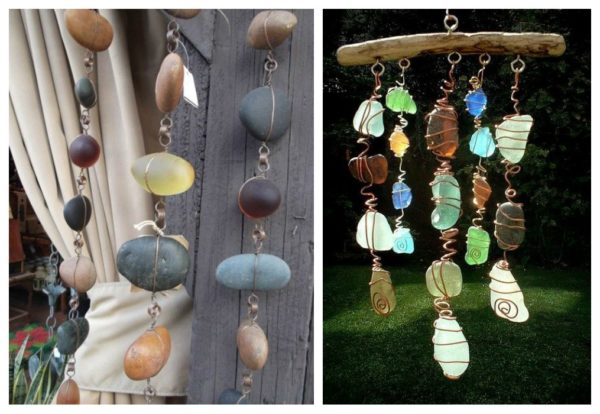 Now it's time to hang it in the garden
To decorate with wind chimes is advisable to remember that the garden is the "ideal" space for them, although some people put it at the reception for multiple reasons.
Regardless of where you decide to put, consider how often you want it to sound that depends on your ideal location. Even in the garden can be in a place with little wind and if you choose a door that might give the garden or a bedroom of little use, not necessarily on the reception door.
Would you have liked these ideas for decorating with wind chimes? Visit http://healthiestlife4me.com/ for more tips.
Tags:
Decorate
,
wind chimes