To beautify your home and make it more beautiful, it takes very little. The ideal solution is to decorate it with minimal objects and plants of all kinds. Thus creating a pleasant and fragrant environment. Obviously the choice and combination of plants always depends on your tastes. Although then, some basic rules must be taken into account. Plants must be placed in bright areas and properly cared for.
From this point of view, any plant can be grown indoors. But you need to know the environmental conditions of its region of origin, the climatic parameters, the availability of water and the type of soil to be used. So make sure you have everything you need and get started. In the following guide, I will explain how to decorate the house with plants.
Decorating with plants inside the house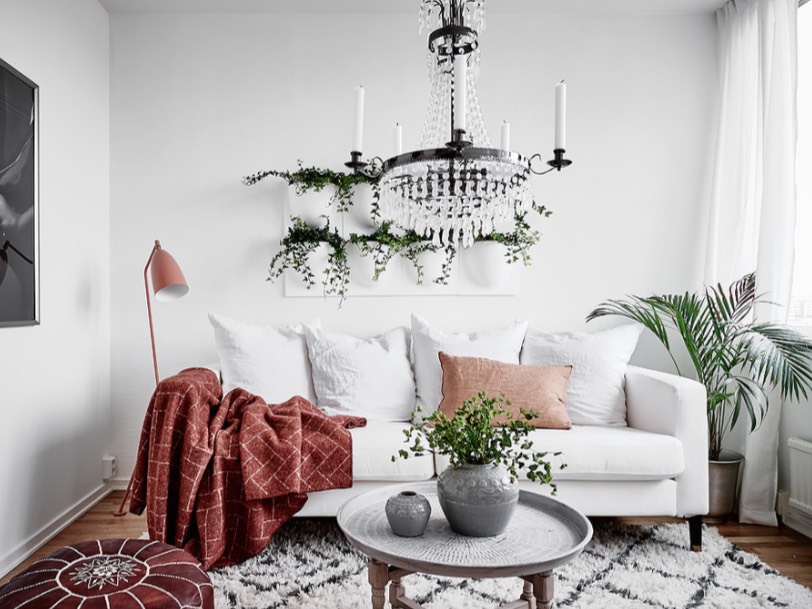 Ferns
Zebrina
Aspidistra
Mint
Thyme
Basil
Parsley
Rosemary
Ivy
African violet
Ficus Benjamins
Gerani
Palm tree
Beautify the kitchen
It is often thought that plants only serve to appreciate flowers, foliage and their stems. But there are plants such as aeronautics, vegetable aloe, chlorophyll, and ficus, which in addition to having this characteristic, are used to perfume the house and keep the air clean. You can use these vegetables to beautify your kitchen. The perfect solution is to place the aromatic herbs in front of a window, placing them next to each other. Or try to make compositions in larger pots. While for the other plants, choose decorated pots and place them in the corners of the room.
Beautify the living room
Beautifying the living room with plants is a very simple job. In fact, this area is the largest, brightest and most suitable room. The windowsills and windows lend themselves to welcome, in the best environmental conditions, ficus, geraniums and succulents. While you can arrange the ivy, cissus and climbing plants above the shelves. Then move the foliage around the arches. If your living room is not particularly bright, the most suitable plants are ferns. Instead, if the space is very large, add tropical saplings, dracaenas and begonias.
Beautify the bedroom
The bedroom is the most peaceful and fresh part of the house. For this reason it can become an excellent setting for particular types of plants. Ferns and succulents are ideal for enriching empty corners. While if you don't miss the space and the ceilings are high, place plants like ficus and grevillea. The latter are plants that grow tall and luxuriant. The room also lends itself to welcoming climbing plants, provided there is space. This way you can embellish it and the plants will help to make the air cleaner.
Unless you want to transform the bedroom into a kind of forest, it is commonplace to believe that plants cannot be placed in this environment. The only contraindication, in this sense, can be represented by the fact of being allergic to a specific type of plant.
You may like also to read http://thebinderblog.com/
Tags:
decorating with plants
,
plants inside house