Would you like to renew the decoration of your bathroom? If so, one of the decorative elements you can take advantage of is the plants, with them you will make that room more joyful and full of life. Now, it will be essential to choose those species that can grow in humid environments and also take into account whether the bathroom has good natural lighting or not. So that you have no doubts when choosing the plants for the bathroom, pay attention to the selection of this article, we reveal the good plants for the bathroom.
What are the good plants for the bathroom?
Plants are essential for the maintenance of our environment and represent a very sustainable and economical way to decorate our home since they provide us with intense colors, and more importantly, they bring life. But can a plant grow in a bathroom? The truth is that yes since the bathrooms are usually humid and hot and this is an ideal climate for many plants, so much so that the environment that the bathroom offers us can be used for the recovery of diseased plants, in fact, If we are going on vacation and we are afraid of leaving our plants neglected, the best place to maintain their health is the bathroom.
Many bathrooms have windows through which this space is illuminated with sunlight, we must also highlight that artificial lighting is usually powerful and that, in addition, the use of mirrors benefits plants as they act as reflectors, increasing Thus the amount of light that the plants receive, for this reason, it is recommended to place the plants in front of a mirror.
Do you want to know what are the best plants for bathrooms? So, pay attention because below we will show you.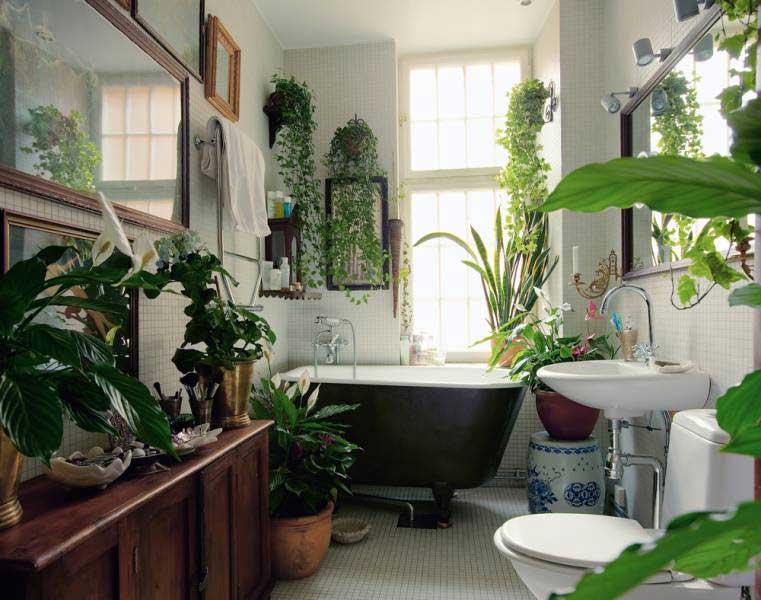 Bamboo
The bamboo is one of the best plants you can include in your bathroom, it grows well in humid climates and also is perfect for low – light conditions so do not worry if your toilet affects not too much natural light. Bamboo canes are highly valued in the art of Feng Shui, ideal for attracting good luck and allowing positive energy to flow throughout the room.
Aloe
If your bathroom receives a lot of natural light, an excellent option is to incorporate an aloe or aloe vera plant. It is a plant that has many excellent properties for both general health and skin, so you can easily take advantage of all its benefits.
To keep it in good condition, keep in mind that you should not water it continuously, it will be enough to do it every 15 or 20 days using little water, trying not to leave the pot waterlogged.
Orchids
The orchids are very elegant flowers and great to bring you a touch of color and life to your bathroom, symbolize prosperity, beauty, abundance and fertility.
There are varieties of this plant that live perfectly in humid spaces such as the Vandas, Dendrobium or Cattleyas orchids; Now you must take into account a series of care so that its flowers do not wilt and, especially, it is important that you know that between one watering and others, the orchids need to dry, so if they cannot do it correctly in the bathroom, we advise you to take it outside so that it receives a little air and sunlight.
Also, when you decide to give it a certain location, it is important to keep in mind that it can reach 40 centimeters in height.
Begonia
Proper from tropical areas, begonias are other of the best plants for bathing, since they need places with shade and plenty of humidity to grow. You can get very different varieties of this plant and with colorful flowers in case, you want to decorate your bathroom in a happy way. Above all, they need to be located in a ventilated place and abundant watering, but without watering them, and their leaves should never be wet directly as they could rot or cause stains to appear.
Azalea
Due to its great beauty, the azalea is a plant widely used to decorate gardens and many spaces in the home, and your bathroom can be one of them without a problem. It needs a lot of light, so it is essential that your bathroom has good natural lighting and is a place with ventilation, in addition, you must pay close attention to its care and watering, which must be abundant especially during the flowering stage, although never stay puddled. It is also advisable to maintain high environmental humidity and spray the leaves with water but taking care not to wet the flowers.
Ivy
The Ivy small leaves is an excellent alternative to have it inside the house and place it in places like the bathroom, this will give a very flattering natural and relaxing touch. There are them with completely green leaves or with light white or yellow spots, choose the one you like best and you will see that it also does not require much care. You will only have to water it twice a week in summer and it will be enough just once in winter, although it is advisable to spray its leaves every two days during the summer season and add a little liquid fertilizer dissolved in the same irrigation water every 15 days.
Peace lily
This plant has a beautiful white lily flower, it is ideal to decorate our bathroom in a very soft and neutral as well as elegant way.
It is an ideal plant to grow in the environment that the bathroom offers us since it does not need a lot of light or water. The peace lily is also important in Eastern philosophy, where this plant is believed to help absorb toxins.
Sansevieria
Botanically it is known by the name of sansevieria trifasciata and it is a plant that stands out for having great resistance to humidity and not needing much light, therefore it can develop perfectly in our bathroom.
It has very greenish leaves with a characteristic yellow border, it will give us a lot of colors, in addition, it should be noted that this plant helps to eliminate toxins from the environment.
You may like also to read http://cherryblossomlife.com/
Tags:
bathroom plants
,
plants for the bathroom