The patterns are perfect in the decoration to give depth and interest to a room. Use the following tips so that the prints complement the decoration and do not compete with each other. In this article, we will present how to decorate with a patterned rug.
In order not to create a busy decoration, it is important that you combine the sizes of the prints. The first pattern must be the largest.
How to decorate with a patterned rug?
The pattern that repeats over and over on the fabric must be large. The second print must have a pattern half the size of the first print. The third print has to have a small pattern, for example with polka dots.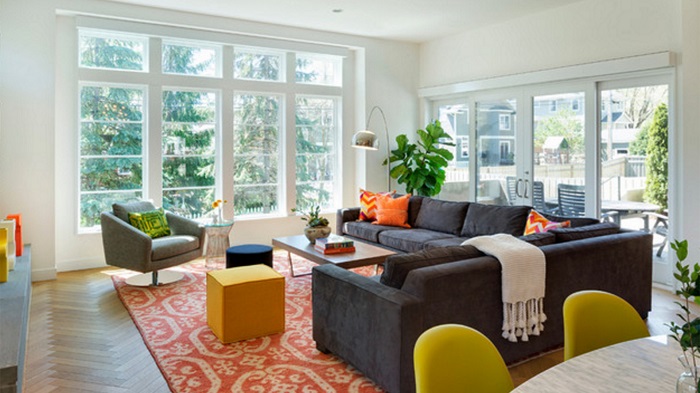 Use the same intensity
Another trick to prevent the decoration from looking too mixed is to use colors of the same volume and intensity on the prints. If you want to use a pastel print, you have to use the rest of the pastel prints. Same thing if you opt for saturated or vibrant colors.
Another trick is that you can use is to choose the color of your favorite pattern, and use it in the next pattern. For example, if you want to use a light blue and pink floral pattern, add a second geometric pattern that is light blue and white.
Balance space
Use prints in the same way throughout the room. Don't just use them on one side of your room, you will create a room that will look heavier on one side than the other. Balance the room, using patterned corners that are the same amount.
Think about the effect
Prints also have effects. Some are modern, like the abstract ones, others feminine, like the floral ones, and others showy, like those made of animal skin. Choose them carefully, but always keeping in mind the environment you want to create in your home. Another effect that prints have is to make rooms feel smaller or larger.
Large prints make small rooms look more spacious, as long as they don't completely cover the room. The horizontal lines make a room look longer, and the vertical lines make the room look taller. If you want your home to look visually larger, I recommend that you consider the effect that certain patterns can have.
Don't mix whites
If you are going to combine patterns with a white background, it is important that they are from the same white family. Do not combine beige patterns with other off-white ones. If you do this, white will take the first role, taking attention away from the pattern.
You may like also to read http://blogbuzz.co.uk/
Tags:
decorate rug
,
patterned rug