Whether you're a big family with kids of all ages at home or it's just you and your partner, it's important to establish a family cleaning routine. Get everyone involved in cleaning at home with everything — from doing the dishes to removing pet hair from the couch — and soon it'll feel less like a chore and more like a way to bond together as a family. Read on to find out how to easily build a family cleaning schedule in your day-to-day.
Source: Rawpixel.com/Shutterstock.com
Little Messes for the Little Ones — If you have toddlers or young children at home, they may be too young to take on bigger cleaning responsibilities like vacuuming or mopping. Instead, give them chores that are easy enough for them to handle at their age. If you have pets at home, encourage them to fill up the dog's or cat's food bowls and water. Have them use a pet hair remover tool on furniture or rugs at home to remove excess pet hair.
Do Laundry Daily — You don't have to wait until the end of the week to do everyone's laundry. Instead, do laundry daily together as a family. It can be small loads of clothes or bed sheets that need to be washed. Before and after you put dirty clothes in the wash, use one of the best lint removers to remove any lint from clothing.
Create Your Family Cleaning Schedule — Sit down together with your family and create a cleaning schedule that gets everyone involved. Your daughter can be in charge of cleaning bathrooms every Saturday morning. Your son can take care of laundry on Thursday nights. Your partner can do the dishes every night. The schedule and chores can also rotate so that no one person in the family gets stuck with taking out the trash all the time. Have a cleaning schedule of what everyone in your household should do daily, weekly, monthly and quarterly.
Clean as You Go with Micro-Cleaning — You don't have to wait until you have a spare hour or two to start cleaning. Clean as you go with the concept of micro-cleaning. That's when you clean in bursts of a few minutes here and there.
Source: Prostock-studio/Shutterstock.com
Every Object Has a Place — From restaurant menus to ballpoint pens, everything in your home has a place. No one wants to see a junk drawer fill up with a bunch of knickknacks. Put every item in your home where it belongs. If your phone belongs on the phone stand on the end table next to your bed at night, put it there. If you have magazines scattered all over the house, put them in a dedicated magazine rack.
Discard, Recycle or Donate Old Items — Decide as a family how often you want to take inventory of your old items and which ones you wish to discard, recycle or donate. You can decide to do a bulk cleaning every quarter. If you haven't worn that souvenir t-shirt in five years and it doesn't actually make you happy to keep anymore, donate it. If your child has an old game console that doesn't work anymore, recycle it. That mysterious piece of trash that ended up under your bed and behind the headboard? Discard it.
Focus on Busy Areas — If you're not sure which areas of your home to prioritize, focus on the areas that see the most foot traffic. If your family and guests spend most of their time in your kitchen and living room, focus on cleaning those areas the most because they probably also get messier quicker than other rooms in your home.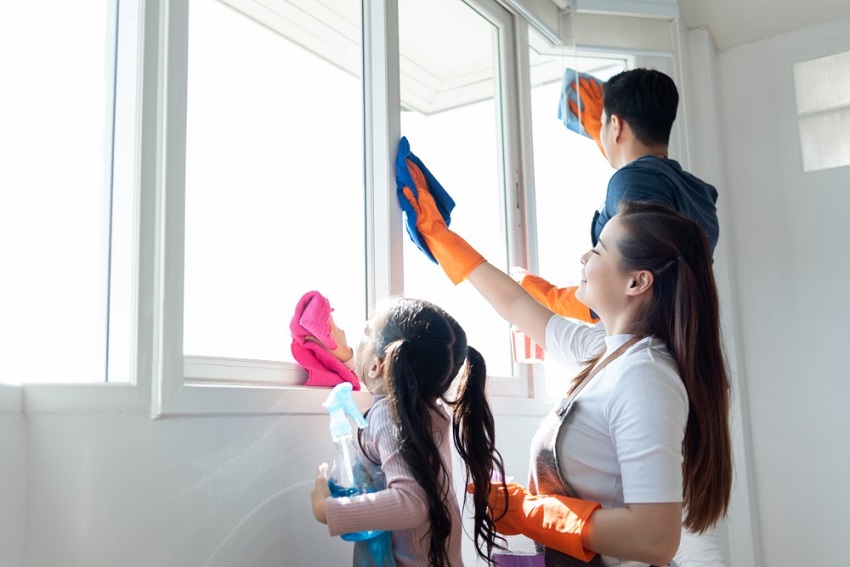 Source: eggeegg/Shutterstock.com
Make Cleaning Fun Again — Don't let family chores be a bore. Make cleaning fun by treating it as a workout or as a family bonding activity. Put on someone's favorite album as you all clean the kitchen together. Watch the latest Netflix show while you and your children fold laundry together. Dance while you're mopping the floors or vacuuming the carpet. Chores won't feel like a drag when you're having fun doing them.
One Room at a Time — Cleaning can feel overwhelming, but it doesn't have to be. Whenever you or anyone else in the family is tasked with cleaning a specific room, break it down into smaller steps. If you're cleaning the bathroom, start with the floor tiles and then move on to the sink. If you're cleaning the bedroom, make the bed and then vacuum the carpet or mop the hardwood floors. One room at a time and then one area of the room at a time, and you'll be done cleaning in no time.
According to a survey from the American Cleaning Institute, Americans spend about six hours every week cleaning their homes. Cut down on that time by cleaning together as a family and figuring out more efficient and fun ways to clean together. Soon, you'll be able to get back to everything else on your family's to-do list!