Getting rid of bees is quite a difficult task. There are more than 20,000 species of this insect around the world. Bees are social creatures. They live in colonies of up to several which are built on the caste system. Bees play one of the most vital roles in our ecosystem.  But having them around our houses can present a bit of danger since they might sting if provoked. How to get rid of bees is depends on a variety of factors and remove them can be challenging.
There are some steps below:
Identify which type of bees you dealing with
There are many types of bees such as carpenter, bumble, or honey bees, etc. Many people mistake the carpenter bees and bumblebees for their similar appearances. People also get confused with bees with wasp or hornets.
Bumble Bees: These bees are very plump and yellow-colored and hairy/fuzzy black bodies. Bumble Bees do not produce honey and prefer to build a nest/hive on the ground level. They sting only if provoked or attacked. A Bumble Bees can sting several times and will survive after stings you.
Honey Bees: Honey Bees are highly beneficial bees with their heavy nest which is loaded with the honey contribution of thousands of workers. This species also has a mass contribution to the ecosystem through pollination. These black and yellow bees are usually smaller than bumblebees and carpenter bees. They have a unique honeycomb hive which can be located near logs, hollowed-out trees, or even fence posts. These bees can build hives inside the home in crawl spaces, walls, or attic. Will string if the hive is threatened and die after stinging.
Carpenter Bees: These oval-shaped large wood bees are one of the most common bees found in the US. Carpenter bees are yellow and black quite similar to bumblebees but less hairy/fuzzy and the topside of their abdomen is mostly a shiny black. These non-social species don't produce honey and build their nest inside of wood or buildings as well as around homes with gardens to raise young ones. If carpenter bees buzzing near you, it is likely you are close to the nests. Female bees can sting only if the hive is attacked.
Prevention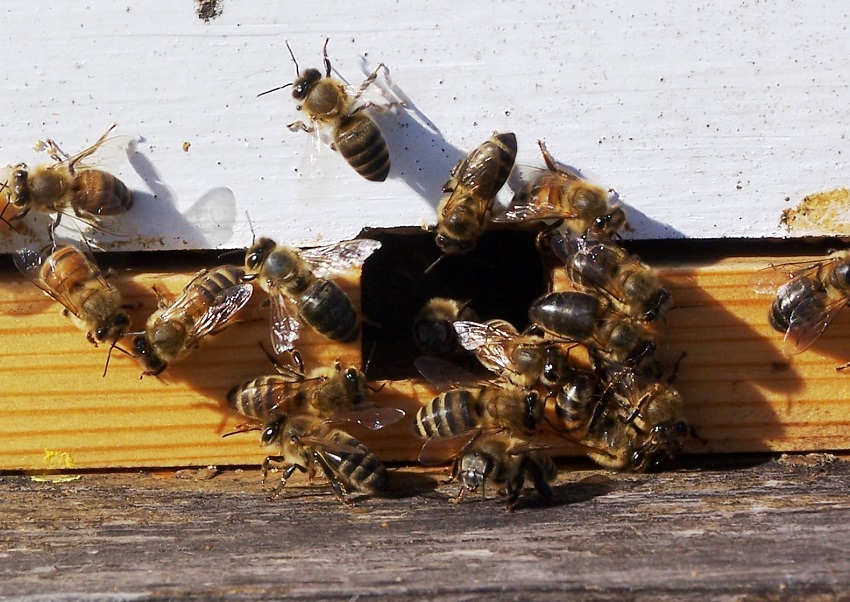 Most people fear the bees for their sting and yes it hurt a lot. But let's not forget, bees are very important for the earth as they have a mass contribution to producing food through pollination which we and other mammals eat. While getting rid of bees try to do it without killing them as bee populations are declining. After identifying what type of bee infestation you are experiencing, you can follow these ways-
Call a Beekeeper: If you can find a beekeeper near your living area, it would be an amazing choice to call them. They are professional and knows how to take care of bees and its hive without hurting them.
Moth Balls: Moth Balls are made of Naphthalene and bees don't like its smell. Use it, by hanging mothballs near its nest and the bees will stop coming back. You can keep your entire yard free by using these balls in different places around the yard.
Vinegar Spray: Vinegar Spray is a natural bee repellent. It's easy to make, mix equal amounts of water and vinegar in a spray bottle. Use the mixture over the nest as well as around the garden where they come mostly. The smell will unpleasant them and make them go away.
Cinnamon: Cinnamon is a versatile spice that can be used to relocate the bees from the hive without killing them. Sprinkle cinnamon over the hive every day of the week and wear protective equipment while doing it. The smell will make them to looking for a place to relocate.
When to summon a Professional
You should never attempt to deal with bees on your own unless you know for sure about the ways of getting rid of bees by yourself because things can get nasty and dangerous. Bees can build their nest in tricky hard places. At that time calling experts will be the best option and they will remove it with the least possible danger to everyone with no fear of stings. Keep reading How To Get Rid Of Slugs and Earwigs