We are in summer and want to enjoy refreshing ideas that move us to very beach environments. The other day we saw some proposals to decorate our holiday home and today we will make a little more concrete. We will focus on surfboards, an element that we only see in the sea outside the context of housing and interior design, but as you will discover below has a lot of possibilities. Whether you are passionate about this sport or not telling you anything, you will fall prey to these images.
Surfboards to decorate a corner
Due to its elongated and narrow shape a surfboard is ideal for decorating a corner or corner that is "dead" in some room. In the living room is going to look great, even in the bedroom. What do you think about the bathroom? Why not? It will fill the space upwards without taking up too much space. And you can change it when you feel like it. Replace that plant that you have been looking at for a long time and you will see what change.
Hung on the wall
Do you want to give life to your wall but do not want to hang a typical painting that does not mean anything to you? Try putting on a surfboard and you'll see how original and different the stay is. You can place one in horizontal, that will occupy enough surface towards the sides but when not being too wide neither saturate the space. It will look great the bedroom, as a headboard or a little higher, and also in the living room.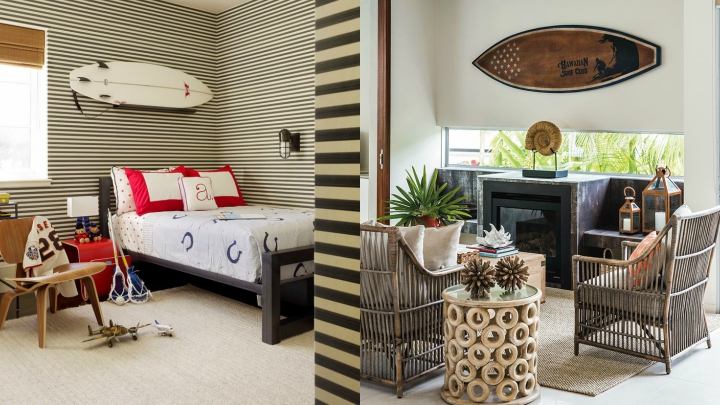 Custom Tables
An option for the table to adapt perfectly to the decoration of your home is to customize it through the paint; some decorative vinyl … With that you will get the colors are perfectly combined and integrated into the style chosen for the rest of the stay. If you like the original, perfect, less work ahead, but if you feel like customizing it you have a lot of options.
You may also like to read: Ideas for decorating with cages
Tables as auxiliary furniture
If you feel like giving a new life to your surfboard, you can turn it into a side table. If it is not quite flat, the things you put on it will slip (the oldest wooden are flat) but if you put one that is a little curved you will only have to leave it as a decorative element and you are done. It will not play its functional role but nothing happens. You can also transform them into shelves that you can hang on the wall as a shelf.
In the roof
You can also hang the surfboard on the roof. I like very much, how it is, for example, in the kitchen, especially if it is spacious and has a rather beachy decoration. In the photo gallery that follows you will see an example of this that I explain to you. You tell me if you like it as much as me.
Become a coat rack
One last idea before seeing the gallery. Turn that surfboard you no longer use into an original coat rack. You can put it in the hall, for example, and add a few hooks so you can hang your clothes and accessories there. The same thing you can do in the bedroom. Besides decorative, it will make a very interesting practical function. You may also like this site.
Tags:
Ideas for decorating
,
surfboards