The bathroom is usually a stay not too large in which you have to maximize the ingenuity to take advantage of every available corner. Today I want to tell you several ideas with which you will gain space in your bathroom, so that you can have everything perfectly organized in its interior without missing square meters and without neglecting the decoration. That everything is important …
Fabric or crocheted bags hung on hooks
The hooks are great allies in the bathroom. They allow you to hang a lot of things. For example, crocheted or cloth bags so that you always have close to those smaller objects that you use every day. With this, you will get several things: not to be scattered without order or concert on the counter, to take advantage of the free holes that the wall gives you and to keep your bathroom neat and with these small objects (hair, makeup or toilet) out of sight everybody.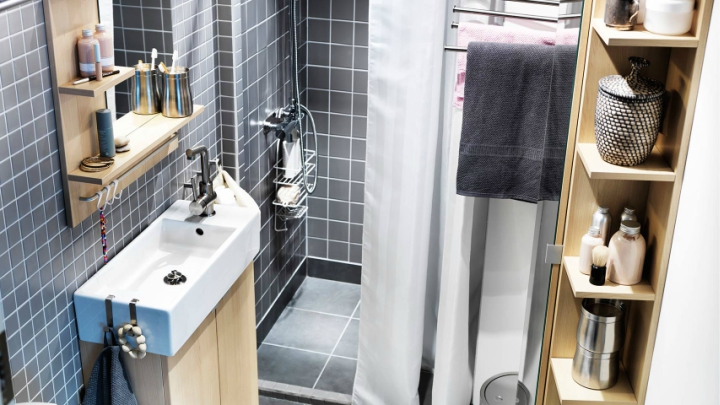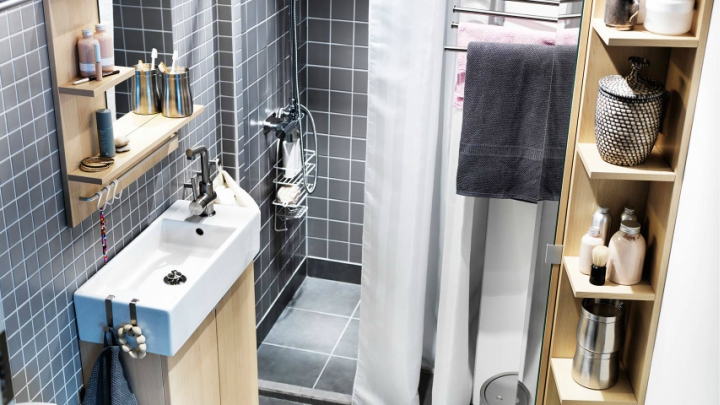 Auxiliary Cart
A very comfortable way to have your bathroom organized and gain a seat is through an auxiliary cart. In it you can save a lot of things. From the small everyday use we mentioned before (if you have no hole in the wall for hooks the cart does the same function) to towels folded or toilet paper. And best of all is that as it has wheels you can locate where it suits you best and change the site depending on the needs of the moment. Even if you put a plant on the top you will bring a very cozy decorative touch to the room.
A shelf above the door
The walls of the bathroom are usually quite unprotected. The space between the toilet and the ceiling, or between the door and the ceiling, can become a very useful place to leave things. If it gets too high, you leave objects that you do not use every day and that you only have to catch from time to time. If you put it on the toilet, you will have much more at hand.
Vertical Furniture
To gain space you have to make the most of what you have available. And in a small bathroom generally this is the vertical, as we have seen before. If you do not want to fill the walls of shelves and hooks bet for narrow, low-bottomed, but tall furniture. You can put them in almost any corner and they will become a very comfortable storage space. They can be closed cupboards or even leaving the towels folded. It gives a comfortable air to the bathroom.
You may also like to read: Ideas for choosing the best bathroom accessories
Drawer Organizers
Many times the bathroom space is wasted because we are not able to maintain order. If you have drawers under the sink, for example, use separators and organizers to help you have everything well organized: hair things on one side, creams on the other, utensils and shaving products, makeup … everything in place.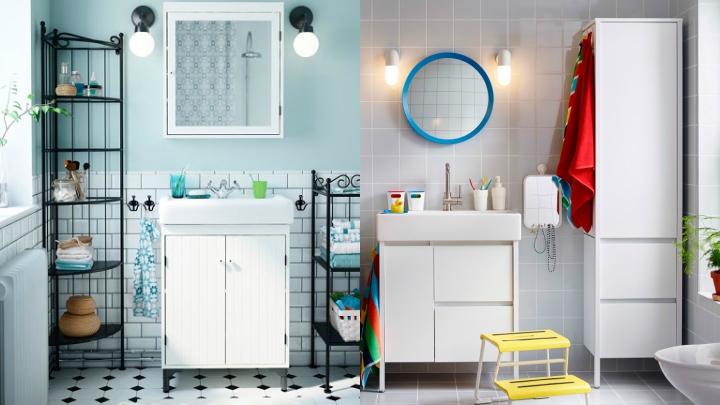 Visually enlarge the space
There are small tricks that will visually enlarge the space available in your bathroom. It is important to earn it really, but also to give the sense of breadth. For this, the mirror will play an important role, and we already know that it is never missing in the bathroom. Place a transparent screen instead of curtain and use clear shades on walls, floors and furniture.
Bidet and bathtub goodbye
If you want to make the most of your bathroom, you have to weigh if you have to remove elements that are saturating it and maybe you will not use it at all. I am referring to the bidet and the bathtub which, when exchanged for a shower, will allow you to enjoy more free space.
Tags:
space in the bathroom