Autumn is getting closer but there are still days to enjoy terraces, balconies and gardens. If your home has secure outdoor space you get a lot out of it in good weather, even when it does not. Today I bring you several ideas so you can give your terrace different uses. And they need not be exclusive.
Using the right furniture you can integrate them although, if you want, you can only focus on one if the available surface is not as big as you would like. In any case, you will enjoy an exterior of the most special, practical and decorative.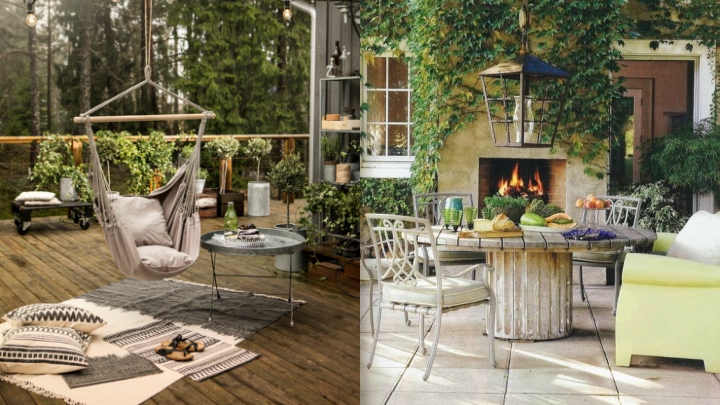 A dining room on the terrace
If you like meetings with friends or family, sure to do them on the terrace of your house you like even more. That is why, you can dedicate this space to prepare a place to eat and enjoy a good time in pleasant company. A large table, chairs around and a nice decoration will create a comfortable and cozy atmosphere. You can add a trunk, for example, to keep inside those utensils that you use most often. Also place some pergola or umbrella so that it does not disturb the direct sun. If you are going to use it at night, you should have a good lighting so that everyone is comfortable when it comes to tasting a rich dinner.
Practice exercise on your terrace
Can you imagine having an outdoor space to exercise? Why not on your terrace? If yoga is your favorite discipline, for example, place some natural plants, candles and incense, spread your mat and spend some time looking into you. If you like the decorative touch provided by accessories such as candles or cushions you can leave them fixed. If you are more active sports, you can also do a table of toning exercises or stretching on your terrace.
A place for relaxation
On the other hand, the terrace can become an ideal place to rest. Place comfortable sofas with soft cushions, a coffee table to support an aperitif and add a nice decoration with garlands, for example. On the other hand, you can bet on the ambiance chill out. And if you have the protected area, you can put a cart with some books and magazines to disconnect from the technology at this moment that you are going to give it to yourself. You can also put some hammock or rocker. Safe bet will be the warm tones, a cozy and soft lighting, nice textiles and details that bring an extra comfort to the environment.
You may also like to read: Ideas to decorate the terrace with pallets
A play corner for children
For those who have children at home enjoying an outdoor space is a great treat. You can prepare it especially so that the little ones have a place to spend it in big. To make it comfortable for them bet on some outdoor rug or artificial turf. And to be safe, it includes adequate lighting. You can put a bunker to keep their toys and do not forget to awnings, umbrellas or pergolas to be protected from the Sun. There are toys or structures for them that can stay fixed on the terrace as they are made with materials resistant to inclement weather .
A garden on your terrace
If you are passionate about gardening the terrace is an ideal place to put a vertical garden, an urban garden, or all kinds of pots with the distribution you prefer. Choose those seasonal flowers and plants and see them changing accordingly. If instead of the terrace you have a balcony you can put planters on the railings.
Tags:
terrace