Wood is the perfect building material. All at once it can be raw, luxurious, humble and refined. It is incredibly versatile and, as a natural material, is great for health and the environment. Here are just some examples of the most unique and interesting wooden structures from across the world:
Fogo Island Inn, Fogo Island, Canada
This is a very remote island located in Newfoundland. The Fogo Inn is a uniquely designed hotel inspired by the simple wooden silhouettes of local seaside cottages and native structures. This represents the stunning simplicity that can be achieved when building with timber.
Fireplace for Children, Trondheim, Norway
Waste not, want not was the motto for this construction. Made from leftover timber from a local construction site, this igloo-type structure was built for children to use, gathering around the fire and engaging in some good, old-fashioned storytelling. If you feel like enjoying the traditional warmth and natural feeling of being surrounded by wood, consider a log cabin. For more information on Log Cabins for sale in Northern Ireland, a range of log cabins in Northern Ireland for sale are available here.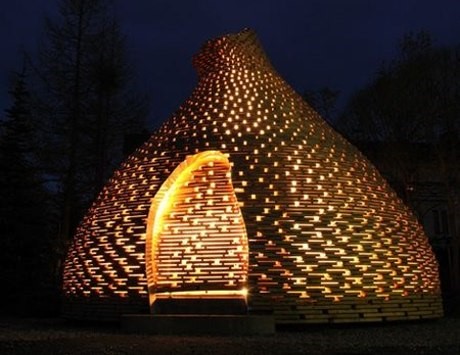 Timber House, Newmarket in der Oberpfalz, Germany
This impressive private property consists of two barn-style structures that are joined in the centre. The whole of the exterior is covered in non-treated strips of larch that will slowly weather to turn a beautiful silver-grey. The windows of the property are concealed from view outside but lots of sunlight still gets through in this clever design.
Refugee Dormitories, Bangkok, Thailand
A great solution to a housing problem, these low-cost, non-permanent shelters are used as dormitories in the Thai city of Bangkok, as part of the Mae Tao Clinic. The clinic provides a healthcare service and some education provision for the refugees of the civil war in Myanmar. The brilliant design is sourced from local bamboo, recycled pieces of timber and thatch.
Knarvik Community Church, Knarvik, Norway
Out in the Norwegian wilderness, you'll discover an unusually shaped angular wooden church made from pure heartwood in a mottled effect. The heartwood comes from the middle of a branch or tree trunk and is known for its incredible durability.
Liyuan Library, Beijing, China
Before this public building was constructed, the architect had visited the site and noticed bundles of firewood lying about the countryside. This inspired him to cover his construction in a cladding of twigs. The twigs were sourced from local fruit trees and are layered in such a way as to gain maximum benefit from daylight filtering through to the inside.