Do you like animals? And I do not mean just having them as a pet … If you want to introduce your decor you cannot miss the ideas we tell you today to decorate with them, either through prints of textiles, with a painted most original paper or with a representative figure. If you want a little inspiration to dress up your home in a fun and very decorative form, stay tuned.
Decorative figures
One of the most common ways is to place animal figures on a shelf or ledge. In this case, my recommendation goes to avoid classical forms and bet on items that are somewhat different from the typical figurehead, either by the material used or because it has a more abstract but equally identifiable form.
Wallpaper animals
To create a dynamic and fun nothing better to place a room painted with animal print paper. It looks great in the children's room, for example, because it gives it a very colorful and can live in their own jungle depending on the subject you choose. There are more or less colorful, more or less large prints … For you to adapt to any room where you want to put.
Birthday Party Animal
For a more ephemeral decoration but equally effective animal, you are getting a lot of play. If you have to organize, a birthday party go with this type of decoration. Dress up your living room as if it were a jungle, placed lions, some posters to give us welcome this jungle and add some vinyl to fill your wall of monkeys and snakes.
Decoration with textile designs
Another idea for decorating with animals is through print textiles. Here you have many options, since you can use them on the carpet, the shower curtain in the bed cover or some cushion.
You may also like to read another article on houseilove: Ideas to decorate your walls with wood
Cushions shaped like animals
In addition to the pattern you can fill your house pet by placing cushions that are shaped like one of them. Fill your bed or sofa owls, or octopus, or animal you prefer. It is a very funny twist that breaks the monotony of always square cushions.
Picture
If you like films and illustrations, seeking some with animal motifs to create a beautiful composition of pictures for your wall. You can place several small forming a decorative collage or put just one very large to become focal point. You choose the occasion, style and size. There are many options!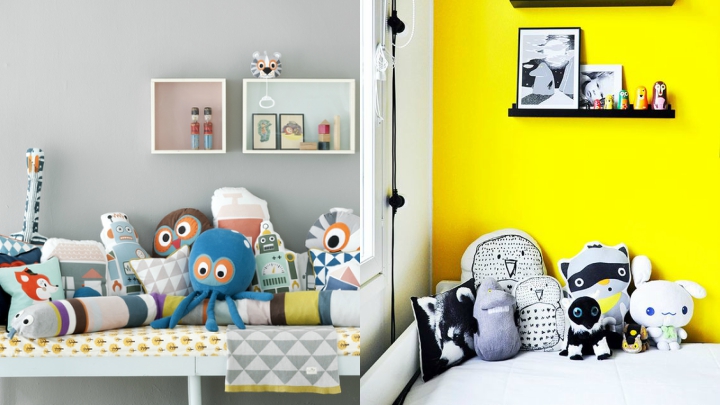 Hanging heads
Do not panic. I am not referring to the typical image of an American ranch hung with animal horns or stuffed heads. I mean the current trend decorative passing placing heads cardboard, wood or fabric to dress the walls of any room.
Theming
Another way to create a decoration animal is to recreate a theme that these are very present, such as the jungle, a zoo, a farm … This is especially interesting for the room of the little house, since It offers a lot of decorative possibilities. You can play with colors, accessories and the reasons you choose.
Tags:
animals
,
Ideas for decorating