The good weather has finally arrived, so the time has come to renew the decoration of the different rooms of the home in order to turn them into cooler, gay and summery places. And is that, although during this time of year we usually spend less time in the interior of our house, it is worth that the little ratios that we are in it are most pleasant. In this sense, it is important that you keep in mind that the room is the room in which we spend more time, so we must pay special attention.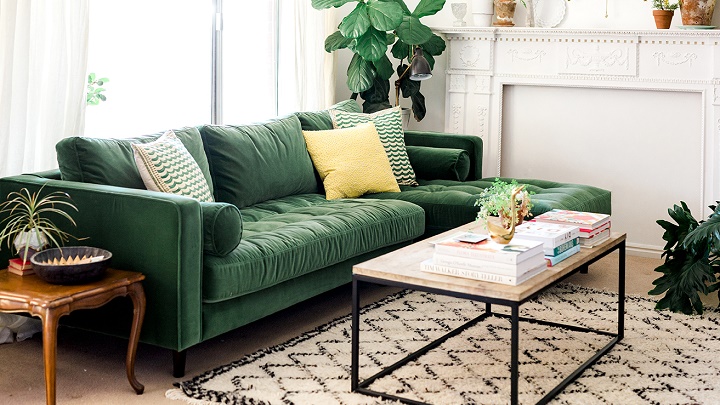 Do you want to add a touch of freshness to your living room? Then you should opt for cold and natural colors, such as green, which this year is very fashionable. In fact, Pantone has chosen Greenery as the color of 2017. Although green is widely used in bathrooms and bedrooms for its relaxing effect, it may also be very suitable for the living room. To prove it to you, today we are going to show you a lot of images of rooms decorated in this color. In addition, we will take the opportunity to give you some interesting advice and ideas. Would you like to join us?
Why decorate the room in green?
There are many reasons why it is worth decorating the room in green. The first one is that, as we mentioned before, it is a color that is very fashionable at the moment. Of course, beyond this factor, you must know that it is a color that is directly related to nature, so it produces an effect of relaxation and peace ideal for a stay as the hall, where we usually enjoy ratios rest. If you use it correctly, not only will it convey peace, but it will help you balance energy. Also, you should know that this color symbolizes hope.
Colors that combine with green
Although green is an ideal color to decorate, it is not advisable to opt for a monocolor decoration. What we recommend is that you combine it with white or with beige tones. Thanks to these tonalities, you will get visually more spacious and luminous spaces. In addition, it is important to note that when placed between the yellows and blues in the chromatic circle, combines perfectly with any of them.
You may also like to read another article on houseilove: Ideas for decorating a very cozy living room
The green on the walls
As you can see for yourself by taking a look at the images we show you in our gallery, in the living room you can use the green in multiple forms. For example, you can use it on the walls. Of course, we only recommend that you paint all the walls of this color if you use a soft green version. Instead, if you bet on a dark or too bright tone, it is best to paint a single wall of this color to create contrast.
Other ways to introduce green in the classroom
One of the best ways to introduce the green in the living room is through the textiles: carpets, curtains, cushions, plaids … In addition, it is also a good idea to choose accessories and decorative objects in this color. This way, if you tire of the green you will find it very easy to change the look of your living room. Mention deserves the plants, essential during this time of year. On the other hand, you should know that nowadays are taken, and much, sofas in this color, so it can be a fantastic idea that you decants for a piece in this color.