Recently we saw some ideas for decorating with tropical pineapples and today we will add one more to the list but made up for you. It is a multipurpose tray in the shape of this fruit that we like to use in decorating a practical tray that will help you dress up any corner where you decide to place it , since the same will be used to store a very decoratively keys and glasses at the entrance to leave home as a safe place your jewelry on the nightstand. We tell you how to make it and you take care to choose where to place it, okay? Go for it!
The materials you need
I've seen this DIY blog Idle Hands Awake and to do this you will need the following materials:
A pineapple shaped mold. It can be one to make cookies, for example.
Polymer clay or fimo, as they usually known in the world of crafts.
A knife.
A small cup of water.
Microwave
Sandpaper (optional).
Spray paint, permanent marker and masking tape.
How to develop this tray-shaped pineapple, step by step
In the first place, cut a piece of clay and make a big ball. The clay is heated with hands and work it will be easier. Extends the ball until it is approximately 4 centimeters and a somewhat superior to the mold of the cookies. You can smooth it with a roller or, alternatively, if you are not with a glass bottle.
Cut the pineapple
Now, cut the pineapple – shaped with the mold and put preheat the oven to the temperature indicated on the package instructions clay. Carefully separate the mold clay. In this blog recommend starting in the center and pull the clay sideways, avoiding too thin to stay in contact.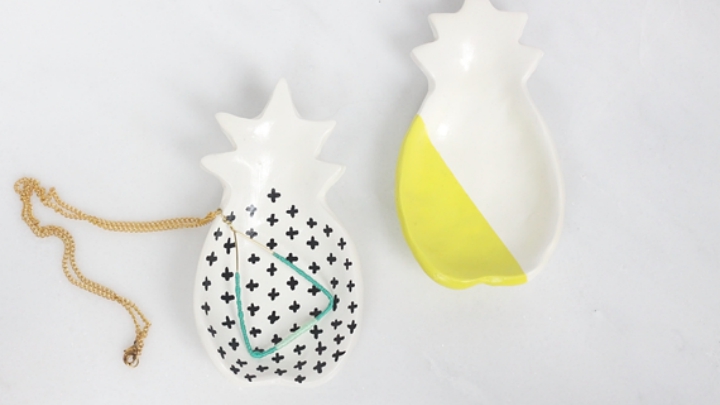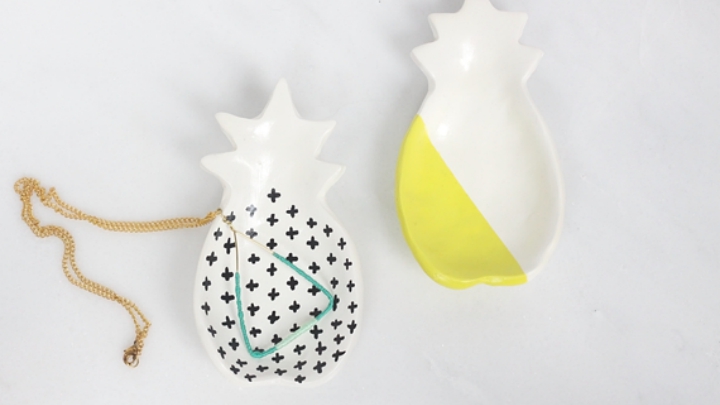 Pineapple shape
Now, pineapple clay placed on top of the mold and designs a bowl with it, pushing down and shaping the side edges. You can make it as deep as you want. To remove bubbles and smooth the clay wet fingers with water and pass them by pineapple.
You may also like to read another article on houseilove: Coasters tropical print
To bake
It is time to bake. Enter pineapple, with cookie cutter included, and left in the oven as specified by the manufacturer of the clay. When the pineapple is cooked, remove and let cool. Being hot you'll notice that it is still a little soft, but will harden as they cool. Even a cold time can be somewhat flexible.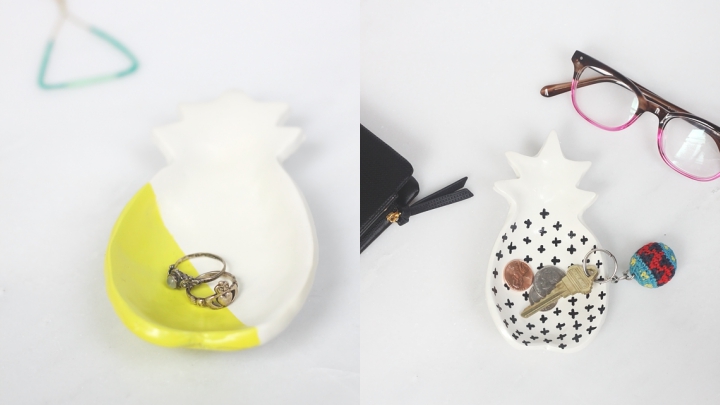 Straightening end
This step is optional qualify but I'll also explain. When your pineapple is cold you can spend a sandpaper fine – grained, gently, to smooth it. This depends on the finish you want to give your creation.
Multipurpose decoration dish
Reaches the final moment, the most creativity: multipurpose decorate your dish. Here they have used spray paint and a print made with a permanent marker, and then added an application satin spray to give it some shine. You can also put masking tape to create a geometric design and two-color paint … As you like.
Tags:
Multipurpose
,
pineapple
,
tray-shaped