Have you been trying to reduce your kitchen's plastic consumption? Are you fighting to find sustainability in your kitchen?
Cutting plastic out of your kitchen feels like an uphill battle; there are just so many products that come wrapped in it.
This is made even worse when you come to store the food.
Most people would reach for their freezer bags without a second thought. But, as you're about to find out, this isn't the best course of action.
The Problem With Traditional Freezer Bags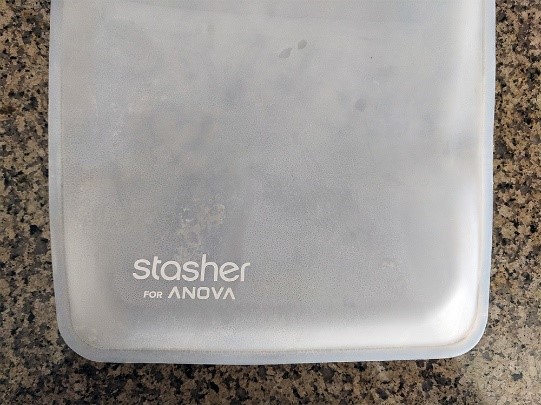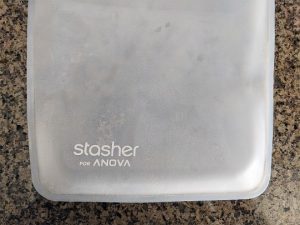 You've probably heard all the noise about how destructive plastic shopping bags are and why you shouldn't use them. And it's the same for traditional freezer bags.
But if you've been hiding under a rock, here's a rundown of the problems traditional freezer bags have on the planet.
Let's start with the most significant problem:
And that is the single-use nature of the product. You see, single-use plastic is unable to biodegrade, which is causing enormous problems for the environment.
To make things worse, if the plastic does manage to break down, it turns into microplastic. And this is the damaging part.
Microplastics can easily be mistaken for food by animals and sea creatures.
When the plastic turns into microplastic, it is super easy for the rain to pick it up and wash it away.
The thing is:
The rain usually washes it down drains or into rivers and eventually the ocean. From there, fish and seabirds eat the plastic… which eventually leads to their death.
Animals have trouble digesting things like plastic, which means if they don't choke to death on the plastic, it will clog up their intestines and lead to death.
This is becoming a massive problem with all plastics, and it's something that needs to change soon.
You see, it's not just animals that are getting damaged due to plastic; it's humans too.
Let's explain:
When the rain picks up the microplastic, it doesn't just dump it in rivers; it also makes its way across fields and leeches deep into the soil.
And this is where the danger starts:
Because the microplastic gets into the soil, it means all of the fruit and veg you plant also gets infected.
And this is a huge problem, because as the famous saying goes… you are what you eat!
And that's only half of it; you see, microplastic has been proven to cause a vast range of health problems for humans.
Check it out:
Diabetes
Weaken immune system
Rheumatoid Arthritis
Cancer
And so much more
With all these possible side effects, it's crazy how single-use plastic is still available. Luckily the government is starting to listen to people's concerns.
Most shops have now stopped providing free plastic bags, which is an excellent start to the problem, but now it's time for you to do your part.
And that's to stop using single-use freezer bags and start using the reusable versions.
But what are reusable freezer bags, and why are they so beneficial?
What Are Reusable Freezer Bags
Reusable freezer bags are crafted with one of two primary materials:
Both of these materials are incredibly hardy and help prevent freezer burn to your food. The freezer bags can withstand temperatures as low as -51°.
They are also both food-safe, so unlike plastic, these materials do not leach into your food or cause any health problems. And that's fantastic news.
But does one of the materials outperform the other?
Most people tend to prefer silicone, which comes down to a few key reasons, which are explained below.
Silicone Can Withstand Heat – This is one of the most considerable benefits of silicone and makes it stand out above PEVA.
Silicone can withstand super high temperatures, which means you can cook with them or place them in the microwave to reheat your food.
This makes silicone freezer bags one of the favorites among chefs and cooking fanatics.
Has A Higher Food-Grade – Don't get it mistaken PEVA is also a good grade material; it's just silicone that takes it a step further.
If you want to ensure no chemicals can leach into your food while cooking or freezing, the best option is silicone.
Silicone Is Stronger – The beauty of reusable freezer bags is that you can use them repeatedly. You need the freezer bags to be durable enough to last you a lifetime.
And for that, you'll need silicone bags; PEVA bags have a tendency to split under pressure a little too quickly.
So reusable freezer bags help keep your food safe in the freezer without worrying about it getting freezer burn.
If you're still feeling stuck with what products to choose, don't worry, the next section is for you:
The Best Freezer Bag Revealed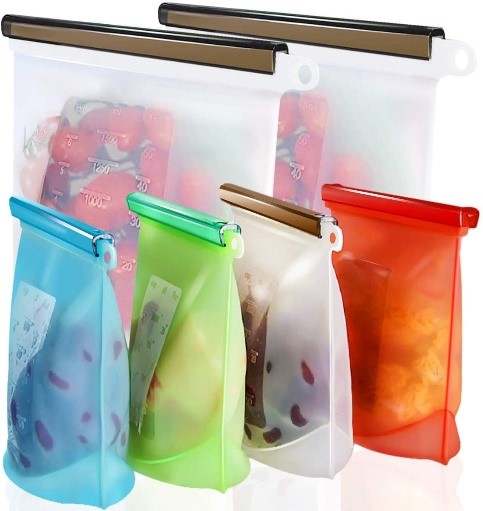 One of the most popular freezer bags is the WOHOME range. The bags are made from silicone, which, as mentioned before, is the best material you can use.
The bags come in a pack of six, and each one is completely airtight, which means you don't have to worry about liquids leaking from the bag.
This is down to the zipper system they use to keep your food fresh.
Each bag also has its own individual color, making it easier to identify what you need from an overflowing freezer.
One great feature is having measurement markings on the outside of the bag.
Rounding Up
Reusable freezer bags can significantly reduce the amount of waste your kitchen generates.
But more importantly, they stop your consumption of harmful chemicals. If you want more reusable freezer bag options, check out naturecode.org.
They feature a comprehensive guide to five of the best reusable freezer bags.